Take a second to think about the last three Facebook posts you clicked on. Were they static photographs, text-only updates or videos? Sukhinder Singh Cassidy is willing to bet on the latter. She's the founder of Joyus, a new kind of fashion e-commerce site. The site, which launched in January 2011, showcases each of its products through video. Fashion bloggers and Joyus staffers (all relatable, thanks to varying dress sizes and cheerful demeanors) not only wear the items available for purchase; they also speak about the merits of each garment or accessory.
Joyus's client base is just as relatable as her on-air talent. "[Our] core customer is 30 to 60 years old," Singh Cassidy says. "She is starting to get short on time, putting a premium on quality and looking for a trusted recommendation."
Singh Cassidy is convinced that she is on to something big, and she might be right if you consider the fact that her customer base is growing exponentially month over month and investors are lining up to fund her startup. (Investment to date reportedly totals more than $19 million.)
Success isn't a foreign concept to Singh Cassidy. On the contrary, she's known as one of the most powerful women in the tech industry and has an impressive resume. After growing up in Canada (her family immigrated from India when she was 2 years old), and graduating from the University of Western Ontario in the early '90s, Singh Cassidy worked in banking in New York City and London before flying out to San Francisco to see what the tech buzz was all about. She ended up staying to work at Junglee, a product search tool for retailers in India that was soon acquired by Amazon.
From there, she was recruited by friends in Silicon Valley to help found Yodlee, a banking startup, only to leave after five years to be Google's president of Asia Pacific and Latin operations, a role she had to be convinced to take. "I wanted to stay in startup land and Google was a huge company—about 1,200 people at the time, which sounds funny because they are so much bigger now," she recalls. "I ended up working on the company's new Local product and learning a ton about the yellow page industry." Singh Cassidy stayed at Google for nearly six years and then took a CEO-in-Residence job at venture capital firm Accel Partners, followed by an one-year stint as CEO of Polyvore, a shopping site.
Today, Singh Cassidy is thrilled to be on the cutting edge of a whole new way of selling. She, along with a team of 36 full-timers and many freelancers, produce around two videos per day out of a studio in San Francisco.
OPEN Forum spoke with Singh Cassidy to hear about the early days at Joyus, her tips for dealing with feelings of self-doubt and the one thing every budding entrepreneur should know.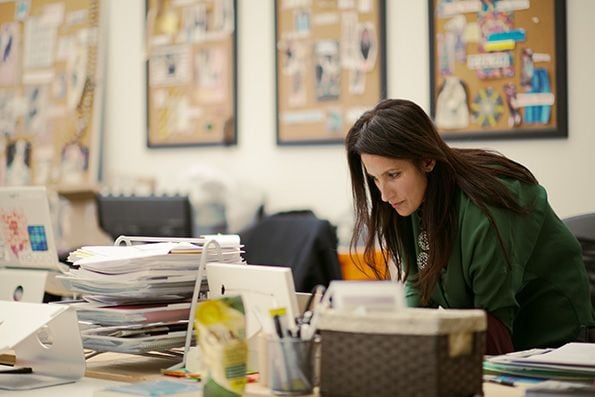 How did you come up with the idea for Joyus?
I got the idea in the months after I left Polyvore. I saw an opportunity to build a product that would give people highly engaging content and drive conversation and direct response. I wasn't really thinking about starting a company at the time; my brain was off when the idea came to me. I wrote a business plan and organized focus groups with videos of women, thinking it would be an easy way to see the potential of the opportunity. The response was overwhelming and I knew I had something.
What were the early days like at Joyus?
We were in a 1,500-square-foot office space, which was very tiny considering we had five engineers and six businesspeople. We didn't have any space to shoot videos, so we would film in the lobby of our building and in rented Airbnb spaces. It was so haphazard. It wasn't until February 2012 when we found a studio.
It must take a lot of time to shoot one video for every item. Does that mean you have to be extra selective in your inventory?
Definitely. I'd say 80 percent of our core selection has a video associated with it. Some videos have five products in them at once, but we will only showcase one or two products with words. We are far more focused on selling 1,000 of one thing than one of 1,000 things, and we have a strict merchandising standard. Our products need to be special. We look for perceived value. We might find a jacket that looks like it should cost $500 but is only $200, or a great classic item with a twist.
You've been quoted saying CEOs should spend 40 to 50 percent of their time recruiting. Why is this so important and how much time do you personally spend looking for new talent?
These days I spend about 40 percent of my time recruiting. I think that when it comes down to building any great business, it is about your ability to recruit talent. You don't want to outsource that to someone else. One of the things you can most affect as the CEO is whom you hire. It is important to always be out meeting new people.
 
How do you deal with feelings of self-doubt as an entrepreneur?
Oh, gosh [laughs]. I feel it all the time. Your company is kind of like a baby—it isn't beautiful until it wins a beauty pageant, you know? You have to be a pretty secure person in your heart and surround yourself with a great support system.
I have a lot of friends [who] aren't in tech, which is fabulous. My husband isn't in tech either, which helps me have balance and gain perspective. But at work, it really helps to have a strong management team. When I doubt myself, it helps to bounce things off of them and know that I'm in a boat with others who believe.
What advice can you offer to entrepreneurs just starting out?
People think of entrepreneurship as a mystery, but really it is all about the act of getting started and committing to telling one person about your idea. Take that first action, [whether] it is setting up an Internet domain or trademarking the name of your business. Take the idea out of your head and just start. No act is too small to be an entrepreneur.
Read more articles on entrepreneurship.
Photos: Joyus