This article was originally published on The Huffington Post.
Sarah Endline, founder of the New York City-based natural chocolate company, Sweetriot, was using social media to connect with her customers even before social media was a marketing must and an everyday activity.
"I didn't go in thinking, 'I'm a chocolatier and I'm going to make chocolate,' at all. I went in saying, 'I'm a social entrepreneur, and I have to figure out what to do in this world,'" says Endline.
And so, she created a socially-responsible, diet- and food allergy-friendly candy, in partnership with several cause-based organizations that aligned with her passion points. Sweetriot, which sources its cacao straight from Latin American farmers and works only with companies using fair trade practices, has two main products: nibs and bars. They're low in calories (140 per tin) and anti-oxidant-, gluten- and dairy-free, so it wasn't long before the diet community took notice.
Creating A Community, Not Just A Product
But Endline didn't want to open a business where people just bought her products and that was the end of the story.
"I wanted Sweetriot to have a culture of always speaking with our customers, a culture of listening to them," Endline says. At Sweetriot, customers are called "rioters" because Endline says they are helping the company change the world by celebrating joy, diversity and understanding.
Sweetriot was launched in 2005, when Facebook was still in its infancy and Twitter didn't even exist yet, so Endline turned to email and blogging tools to begin building an online following.
Product design became a community effort as well. Sweetriot promotes new and emerging artists by featuring their work on its packaging and website, and instead of picking out the art for the chocolate wrappers herself, Endline allows rioters to vote on the art they like best.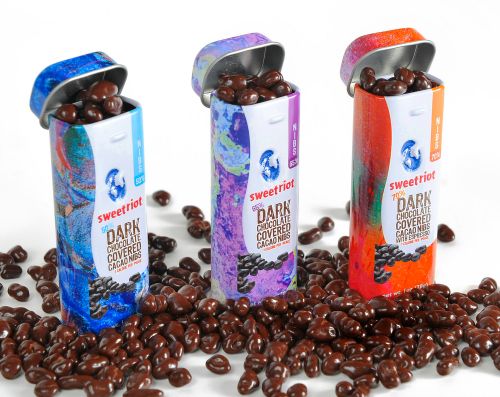 "I was literally using the term 'community brand' to describe my goal for Sweetriot long before I ever heard it spoken at a marketing conference," she says.
Shortly after the company launched, social media began to hit center stage. At the time, many small-business owners who were early adopters of these platforms focused primarily on self-promotion. But while Endline does share some product-related information on her blog and social media accounts, her main focus was always on encouraging rioters to support partner charities and on participation initiatives, like monthly photo contests.
The Sweetriot approach to social media is also extremely personal. On Twitter, the company's avatar is a photo of Endline rather than a logo, and tweets come from Endline herself. "More often than not our tweets are me doing something like walking down the streets of New York observing something interesting," Endline says.
On Facebook, the company uses the same overall approach, with a particular focus on visuals that take fans behind the scenes of the company: photos of chocolate-chip cookies served at a recent event, of rioters working at their own businesses, of Sweetriot chocolates in front of New York City landmarks, and of interesting sights at local NYC street fairs.
Tweeting For A Cause
Meanwhile, Sweetriot has kept its emphasis on becoming a formidable force for social change. The company works with a number of partners in promoting their efforts to create a better world, including AIESEC International, Gen Art, Net Impact and The Reciprocity Foundation.
"We do a lot with social media to help support our artists by getting their name and their work out there," says Endline. Sweetriot also has a page on its website dedicated to its featured artists.
Another cause close to the heart of Endline is fair trade, and Sweetriot uses social media to help promote October as Fair Trade Month.
"We really believe in sourcing from farmers in Latin America, which is the true place of origin for cacao," says Endline. "We have been committed to directly trading with Latin America from the beginning of our business. Social media has been a great way for us to get the word out."
Letting Metrics Take A Back Seat
When you ask small-business owners about the impact that social media has had on their business, most reply with follower numbers, sales data and statistics.
But at Sweetriot, "we don't spend a ton of time measuring [ROI]," Endline says. "We just believe that's the core of what we're doing. We're building community brands, and we want communication with our customers. For us it's not like we need to sit there and constantly measure, 'Did that tweet, you know, have this particular sales impact?'" (Sweetriot currently has more than 5,000 Twitter followers and 8,000 Facebook likes.)
Nonetheless, the business world has taken notice of Sweetriot's growth. The company has received a number of prestigious accolades; recently, the company was listed on Inc.'s Top 100 Food & Beverage Companies. Since most of the company's marketing efforts are devoted to content marketing and social media, it's hard to argue that the strategy hasn't worked.
"We have an engaged community, and I really think that is what has been the biggest impact on our business success," Endline says.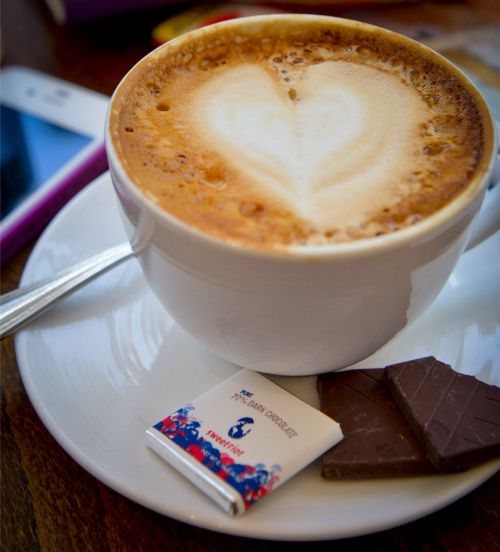 Meanwhile, the response from the national press has been nothing short of astounding. Logos from national magazines, televisions shows and websites—Vanity Fair, People, CNN, Glamour and the Today Show, among them—adorn Sweetriot's website today. The Wall Street Journal even wrote an article in 2008 about the company's extensive press coverage. More recently, the company was featured in an American Express commercial in which American Express OPEN Card Members—of which Endline is one—shared their hopes for using social media to grow their business.
Still, Endline says she's no PR mastermind; the majority of the press she's received has happened organically.
"Our press coverage has really been because people have heard our story through the community that we have created," says Endline. "While we have had some small PR firms helping us on and off… our best press has come from just very organic situations… we are holding a sampling in the store and the editor of Food and Wine comes through the door, or I am speaking at a conference and someone walks up to me and says that they know someone who writes for a national magazine."
But when it comes down to it, Sweetriot's social media strategy has really just been an extension of who they are and what they stand for.
"When done well, social media gives energy to your company," says Endline. "It gives life and movement. And honestly, that is really what Sweetriot is all about."
Photos: Jean-luc Mege / Courtesy of Sweetriot