Janice Hamilton's career has taken her on a winding road, from teacher to corporate executive to entrepreneur. But there's always been one common denominator: Education. "There's nothing quite like seeing the light come on in someone's eyes when learning comes alive," she says.
Hamilton is the founder of CarrotNewYork, a New York City-based firm that is hired by companies, government agencies and nonprofits to create innovative educational programs and campaigns that better connect them with their customers. CarrotNewYork is particularly interested in creating campaigns that talk about how a company's product or service is making a positive impact in the world—especially when it comes to children and families. "We don't push product," Hamilton says. "Our programs are connected to a change in behavior such as how to improve life through more knowledge about nutrition, how to prevent diabetes and what we can do to impact our environment."
Since its start in 1980, CarrotNewYork (which changed its name from JMH Educational Marketing four years ago) has reached some 1 billion children and families all over the globe on a variety of educational topics, ranging from oral health and alcohol awareness to nutrition and autism. Working on behalf of its clients, the company has created campaigns involving everything from printed materials and animated videos to social media and interactive computer games.
As a whole, the company prefers to create educational-marketing campaigns that target key societal issues related to health and wellness, the environment, financial literacy and issues that affect young people. "Our mantra is doing good while doing well," Hamilton says. "That's how we choose our clients."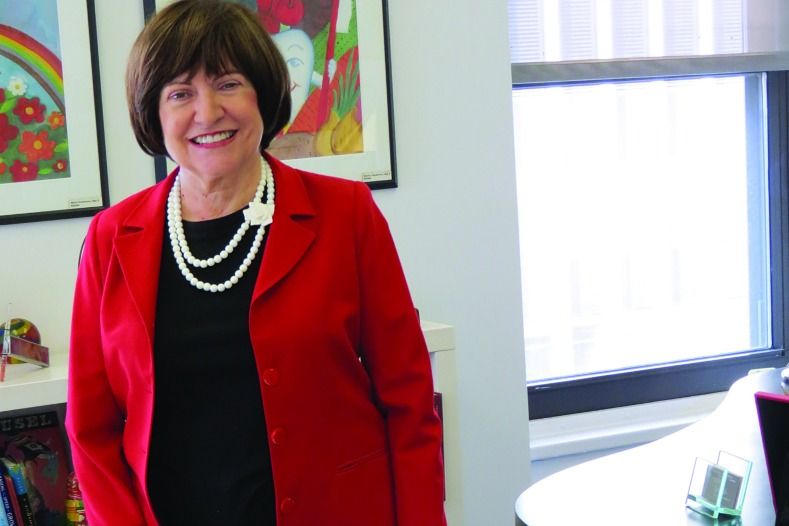 CarrotNewYork founder Janice Hamilton
Hamilton says it was early in her career, when she was a corporate-education representative, that she began to see opportunities to use technology as a way of developing innovative educational materials. She also came to realize that after working for big companies for several years, she was actually an entrepreneur at heart—the pioneering spirit was part of her DNA. In fact, she says, one of her grandmothers, who moved west to settle in what was then the territory of Wyoming in the mid-1800s, was the second woman to vote in the entire United States.
And so, at the age of 35, Hamilton struck out on her own to start her own business—which she has bootstrapped with her own capital and profits from the business from the get-go. "People would tell me how brave I was," Hamilton says. "But I didn't even think about it that way. I had a dream I wanted to pursue."
Hamilton does admit, however, that it took some adjusting—shifting from having multi-million-dollar budgets and 800 people reporting to her to working by herself. "I never realized how much yellow legal pads cost," she jokes.
Her first breakthrough as an entrepreneur came after she read a magazine article about satellite video-conferencing technology. At the time, she was working with a client in the sewing industry who wanted to connect with home-economics teachers across the country. Hamilton's "aha!" moment came when she realized that, rather than continue to host a series of in-person events, she could connect to a much broader audience by broadcasting via satellite. "I realized that we could use video conferencing to reach more teachers in an impactful way," she says.
Hamilton then attended a few seminars on the technology to help her launch what would become a five-hour-long live event that was downloaded via satellite to 60 locations nationwide. "We reached an amazing number of teachers through that program," she says.
Hamilton built on those early lessons to run similar campaigns for corporate clients. Those early successes paved the way for Hamilton landing what you might call her tipping point client—Colgate-Palmolive—in 1991. She helped create the oral health program called "Bright Smiles, Bright Futures" that is still active today and reaches some 50 million children across 80 countries (in 27 languages) every year. 
Hamilton's company now works for a wide range of organizations that includes other corporations as well as government agencies, such as the FDA, USDA, FDIC and FEMA, to get their messages out to schools and communities.
Every educational-marketing campaign is custom-designed and built based on what a client's strategic objectives are. "We don't do cookie-cutter work," Hamilton says. Ultimately, the goal of any campaign CarrotNewYork undertakes is to inspire children, families and communities to talk about making productive and healthy changes in their lives.
"Adding the carrot to our name came about because we can help motivate a change in behaviors," Hamilton says.
That social mission is also what inspires people to work for the company, Hamilton says. While the company has 14 full-time employees, it also works with a far-reaching cadre of freelancers and experts who want to work with CarrotNewYork and its clients to help make a difference in young peoples' lives. "We have a highly collaborative, extremely passionate staff at CarrotNewYork that bring a world of educational and marketing experience to our clients. This team is the reason we have been able to do this for 35 years," she says.
While Hamilton is proud of the company and the culture she has helped foster at CarrotNewYork, her vision is to continue expanding into new audiences, to bring about more positive change in the world. As she often likes to say: "Don't look at what is; set your sights on what can be."
Photos: Courtesy of CarrotNewYork
CARROTNEWYORK / JANICE HAMILTON / MEMBER SINCE 91