The company that arguably birthed one of today's hottest online industries is situated inside a non-descript grayish white building in the heart of San Francisco's high-tech South of Market (SOMA) neighborhood, across from an outdoor public parking lot and under an I-80 overpass. The company is TaskRabbit, and the industry is service networking, which facilitates the outsourcing of everything from dog walking to lawnmower loans to dry cleaning pick up.
TaskRabbit was founded in 2008 by Leah Busque, a Boston-based IBM programmer, who found herself ready to go out to dinner at the exact time she realized she was out of food for her hungry dog. A thought hit Busque immediately: "Wouldn't it be great if we could pay someone to drop off dog food?" That concept lead to the inception of TaskRabbit, a service that helps outsource such duties. The company soon relocated to San Francisco and floated around to a few co-working spaces before settling in the company's current location.
TaskRabbit welcomes guests with a door that reads, "Do not despair, friend. This bell will grant you entry to the Rabbit Hole." Open the door and you see the graphic of a white rabbit hopping in the direction of the cavernous office, where several walls are painted a bright shade of green—what Busque calls "TaskRabbit green."
"I've always loved green," Busque says.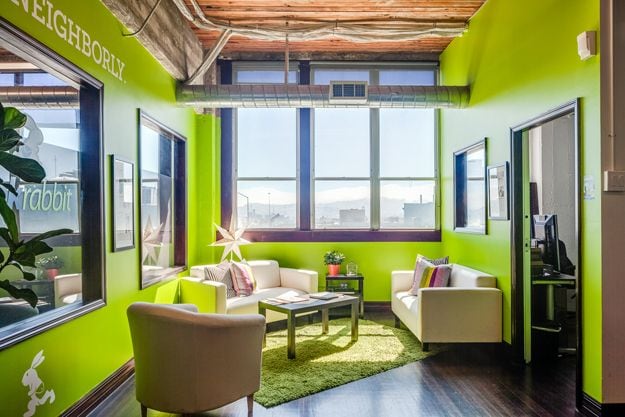 Walk in the door to find a space filled with light, color, dark hardwood floors and music from The Notorious B.I.G. softly streaming from desk speakers (artists change frequently). Visitors can relax in a lounge area while waiting to meet Busque or another member of her staff for a meeting. The view isn't bad, either—on a sunny day you can see Twin Peaks and Sutro Tower, two San Francisco landmarks located several miles west of the office.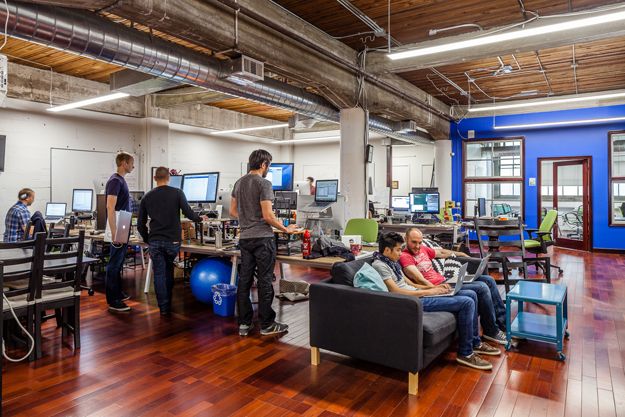 Desks are set up bullpen style to accommodate comfort for individual staffers—whether they're standing, or sitting on an exercise ball or in a traditional chair.
TaskRabbit employees also gather on couches in the middle of the office, dubbed the "Living Room," to discuss ideas and embrace the office's collaborative environment. A 120-inch screen drops down from the ceiling with the click of a button for presentations and movie nights (usually held on Fridays after work).
"The Living Room is a great place for us to all convene," says Busque.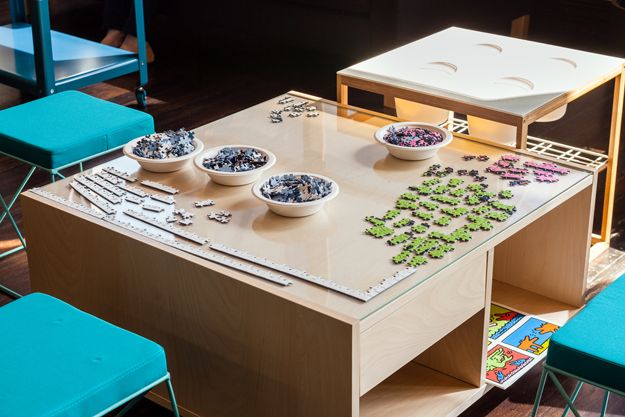 A 32,000-piece puzzle sits on a table at the focal point of a lounge area (Busque and her team set out 1,200-piece sections at a time, so as not to overwhelm). TaskRabbit employees are welcome to take advantage of all areas of the office based on what helps make them the most productive. 
It's a big change from what the space was before the company set up residence.
"This was a really traditional law office before we took it over," Busque says. "We took out everything but a few conference rooms and made it really lofty feeling. It looked nothing like this when we arrived. I love how it turned out."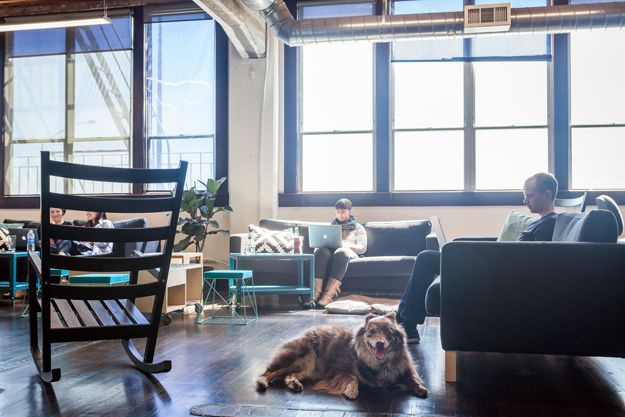 Buster Brown, a 12-year-old Australian Shepherd, relaxes in an open lounge space waiting to greet the next visitor, tail wagging. Busque encourages her employees to bring their dogs (or their friends' dogs) to work because it keeps the mood light, she says.
"TaskRabbit was started with the need for dog food, so seeing dogs around is a nice reminder of why we are here," she says, adding that up to seven dogs are known to grace the office at once. "We have Task Rabbits stop by to take them for walks a few times per day." 
Six conference rooms are situated around the perimeter of the office, each with picture windows on all sides (you can see into the conference room next to you, the city skyline and others working at their desks). Busque named each room after a San Francisco neighborhood (here, "Noe" for Noe Valley, a popular district located 3 miles southwest of the office), with the exception of the "Charlestown" conference room, a nod to Boston, the company's birthplace.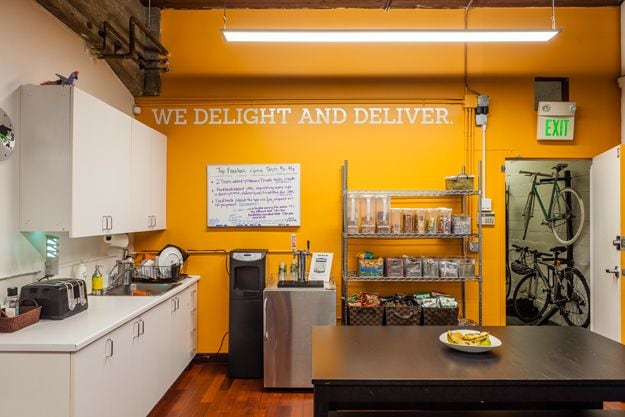 Complimentary lunch is at 12 p.m. daily, and breakfast is catered Monday mornings before the company's weekly standup meeting, delivered by a locally hired Task Rabbit.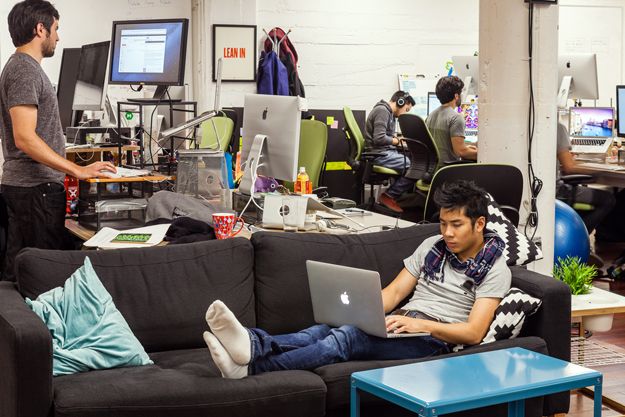 Employees feel comfortable enough to lounge in the Living Room without their shoes on, working alongside colleagues at their desks, some listening to music on headphones, others talking in small groups about current projects.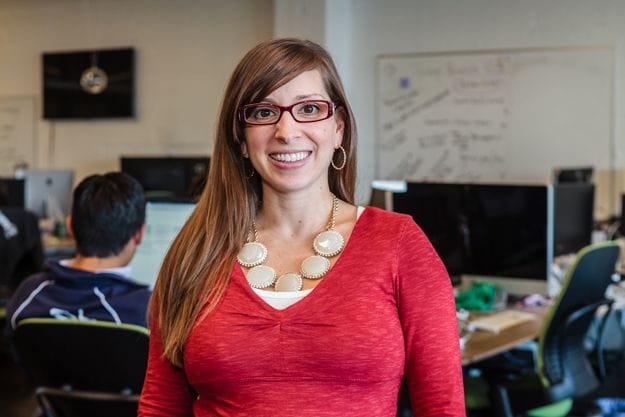 Busque is thrilled with the company's office space.
"We have 40 people here today and enough room for up to 80 employees," she says. "The space lends itself to our collaborative company culture with its shared community areas and really creates an open environment for our employees and visitors." 
Photos: Christopher Stark for OPEN Forum