Maisie Devine, the co-founder of a candidate-minded recruitment platform called Poacht, probably had a better Labor Day weekend than you, though she's way too nice to put it so bluntly. The Friday before the holiday, Devine learned that Poacht had been featured on Product Hunt, a site that curates the best in tech. What happened next is many a business owner's dream.
"Mashable came to us right away and wanted to do a story," Devine says. "The Mashable article was shared 3,000 times and then it syndicated to 10 to 15 other websites. We were averaging a download every quarter of a second over the weekend—our servers crashed.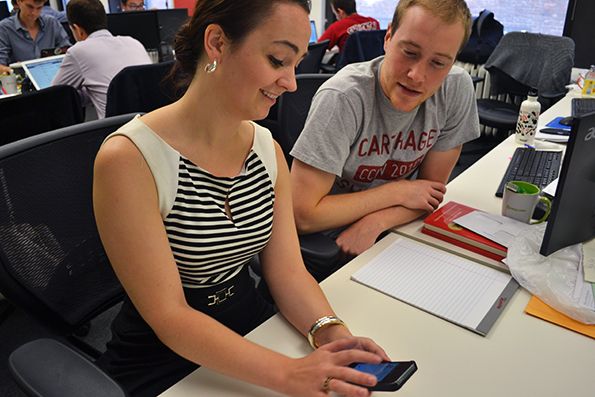 "It's really pushed us into the next phase of production," she continues. "We had to put 100 companies on the wait list."
See? A pretty fantastic holiday weekend. And all this from a company that six months ago was just an idea from a frustrated employee handling her company's recruiting.
The speed at which Poacht has found success is in no small part thanks to their participation in a startup world entity known as an accelerator program. Part of Entrepreneurs Roundtable Accelerator (ERA)'s summer 2014 class, the founders have received the support necessary to scale their business: $40,000 in seed funding, access to more than 250 experts, free administrative and legal support, and an office in New York.
"The accelerator has helped our product get to a point where it deserves the press," Devine says. "There's a long way to go, [but] it's not just whiteboarding anymore. It's actual feedback."
Better, Faster, Stronger
For small-business owners who find themselves working "in" their business and not "on" it, replicating an accelerator can be just what they need to see the kind of speedy results Devine and others have experienced.
The concept of an accelerator first appeared in Silicon Valley almost a decade ago, but is quickly gaining steam, reportedly doubling annually. Paul Graham, widely considered the progenitor of the accelerator, created the model most entrepreneurs are familiar with in 2005 when he launched Y Combinator. In exchange for equity (the norm seems to hover around 7 percent, though it varies based on the program), accelerators provide select companies with funding, resources, mentorship and access to deep-pocketed, check-writing investors over the course of a few months. (These perks distinguish it from incubators, which only rent out co-working spaces to early-stage companies.)
Today there are more than 200 accelerator programs around the world, with seemingly just as many specialties. There are vertical-specific accelerators (e.g., health, green energy or education startups only), accelerators for women and minority entrepreneurs, accelerators based out of college campuses, accelerators for big-name companies like Nike and Disney. Startup founders looking to scale and attract investors consider being accepted into an accelerator program as instrumental as attending a good school, with successful portfolio companies like ThinkNear of TechStars and ERA's Appy Couple as star alumni. While no program has hit Y Combinator levels of success (to say its billion-dollar successes Dropbox and Airbnb are outliers would be an understatement), the millions raised and the number of companies still running or that have been acquired are nothing to sniff at. Many founders who have gone through an accelerator are quick to tout its benefits.
"'Accelerator' is a really great word for what they do," says Christian Shelton, co-founder and executive chairman of Geekatoo, a platform that connects the tech-savvy with those in need of in-home repairs and setups. He and his co-founder went through 500 Startups in Silicon Valley. "They really accelerate and prove whether you're meant to make it or you're not, instead of drifting. That clarity and that time and support can really help people make those difficult decisions, whether [they] turn out well or poorly." (Prior to 500, Geekatoo had only processed 50 jobs in the Bay Area; now they have 5,000 providers across the U.S. and have raised $1.7 million.)
"We have founders tell us they're able to get done in four months what it would take them a year to get done" by themselves, says Jonathan Axelrod, managing director of Entrepreneurs Roundtable Accelerator. "We give people free resources so they don't have to worry anymore, and let [them] focus on the big issues that are going to impact [their] business. Let's move the needle over in a concentrated amount of time. The speed is so important to startups early on."
The money, which can start at a few thousand and go up to more than $100,000, also helps with that sink-or-swim process. "We've been able to bring a developer on board with that capital, which has been great," says Nehal Madhani, co-founder of PlainLegal, a service providing paralegal services to small law firms. "Now we're able to move a little bit faster than we were before."
"It's pretty hard for a company to bootstrap itself," explains Jonathan Greechan, a partner at the Founder Institute, an accelerator that has graduated more than 1,200 companies across six continents. "Even though the cost of creating a company continues to go down, it's still hard for people to scale up to hire great talent. It's giving you a little money in order to get a product out there, to show a little bit of traction, so that you can go out and raise either a larger seed round or a series A."
Peer Counseling
Removing the stress of paying rent and increasing access to capital aren't the only reasons why accelerated businesses see results so quickly, though it doesn't hurt. The accelerator model creates an environment conducive to collaboration, effective troubleshooting and big ideation that small-business owners often don't afford themselves. Part of that stems from working in the company of other small-business owners, according to Nick Shum, 500 Startups graduate and co-founder of lifestyle products curator Topwick.
"What really stood out to me," Shum tells OPEN Forum, "was the ambition and dedication you felt whenever you entered the working space. Different companies stood side by side in the working area, tackling different problems, but still all unified to represent one cause—to become something."
Founders are encouraged to share their insights and expertise with others. "Every Tuesday we come in here and go over everyone's fundraising deck," says Devine of Poacht. "Everyone gets feedback on what they're seeing and what's confusing. When I think about my deck before I came into this program and where it is now, you wouldn't even believe it came from the same person."
Getting feedback early, quickly and regularly seems to be the cornerstone of accelerators, and should be something all business owners strive for. "Most ideas sound great until you start bouncing them off other people," says Jonathan Greechan of Founders Institute. "Every single week we have our founders share ideas and their strategy to experienced CEOs. They're getting feedback from the customers as well." Small-business owners should be doing some version of this themselves, establishing key performance indicators for new services, tracking their successes and failures and reaching out to customers to get feedback on how they're doing.
The air of collaboration and peer support also exposes founders to new best practices. "It's very good getting lessons from people who are 10 to 20 percent ahead of you because the advice is a lot more real," says Shelton of Geekatoo. "Accelerators basically provide that in a one-stop shop. You can feel great talking to someone who's extremely successful, but a lot of times those lessons are really not relatable to your situation."
Friends in High Places
That's not to say that those "extremely successful" people aren't valuable. The access to well-established mentors brings founders into "a whole new world," says Yuni Sameshima of Chicory, an app that delivers online recipe ingredients to your home. Chicory hadn't launched when it joined ERA this summer, but has since gone live and partnered with online grocer Peapod and a few recipe sites. It's now in a position to scale 13 weeks into the program. "We would not have gotten into those companies if it had not been for the mentors who have taken so much interest in what we're doing," Sameshima says. "Being able to get objective third-party input into how we're informing these partnerships and alliances has been very helpful."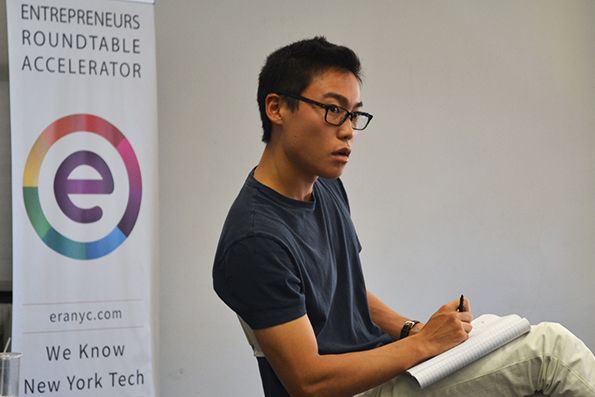 Mentors provide "been-there-done-that" advice to help entrepreneurs sidestep obstacles, and can also make seemingly impossible connections happen with an email. Small-business owners may often feel they have to go it alone, but having someone to bounce ideas off of can lead to a stronger business. There are a number of resources—the SBA and SCORE to start— that connect business owners with mentors. Widening your network to include established entrepreneurs can lead to more opportunities for your company.
All Roads Lead to Demo Day
A mix of prom and final exams, an event known as demo day caps off these accelerator programs. Founders pitch their companies to a room full of press, peers, mentors and those aforementioned monied investors. Though much attention is paid to the splashy slideshows, app demonstrations and funding rounds, what's really happening is a display of the accelerator's most enviable feature: extreme focus.
"Being in such a structured program really starts making calendar dates a lot more important than they would otherwise, and really give you a context of where you should be moving along in that given amount of time," agrees Shelton of Geekatoo.
"It's really helped us with clarifying our message," Madhani of PlainLegal says of ERA. "As a startup we want to do everything at once. We know what vision we want to achieve, so we want to build [and] sell everything at once. What the accelerator has really done is refine our message and convey [it] in a way that really resonates with investors as well as our customers."
While small-business owners may think of their progress as a marathon, accelerators move at a sprinter's pace toward the next goal. During the first weeks, key metrics and problems that need to be solved are established immediately, and are checked often. Founders begin to know their business backward and forward, identifying potential fatal flaws before they develop. (Like in the case of PlainLegal, which discovered its original business plan left no room to collect fees or keep customers, and used its time at ERA to push its new model.)
It's a singular focus that all business owners share, and would do well to tap into more often. "Accelerator programs open doors for you," says Founder Institute's Greechan, "but the founders need to walk through them."
Photos: Entrepreneurs Roundtable Accelerator, Founder Institute, Geekatoo.