The Affordable Care Act, widely referred to as Obamacare, is one of the most ambitious and complex laws ever passed. It's intended to help achieve four goals:
Provide health insurance to many of the tens of millions of Americans who don't have it.
Reduce the rate at which health-care costs are growing.
Improve the marketplace for health insurance.
Address other issues, such as providing greater emphasis on disease prevention and health promotion.
The more than 500 provisions in this bill are transforming how companies and individuals obtain health insurance, how insurance is structured, how physicians, hospitals, and other providers are organized and paid, and how biopharmaceutical companies function, to name a few. Even though Obamacare was signed into law more than three and a half years ago, it continues to be a political lightening rod, as we saw with the recent government shutdown and the difficulty the government is having getting the website to work. Politicians across the entire political spectrum praise or criticize it in the most extreme terms, frequently distorting provisions or reciting the most radical predictions of its benefits or burdens. None of that helps small businesses or individuals who must comply with its requirements.
The major players in the health-care marketplace—the health insurers, hospitals, physician groups, major employers, large biopharmaceutical companies, and unions—all participated actively in development of this legislation and all have teams of lawyers, policy analysts, and other consultants to advise them on how to adapt to this new world. But individuals and small businesses, all of which will be greatly impacted, have no such support.
While it would be impossible to summarize all of the changes, below we have provided an overview of the most important ones, along with links to other helpful resources. As the CEO of Private Health Management, which helps people obtain the best health care, my team and I manage hundreds of cases around the country. We see what is working, where the system breaks down and how people need to manage their own care. This summary involves some very complex regulations, so we suggest consultation with lawyers and accountants to ensure you are fully informed about the application to your specific situation.
Obamacare Basics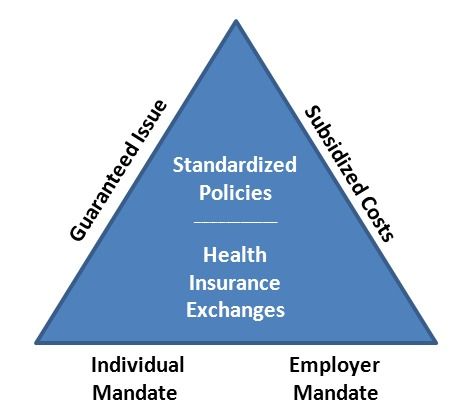 Obamacare seeks to achieve its four goals by putting in place major changes in six areas:
1. Individual mandate. To broaden the risk pool and minimize hidden subsidies from one group to another, the law requires that most Americans, with certain limited exceptions (such as having an annual income of less than $10,000, the lowest premiums exceeding 8 percent of annual income, or qualifying for Medicaid) have health insurance. Today, about 55 percent of the population receives health insurance that is primarily paid for by their employers, and 15.7 percent and 16.4 percent of the population get coverage through Medicare (the elderly) and Medicaid (low income), respectively. About 10 percent of people pay for their own coverage. It is estimated that at any given point in time, approximately 15 percent do not have insurance. (The estimates by type of coverage are not mutually exclusive; people can be covered by more than one type of health insurance during the year.) Beginning January 1, 2014, the annual penalty for not having health insurance will be the greater of $95 or one percent of family income, per adult. These penalties will increase over time.
2.Guaranteed issue. In order to make the individual mandate meaningful, beginning on January 1, 2014, all health insurers will be required to accept and renew all insurance applicants in the individual and small-group market. Health insurers will be able to vary their rates only based on age, geographic area, family composition, and tobacco use, with the top rate being only three times higher than the lowest.
3. Subsidized costs. Recognizing that many lower-income people won't be able to afford health insurance, Obamacare provides two kinds of support: Refundable and advanceable premium tax credits for people with incomes between $23,550 and $94,200 (for a family of four) and cost-sharing subsidies for out-of pocket expenses for people with incomes between $23,550 and $58,875 (for a family of four). The lower the income level, the greater the amount of support. To find out if you qualify and for how much, you will need to register on www.healthcare.gov or call 800-318-2596 and provide full information about your income and other factors. In about half the states, eligibility for Medicaid (which is free) has been expanded to people with incomes up to $16,000 for an individual and $32,500 for a family of four.
4. Employer mandate. Obamacare requires annual information reporting by all applicable employers (with 50 or more full-time employees or equivalent (the aggregate hours of part-time workers divided by 40 hours per week) and imposes penalties if (i) the employer does not provide full-time employees with the "minimum essential coverage," (ii) the health insurance is "not affordable," or (iii) it fails to provide "minimum value" (60 percent of medical costs, on average). The fine would (depending on circumstances) be $2,000 to $3,000 per full-time employee (in excess of 30 employees) per year. In light of the complexity of requirements, last summer the administration postponed them until January 1, 2015. Businesses with fewer than 50 employees have no requirement to buy health insurance for their employees. But all businesses, regardless of whether they provide health insurance, are now required to provide a notice to all employees of the availability of online state health-insurance exchanges. Open enrollment began on October 1 and will continue through March 2014 for policies that become effective prior to March 31, 2014. The Department of Labor has released model notices that can be used to satisfy this requirement. These model notices are available online, one for employers offering health plans and one for employers not offering health plans.
5. Health-insurance exchanges. To improve the transparency of the health-insurance market, Obamacare created online state-based health-insurance exchanges. The exchanges serve two types of customers: Individuals and employers with fewer than 50 employees. Most of the exchanges opened on October 1, but the federal site, www.healthcare.gov, has been working only intermittently. You can also download a paper application from that website or call 800-318-2596 to apply over the phone. Regardless of which route you take, the exchange will be able to determine if a tax credit or subsidy will be available.
6. Standardized insurance policies. There will be four levels of coverage that offer the same benefits but different levels of out-of-pocket costs (Bronze—60 percent, Silver—70 percent, Gold—80 percent, Platinum—90 percent). Essentially, all health-insurance policies for 2014 and beyond will need to comply with the following:
Provide coverage at least for "essential health benefits" as defined by the Department of Health and Human Services, including hospitalization, physician visits, and prescription drugs, but they may include more benefits.
Provide coverage for dependents up to age 26.
Prohibit annual and lifetime limits.
Eliminate pre-existing condition exclusions.
Prohibit insurers from rescinding coverage except for fraud.
Require coverage without a copayment for specified preventative services.
Limit annual out of pocket costs in 2014 to $6,350 for individuals and $12,700 for families.
What Business Owners Need To Know—and What To Do Now
Thanks to the delay until January 1, 2015, the only requirement today for all employers, regardless of the number of employees, is to inform their employees of the availability of the health-care exchanges; they can do this by posting the notices in point number four above. But employers now have the time to think through their strategic options, which include:
1. Shift to vouchers. A number of larger companies, including Walgreens, Sears, and even IBM are evaluating whether to issue vouchers to their employees to buy health insurance on the individual exchanges. Vouchers are likely to save on administrative costs, but employers need to consider how they might impact their employees' sense of loyalty to the company, whether they will know how to access the exchanges, and how the coverage they get on exchanges compares to what they now have, assuming they have coverage.
2. Buy health insurance on the exchanges. The health-insurance market has been notoriously difficult for small employers because they do not have any market power, there is little competition among the carriers, and the carriers historically have compelled them to accept large increases if they have had large claims. Employers with 50 or fewer employees may now find it more cost effective to buy insurance for their employees on the exchanges, especially since tax credits may be available for up to 50 percent of premium costs for companies with fewer than 25 employees who make less than $50,000 per year on average.
Obamacare is transforming much of our health-care system. The politicians and pundits typically either praise or condemn it for its implications for everyone. But this is a very complex set of regulations and those broad brush statements overlook very important distinctions about how different people will be affected, whether one is looking at cost of care, quality of care or both, and when those consequences will occur. For example, lower-income people who earn too much to qualify for Medicaid and older people who are not old enough for Medicare but don't get insurance from their employers will be required to purchase insurance. Under Obamacare, they are likely to find that it is easier and less expensive to purchase insurance and that coverage will be broader. But, will they know how to use it? Will those plans include enough physicians so that they can get the access they need?
Employers with more than 50 employees will be required to provide insurance beginning in 2015. Those who now do so will find the playing field leveled since their competitors will now need to incur similar costs. The insurance plans they provide will offer broader coverage and may cost more in the future, but certain employers may be able to obtain tax credits for the costs. It is impossible to measure the benefits to a company from having a workforce that is healthier.
There will be winners and losers, some of which will be tough to predict. The style of this legislation is more: More companies and more people being required to buy insurance that covers more things. What is certain is that virtually everyone will need to spend more time understanding their obligations as well as their opportunities under this new law. Those who do are much more likely to benefit both financially and medically.
Private Health Management CEO and chairman Leslie D. Michelson has been the CEO of four health companies and the CEO of the Prostate Cancer Foundation, and has served in the Department of Health Services. Private Health is retained by individuals, families and companies to assist their employees and loved ones in obtaining the finest health care from the best physicians and hospitals in the world.
Photo: Shutterstock