It's the most frequently asked questions of any new business owner: How can I get more customers? Where can I find new clients?
The passive approach to waiting for the phone to ring doesn't work. And unless you're in the fruit business, new sources of business don't grow on trees. 
Good news: Instead of waiting to be rescued by the new-client fairy, you can take matters into your own hands. Let's call this practice hustling—the gentle art of self-promotion. The goal in hustling is to do great work, then spread the word. 
In The $100 Startup, I used an image by Joey Roth to illustrate the role of the business hustler.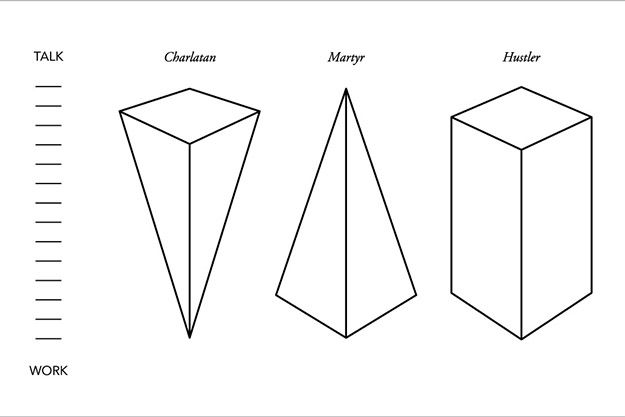 Credit: JoeyRoth.com/poster
As you can see from the image, a charlatan is someone who is all talk and no work. Avoid this person! And most importantly, don't be one of them—no one likes a charlatan. 
A martyr is someone who does good work ... but no one hears about it. You probably know a few people in this category. Despite their great product or killer service, their business fails to grow, because it remains unknown.  
It's probably better to be a martyr than a charlatan, but it certainly doesn't help your profit margins.
A hustler, on the other hand, is someone who does the work and does the talk. A hustler makes great products and services—or great art, if you prefer. Hustlers are known for quality and consistency. Best of all, they are known. 
How often should you apply the hustler's mindset to business? Here's a short list to help you get started. 
List of Actions
Be helpful. Go out and ask people, "How can I be of service? Anything I can help with?" This may not translate directly to new business, but it keeps you in front of people as a useful, friendly person.
Ask for referrals. Are you asking for referrals—I mean really asking? I heard from a business owner recently who doubled her sales entirely by asking for specific referrals from existing clients. Not sure where to start? John Jantsch has written a great book on how to create a systematic process of referrals from existing customers.
Write a newsletter. Publishing a newsletter on a regular basis is probably the singular best way to stay in touch with customers—and to gently push for more sales. How important is it? Chris Brogan, a good friend and fellow OPEN Forum writer, has focused much of his year on improving his newsletter content and signups. Why? Because it matters.
Plan a promotion. Is there a holiday coming up? Do you have any new products coming out? Is there an older product you can put on sale? Tell people about it! Don't hold back
Write to five customers. If you're wondering what to make next, check in with five customers at random. Send them a note to ask how they're doing and if they have any unanswered questions about your products or services. (Bonus points: Call them on the phone!)
How Much Time Do You Spend on Hustling? 
In my work I divide my time roughly 50/50: I devote at least half of it to activities related to "creating." In my case, that includes writing books and blog posts, building products and producing events. The other half I spend "connecting"—all the things associated with communication, including email, social media and broadcast messages. 
Your ratio may vary, but 50 percent is a good guideline. If you spend half your time making great stuff and the other half telling people about it, chances are you've found a good hustling balance.
Read more articles on productivity.
Photo: iStockphoto; Diagram: Courtesy Joey Roth