Congress once again punted on reauthorization of the Small Business Innovation Research (SBIR) program.  With the House and Senate unable to agree on a permanent bill, Congress approved temporary reauthorization of the program, scheduled to expire on January 31st, through May of this year.
Permanent reauthorization failed because the two houses of Congress can't agree on how much access venture capital-backed firms should have to SBIR funding.  The House wants to allow more access, while the Senate fears that would drive out small tech startups not backed by the professional investors.

Ensuring the continuation of the SBIR program is important to many stakeholders.  It's a valuable source of grant money for high-tech startups developing innovative technologies.  Under the program, all federal agencies that spend $100 million or more on non-agency research and development (R&D) annually have to give out SBIR grants worth 2.5 percent of their external R&D expenditures.
Many economists believe that the SBIR program helps to mitigate the underfunding of small firm innovation.  Early stage technology development is often too uncertain and its commercial value too hard to capture for private sector investors to invest in it.  By offering entrepreneurs a source of funds that doesn't depend on return on investment, economic theory argues that the program stimulates more small firm innovation than the market would provide on its own.

Want to read more about small business innovation? Check these out:
For entrepreneurs, SBIR grants are a great form of financing.  Unlike equity they are non-dilutive, and unlike loans, they don't have to be paid back.  Moreover, because program participation provides a "seal of approval" for technologies and because program participants can keep the intellectual property they develop using the grant money they receive, the program helps high-tech startups receive private financing later.
While one can debate whether the House or Senate has a better approach to the SBIR program, their political wrangling obscures a bigger problem.  SBIR funding is flagging.   The number of annual awards peaked in 2004 and, as the figure below shows, the real dollar value of SBIR grants is currently well below its 2006 peak.
Annual Amount of SBIR Funding Awarded (in 2009 dollars).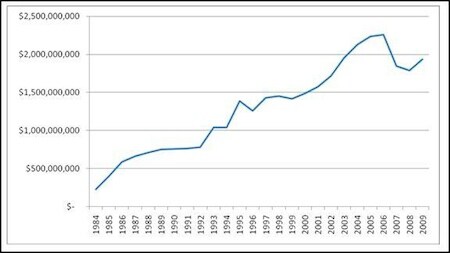 Source: Created from data contained in the 2010 Small Business Economy.
If Congress believes in the SBIR program, then it should worry less about which startups get the grants and pass a permanent reauthorization that increases the size of the program.  The division of SBIR funding between VC and non-VC backed startups matters little if the overall pie shrinks.
* * * * *
About the Author: Scott Shane is A. Malachi Mixon III, Professor of Entrepreneurial Studies at Case Western Reserve University. He is the author of nine books, including Fool's Gold: The Truth Behind Angel Investing in America; Illusions of Entrepreneurship: The Costly Myths that Entrepreneurs, Investors, and Policy Makers Live By; Finding Fertile Ground: Identifying Extraordinary Opportunities for New Ventures; Technology Strategy for Managers and Entrepreneurs; and From Ice Cream to the Internet: Using Franchising to Drive the Growth and Profits of Your Company.