As entrepreneurs continue to build their own media brands and position themselves as influencers, more and more are creating their own personal websites, to highlight their experience and expertise to the masses.
The right site can make just the right impression on potential clients, investors, or journalists. But the wrong one can look amateurish and do more harm than good. So what are the building blocks of a great personal website? From personal domains to eye-popping imagery, following these tips will have your site shining in no time.
1. Use a unique domain.
To fully optimize for Web search, you'll need to choose a domain that shows up high in search results when your name is searched on one of the top Internet search engines, including Google, Yahoo, or Bing.
Typically, your full name is a good bet, especially if your name is unique. My domain, for example, is ericaswallow.com. Lucky for me, no one had taken the domain before I reserved it. You can check domain availability on a domain registrar, such as Namecheap.
If your name is more common and your desired domain is taken, get creative. You can throw in a middle initial or invent a whole new name for your personal brand. Venture capitalist Fred Wilson, for example, utilizes the domain avc.com. His site, branded "A VC" is all about his musings as a venture capitalist, or a VC. When his name is searched, it's the first site that appears, proving that good SEO doesn't have to stick to the conventional first name/last name convention.
To get started with website creation, take a look at Mashable's guides for creating sites on both WordPress and Tumblr. Personally, I'm a fan of WordPress, as it offers both free and paid versions and a ton of plugins for customization. Tumblr, meanwhile, is known for its beautiful themes, which are typically more design-conscious than WordPress themes.
If you'd like a more turnkey solution, check out website builders Squarespace and Wix. Their Web design tools cater for the needs of business owners, whereas WordPress and Tumblr are less targeted. Squarespace and Wix, for example, have a number of templates geared towards various types of small businesses, including restaurants, retailers, and other types of shops.
2. Include an interesting bio.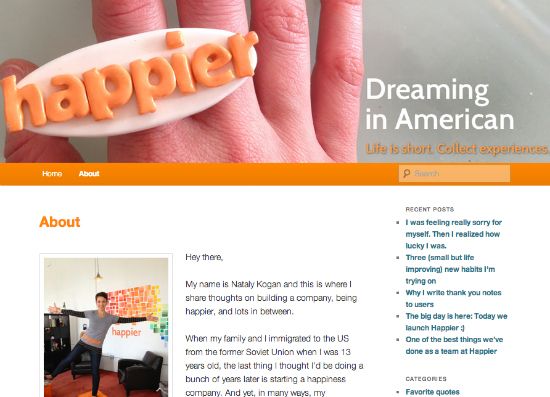 No matter how known you are in your community, there are people all over the world who know not the power and beauty of your existence. For those lost souls, there is the personal biography, a short description of you and your accomplishments, interests, and current projects.
The bio typically falls under the "About" page, which is arguably the most important page of your personal website, besides the homepage. In fact, it's so important that it sometimes is the only other page on a personal website, as is the case with Nataly Kogan's site. As founder and CEO of Happier, a platform for sharing happy moments, Kogan's bio reflects both her professional and personal background. She even adds a bit of biographical and work-related flair by sharing a list of things that make her happy, including "wearing crazy rings" and "cooking with my eight-year-old daughter."
For your bio, aim to write a paragraph that explains who you are and what you do. You may already have some of this written in your LinkedIn Summary or previous bio write-ups used for speaking engagements. Use these to your advantage to save some time. If you don't have these resources, check out Fast Company's piece on writing a great bio—it's full of quality examples and pointers.
Alongside your bio, include a friendly headshot of you smiling and looking straight at the camera. After all, people are visual creatures—putting a face to a name and bio will make you that much more memorable. If a headshot feels a bit too contrived, feel free to step outside of norms and go with a more exciting shot that captures your personality. Kogan's, for example, showcases her in a Happier t-shirt and standing cheerfully atop an ottoman at her office.
3. Make your site an outlet for thought sharing.
Your bio gives the broad overview of who you are, but your site should also include resources for visitors to dig deeper into learning about you. For starters, you should link to your social media accounts, including Twitter and LinkedIn. If you're also the type who enjoys broadcasting publicly on Facebook, link there as well. The idea here is to give readers many opportunities to connect with you, wherever they may be. Just make sure you're conveying a put-together, consistent image of yourself across your website and social media channels; you don't want to confuse anyone!
Secondly, consider starting a blog if you haven't already done so. A blog is an ongoing flow of your thoughts and can even give visitors a way to subscribe to email updates when you post. Chris Brogan, president and CEO of publishing company Human Business Works, maintains an active blog that serves as the main content on his personal website. He covers topics close to his professional life, including personal branding and professional development, but also sprinkles in content about his upcoming speaking engagements and recent epiphanies and conversations he's had. His blog is visually stimulating with appropriate images and perfect formatting, complete with sub-headers and the occasional bolding and italicizing when necessary.
Beyond a blog, consider adding a section on your current and previous projects. Web developer Jon Gottfried, for example, has a "Projects" page that outlines the projects he's developed for personal, professional, contest, and hackathon purposes. Each project has its own page once clicked on, which describes what it's all about and where to find more information.
4. Select a beautiful theme and useful widgets.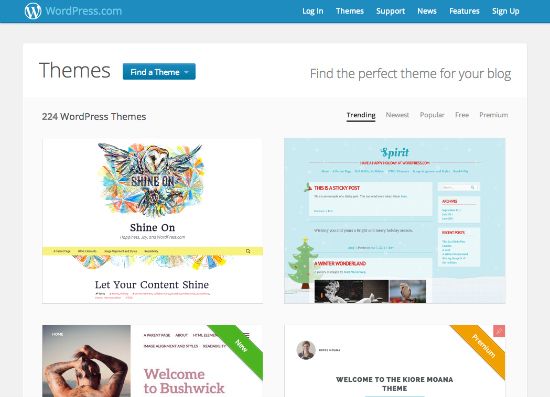 Though content is the most important component to any website, an attractive design always aids in keeping visitors around. Don't just stick with the default theme given by WordPress or Tumblr. Explore other themes for each platform within their official theme gardens. You can find WordPress themes here and Tumblr themes here. You can also find custom themes across the Web, developed by independent designers—just Google to your heart's content. For my site, I use the WordPress Bueno theme, which is bold, playful, and easy to customize.
Widgets—the additive content you tend to find in the sidebars of websites—add visual appeal to your site. WordPress is best known for its widgets, which can be found on the backend of your blog (see this tutorial for details). The best way to find relevant widgets is to simply browse. Popular widgets, though, include:
The About.me widget that provides a brief bio and photo on the sideline of your page
The Top Posts widget, which showcases your most-viewed posts in the past 48 hours.
Tumblr's ecosystem isn't widgets-based. You can add features to your site by customizing your theme within the "Settings" page. After clicking "Customize" under "Theme," choose "Edit HTML" and get to work. There's no central spot for finding Tumblr widgets, but you can find what you need with a simple Internet search. One of the more essential widgets is the Twitter widget, the code of which can be customized and copied from within your Twitter settings. This widget pulls in your Twitter feed and visualizes them on your blog -- with it, your readers will be so well-informed of your shortest of thoughts!
5. Add some personal touches.
All in all, personal touches are what make a website yours. Take a look at your website and consider what you can do to step up the personalization.
Shane Snow, journalist and co-founder of Contently, a publishing startup which helps websites and other publications (including this one) create and manage content (I used to be Contently's director of community), includes his life to-do list. This showcases some of those things he's done—such as "get a master's degree," "build a media company," and more hilariously "be on Gossip Girl"—alongside those to-dos he still has to conquer, the likes of which include writing a book and going into space.
Jacek Grebski, founder of big data marketplace Exversion, maintains a reading list of finance, strategy, and general entrepreneurship books that he recommends to other entrepreneurs.
Personalization could be as simple as adding pages for "Speaking" and "Media," both of which identify you as an expert in your domain.
Whatever it may be, take time to make your site unique.
And once you've got your site up and running, share it with your friends and colleagues, link to it on your social profiles, and include it in your email signature. Hopefully, you'll be showing up in search results in no time. Happy building!
Photos: Shutterstock, ericaswallow.com, courtesy of Nataly Kogan, courtesy of Jon Gottfried, wordpress.com