"Chemistry is the study of transformation." —Walter White, aka "Heisenberg"
After five seasons, AMC's critically acclaimed series Breaking Bad has ended. We've watched Walter White morph from a high school chemistry teacher into a illicit trade kingpin—all seemingly in the name of taking care of his family. And if you're woried about spoilers, I've spared you (I only watched the finale this morning myself). Read on.
As a latecomer to the series, I blasted through the first three seasons through a combination of Amazon Prime and Netflix. Maybe you know what it feels like to stay up until 2:37 a.m. on a Tuesday night because you have to watch just one more episode. Maybe.
But that compelling need is also the way I feel about my business—I'm up until the wee hours to make it better, find new avenues and honor what started me on this path of business ownership. So I got to thinking: What are the business lessons have the folks at AMC woven into the past five years of the series? I'm obviously not condoning the illegal activity portrayed in the show, but this year's Emmy winner for Best Drama has some key business truths woven into its beautiful yet twisted set of storylines. 
Lessons Learned
Lesson No. 1: This business thing—you can't do it alone. Walt was nothing more than a teacher (and a former partner in Grey Matter, a bioscience research firm) when a cancer diagnosis sidetracked his bucolic life. His number-one goal? To secure his family's future. The only problem was, he had no idea how he was going to supplement his pittance of a teacher's salary. In short order, Walt teamed up with former-student-turned-dealer Jesse Pinkman.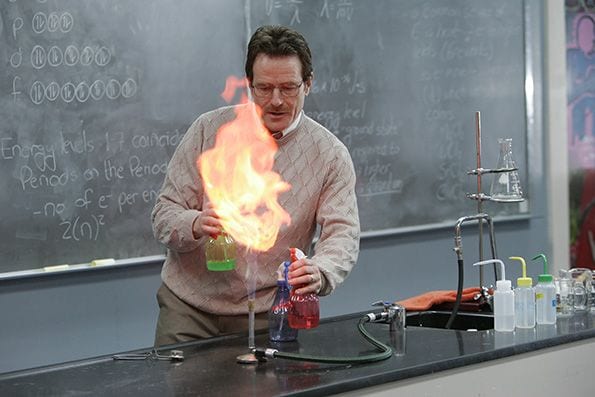 As partners, they brought complementary talents to the table—Jesse knew the distribution side while Walt had the science end down pat. Although your business venture isn't anything close to their gazillion-dollar illicit empire, you still can't do this business thing by yourself. Teaming with partners who have complementary skill sets can only make your business better. Thinking you can go it alone has some pretty disturbing consequences.
Lesson No. 2: Don't let your ego run the show. If seasons four and five have taught us anything, it's that business can definitely go awry when a single ego in your business takes control. Although what Walt and Jesse developed over the course of the series could never be referred to as a BFF type of relationship, it was nothing if not symbiotic. Through a few seasons of twists and turns, Walt became threatened by everything from Jesse's desire to leave the trade to folks like Gus Fring who were looking to "ease" him out of his cash cow.
When Walt feels threatened, he makes bad decisions. In the syntax of Breaking Bad, that meant several of Walt's associates and enemies met untimely ends. It also led to a giant veil of deception that hung like a self-regenerating spiderweb between Walt and Jesse.
Great businesses and partnerships need diverse perspectives to keep everything in check. Reality checks from trusted colleagues can do more to help your business than hurt it. Yet when one ego in a business begins to think it's his way or the highway, there's not much good that can come of it. And in the case of Breaking Bad, that's when everything began to unravel for Walt—from his alliances to the people he first sought to protect most: his family.
Lesson No. 3: There's nothing better for business than a distinct and recognizable product. Say what you want about the show's edgy theme, but Walt and Jesse's symbiosis created their biggest asset: their product. It's signature color develops quite the reputation (and even prompts a heavy blue refreshments theme at parties far and wide). It's the quality of the product that has people scrambling to get a piece of the business. First, it's Gus who wants Heisenberg's signature product under his auspices. Then when Gus meets his demise in a nursing home, Lydia steps in all too ready to pump Heisenberg's blue brand into Europe. Heisenberg's product speaks for itself and customers clamor for more.
While I'm not advocating that you ditch your day gig in favor of something unlawful, you can take a page from the late Gale's recipe book and create something exceptional. Something memorable. Something chatter-worthy. And it's not about gimmick—Heisenberg was Heisenberg because he focused on quality. A distinct and recognizable product builds both buzz and demand, and an experience is a lot harder to knock-off than an anyone-can-make-it something or other.
Lesson No. 4: Bad business decisions only beget more bad business decisions. Walt began his journey down his dark spiral with a single and seemingly noble goal: to financially provide for his family once his cancer had consumed him. His first bad decision was to hide his terminal cancer from his family. His next bad decision was to think that doing something illegal was the only way to achieve his goal. Once you break the line between good and bad, it's pretty hard to turn back.
Maybe you've felt stuck when it comes to getting rid of a bad partner or employee. Perhaps it's the trap of a high dollar yet high annoyance client. And dare I mention that project you took because although you swore you'd never take that kind of work again, the money was too good to pass up?
Bad business decisions have a way of leading to more bad business decisions. And while they probably won't have your wife coming after you with a butcher knife or leave you absconding with your youngest child to regions unknown, they will put you in a place you never wanted to be in the first place. Walt had his cancer excuse. What's yours?
Lesson No. 5: If you're doing it for the money, you're doing it for the wrong reasons. The only reason that an unlawful line of business looked good to Walt was the pure love of money. Although he rationalized the allure of the greenbacks by claiming it was for his and his family's eventual peace of mind, money is what led Walt, Jesse and a myriad of other Breaking Bad characters down their no-good-can-come-of-it path. Even when (spoiler alert!) Walt is robbed of nearly everything he's gained by a band of vigilantes who are supposed to be his allies, he clings to the money as his only salvation.
While it's smart to capitalize on business opportunities that can boost your business's bottom line, the dough can't be the leading motivation. Money is a byproduct of stories well told and jobs well done. It's more important to do what you love and for people for whom you love doing it. When money is the leading factor in a decision-making process, you're only opening the door for your own brand of Walt-turned-Heisenberg transformation.
Breaking Bad shows us as business owners what's possible along with what's definitely not optimal. As Walt said, "Chemistry is the study of transformation." How will your business transform today?
Read more articles on leadership.
Photos: AMC