Sunny Rajab was just 23 and still pursuing an undergraduate degree in management when she launched BCS, an Irvine, California-based company that provides communications solutions for entrepreneurs and small- and medium-size businesses.
It was 2004, and she faced multiple challenges as a young woman in the fast-moving telecommunications industry, but that didn't stop her from building a business that now has 25 full-time employees, a national client base and partnerships with several multi-national technology conglomerates.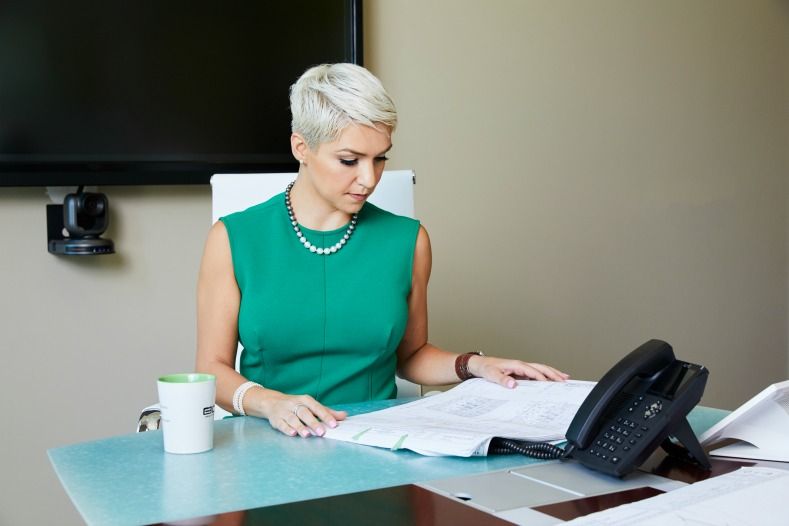 BCS CEO Sunny Rajab
"People assumed I wasn't technical," Rajab, now 37, recalls. To appear older, she had her hair cut into a stylish bob and never let a client's initial skepticism intimidate her, whether she was pitching a package tailored to a specific office environment or describing the latest technological advancements to hit the market. One of her first sales stemmed from her acquaintance with a small-business owner who patronized her parents' Persian restaurant, where Rajab worked for years.
"He would come into the restaurant with his family, and I was his server. But he saw some sort of potential in me, and that meant a lot," she says.
Much has happened for Rajab since those early days, including the 2009 recession, completion of a master's degree in business administration from the University of Southern California, and a family medical emergency that required extraordinary personal and professional strength.
Rajab holds a meeting with her team.
BCS (which stands for Business Communications Solutions) began as a provider of business phone systems, after the abrupt closing of the telecom startup at which Rajab had worked for several years. The company soon added cable and infrastructure services to its portfolio, followed by managed IT and networking services. "Instead of doing the extra coordinating and consulting [with other companies], it just made sense for us to do it all," she says.
Rajab, who was born in Tehran and moved to California when she was eight, drew from her teenage restaurant experience as she kept up with the constantly changing world of technology. "I consider it my best training and education," she says. "You had to think fast and be able to multitask." She recalls taking a chance and hiring a "green" engineer in part because he had years of serving experience at a large chain restaurant.
"I felt that that sort of stress management was good because when you're dealing with a tech issue, it's the same thing. You have to be able to handle the task at hand and people coming at you from all sides."
I've always looked at things long term to make sure I find the right solution for each client.
—Sunny Rajab, CEO, BCS
BCS saw 100 percent growth annually for the first three years, fueled by the mid-2000s boom in the mortgage and financial services sector, which made up more than 60 percent of its business.
Then the recession hit, and many clients closed or slashed budgets. Rajab gave up her weekly paycheck and tapped into personal savings, rather than lay off her own employees, which included a growing roster of contract IT engineers. On one particular challenging day in 2009, she recalls working while in labor at the hospital with her son, now eight, to address a last-minute systems glitch and sign off on projects.
"I felt that we had a good business model and were a strong company, and if I started laying off people it would put us in a challenging situation and make it hard to rebuild," she says. BCS did reorganize a bit by strengthening services, like IT, that weren't dependent on a booming economy, she explains, but "that was in line with our strategy."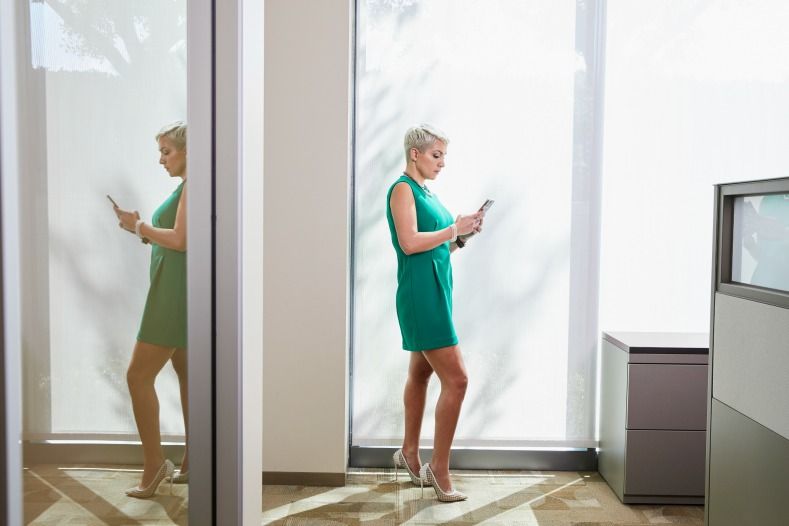 Rajab founded BCS in 2004, when she was just 23. Today, the company has 25 full-time employees and a national client base.
In what would prove to be a prescient move, BCS began offering cloud services in 2007 for a niche group of startup clients whose modest budgets fit well with the internet-based cloud concept. As the technology improved, more clients started embracing the cloud and BCS launched its own unified cloud solution, Kumo, in 2013. It now it makes up 25 percent of BCS's business, and Rajab expects that to grow to 50 percent in the next several years.
"The recession allowed a lot of entrepreneurs to take a risk and open their own businesses; at the same time, those entrepreneurs didn't have the funding it takes to install a full-on communications system," she says. "The cloud product worked for them. It started out as a piece for a select few and, once the technology advanced, it morphed into a significant part our solution offering."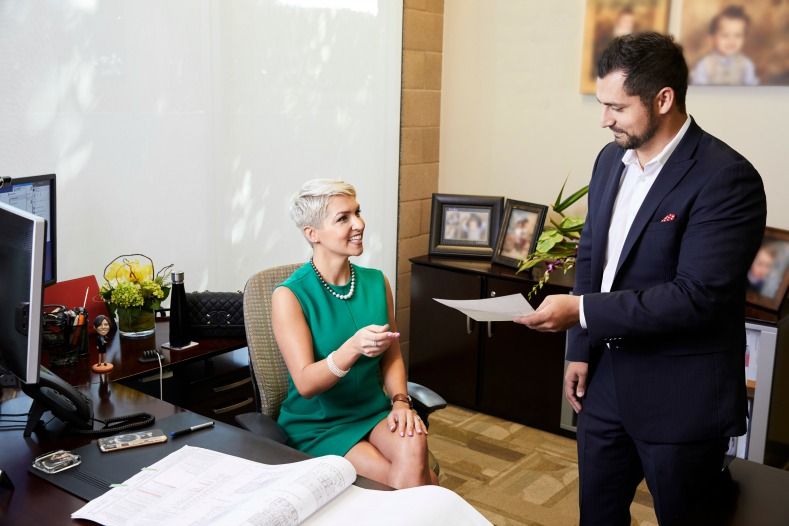 Rajab with her brother, Amir, the company's service manager.
As that side of the business took off, Rajab found herself facing another, much more personal challenge: the diagnosis in 2016 of her six-year-old daughter, Shayda, with a rare form of cancer known as Wilms. It required immediate surgery to remove one of her kidneys, followed by 35 weeks of chemotherapy and 10 rounds of radiation.
Rajab quickly figured out a way to be with her daughter 24/7 without having to step down as CEO. Already savvy about plugging in everywhere, she fully embraced the company's cloud system so she could keep in touch with day-to-day happenings while never leaving Shayda's side. It allowed her accept calls, remotely access all files and phone contacts, and be a virtual presence at meetings. Inspired by others she met during that time, Rajab also launched the nonprofit Shayda Strong Foundation with the mission of providing financial and emotional support to families struggling with the costs and other challenges of cancer treatment.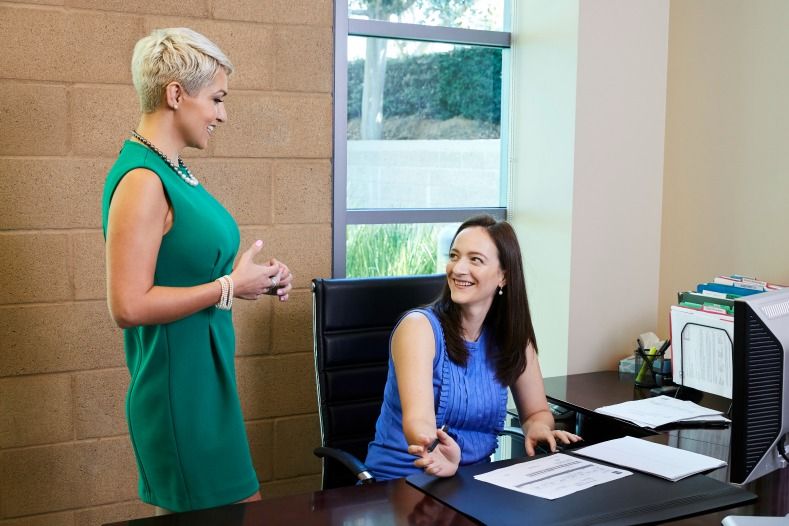 Rajab with BCS controller Sarah Sheldon.
Nearly three months after Shayda's last chemo session, in which mother and daughter posed for photos in super-hero costumes, Rajab is back in her modern Orange County office suite, as her daughter settles into the jubilant days of first grade.
Rajab's confidence is evident as she describes her goals for BCS and demonstrates new services such as audio-visual conferencing and video surveillance in a fully automated conference room, in which the TV, phones, lighting and shades are all controlled by a single touch pad.
Among her goals is to expand BCS's global presence in tandem with the growing number of U.S.-based clients building their own overseas businesses. She also plans to continue with the same strategy she used as a novice CEO: to stay on top of the ever-changing tech world and encourage her clients to keep up in a manner that suits their individual needs.
"I've always looked at things long term to make sure I find the right solution for each client," she says. "It's easy to take a big payment upfront, but why would you put someone in a solution that won't last very long? Then the client will appreciate the relationship we have and it will become long term, versus looking at it as a one-time deal."
Photos: Amanda Friedman