When the NBA banned the Concept 1 sneakers created by Athletic Propulsion Labs, co-founders Adam and Ryan Goldston went on the offensive. Three months later, the brothers haven't looked back.
It was back in October 2010 when twin brothers Adam and Ryan Goldston received the news: their product had been banned by the NBA. The Goldstons, 23, had spent most of the past year developing a revolutionary basketball shoe that, by incorporating proprietary spring technology and carbon-fiber materials, promised to increase a player's vertical leap by up to 3.5 inches – a significant advantage in a sport like basketball. The brothers, who call their company Athletic Propulsion Labs (APL), had traveled from their home in Los Angeles to New York City a few months earlier to pitch their new shoes, dubbed the Concept 1, to National Basketball Association executives in hopes of signing up NBA players to endorsement deals. After they completed their demonstration, in which the Goldstons explained that a team of biomechanical engineers had vetted their so-called "Load 'N Launch" technology, the NBA executives thanked them, promising that their answer would be forthcoming.
And when it did, the Goldstons, who knew the ban was a possibility, were disappointed nonetheless. But, while the brothers knew they wouldn't soon see players like Blake Griffin of their hometown Los Angeles Clippers wearing their shoes and doing things on the court that had never been done before, they also sensed a unique opportunity. Rather than hide from the ban, they decided to send out a press release on Oct. 19 detailing how the NBA had banned their shoes because, in short, they worked too well. It took all of seven minutes after the release went out before the Goldstons were inundated with e-mails, texts and phone calls from friends, media and interested customers all asking about their new wonder shoes. "My BlackBerry literally shut down and our website crashed for about eight hours due to all the traffic," says Ryan Goldston. "That was the start of a crazy ride for us."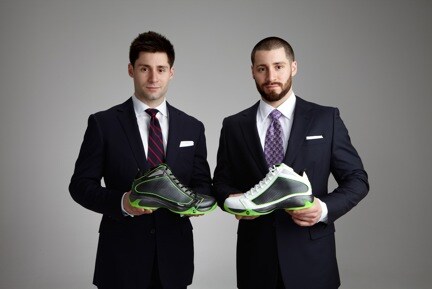 As the story of the banned shoes went viral, grabbing headlines and page views around the world, orders came flooding in to the APL website. The Goldstons quickly cleared out their inventory, selling more shoes in a single day than they had in the prior 30 days combined. With strong sales lasting through the holidays, the biggest challenge the Goldstons face these days is keeping enough shoes, which are manufactured overseas and sell for $300 a pair, in stock. In other words, the NBA's ban had helped establish APL as a player in the multi-billion-dollar athletic footwear business, literally overnight. "When we came up with the idea, we never thought it would take off this quickly," says Adam Goldston.
 
Want more tips on getting media attention? Check these out:

The truth is, though, that the seeds for the success of APL and the Concept 1 were sown much earlier. Not only had the twins played college basketball at the University of Southern California, where they made friends and contacts throughout the industry, they had also grown up in an entrepreneurial household that knew a lot about athletic footwear. In particular, the twins credit their father, Mark, who held executive positions at Reebok and L.A. Gear, as the inspiration for their company. Even as kids, the twins often served as test subjects for prototypes of breakthrough products like lighted shoes that their dad would bring home for them to try out. "Our dad is our No. 1 mentor and cheerleader and the smartest person we know," says Adam. "Without the benefit of his experience and his network of contacts, we would never be where we are now."
Still, this venture is theirs. The Goldstons say the idea for the design of their shoe came from their own limitations. While they had been standout athletes in high school and into college, the Goldstons, who both stand about 5-foot-11, simply wanted to jump higher. And, while they worked diligently on conditioning programs to help improve their vertical leaping ability, they wished for an easier way. "We knew from our playing days that even guys who had 40-inch verticals wanted to jump even higher," says Ryan. "We figured there would be a huge target market if we could find a way to help someone do that. We wanted to sell a dream that anyone could jump higher instantly."
The Goldstons began in early 2009 by tapping into their father's network to hire expert designers and engineers to help them with their mission to increase jumping ability. (They used funding from family members to bootstrap the operation.) Nevertheless, it took more than 10 months of choosing among sketches, colors and the testing of prototypes – not to mention the time spent on the arduous process of patenting their designs – before the Goldstons were ready to make their pitch to the NBA.
Despite the phenomenal promotional boost APL received when the NBA banned the Concept 1, the Goldstons, who won't disclose their sales figures, say they plan to keep their growth under control. "We're not trying to sell 500,000 shoes right off the bat," says Ryan, who majored in business and entrepreneurship at USC. "We want to build the company the right way, by maintaining our brand image and the quality of our product." As such, APL currently sells its shoes almost exclusively through its website – though the Goldstons say they plan on rolling out a more expansive retail strategy over time.
The Goldstons are also currently working on expanding into a new market: they plan on introducing a line of running shoes by the fall of 2011 aimed at both men and women. "We're working on shoes that will make you run faster, instantly," says Adam. "Our goal is to change the game when it comes to improved performance for runners."
Meanwhile, the popularity of their business has impacted the Goldstons in a more unexpected way. Even though they fulfilled their dream of jumping higher—Adam says he can now dunk the basketball while Ryan says the shoes have helped him recover from major ankle reconstruction surgery—the brothers have had a hard time putting their new skills to use. "We used to try and get out to the gym and play at least twice a week," says Adam. "Now, when we show up, everything just shuts down. It just turns into a question-and-answer session about APL instead."