As someone originally from the Washington, D.C. suburb of Vienna, Virginia, it was understandable that Borzou Azabdaftari would be drawn to the world of government contracting after he graduated from college. "It's just what everyone does if you are from here," he says.
But as his career was kicking off in D.C., his father, Abbas Azabdaftari, called him up with a different opportunity. The elder Azabdaftari and his wife, Sepideh Farivar, owned a small business called Falcon Printing and Copying. He was looking to retire and he wanted to offer his son the chance to buy the business and follow in his footsteps.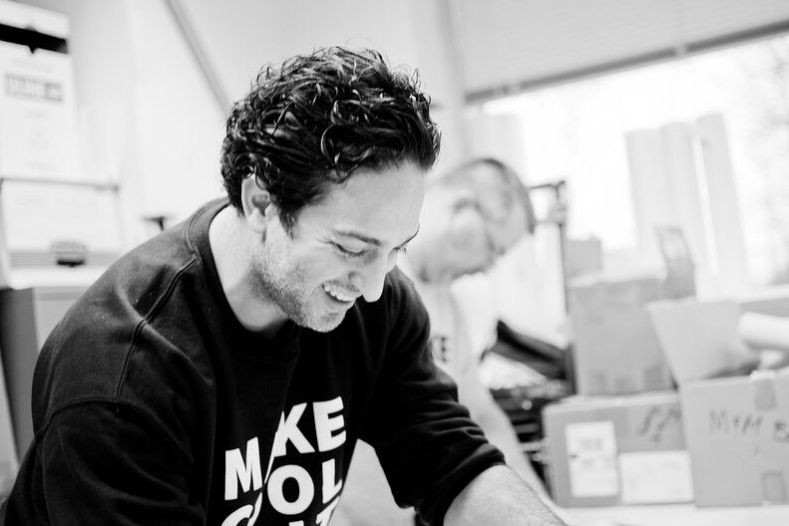 Borzou Azabdaftari, owner of The Falcon Lab
As it happened, Borzou had been working in the government litigation support sector when he got that call from his dad. He had seen firsthand how lawyers were beginning to scan and digitize the vast files and records involved in a case rather than print them out on hard copy like they had always done. Rather than see that as a threat to his parents' print business, Borzou saw an opportunity to modernize it. "My plan was to come and take the business in that direction," he says. "But you know what they say about the best laid plans."
I take a lot of pride in making a good, tangible product that people remember. Doing that in-house gives us the ability to turn things around quickly and keep an eye on quality.
—Borzou Azabdaftari, owner, The Falcon Lab
Over the next three years, Azabdaftari grew the business, still called Falcon Printing and Copying, three-fold through an extensive marketing and business development outreach effort. But in 2008, just as he finalized his purchase of the business from his parents, the economy tanked. Worse, other print shops in the area began to drop their prices as a way to increase their market share. It seemed like a perfect storm of bad news.
That's when Azabdaftari decided to pivot his business by listening to what his customers needed, which was someone capable of providing one-stop-shop solutions to their design, marketing, and branding campaigns. More than just custom printing, they asked for his help with everything from website design to redesigning the layout of a store. That's when The Falcon Lab was born.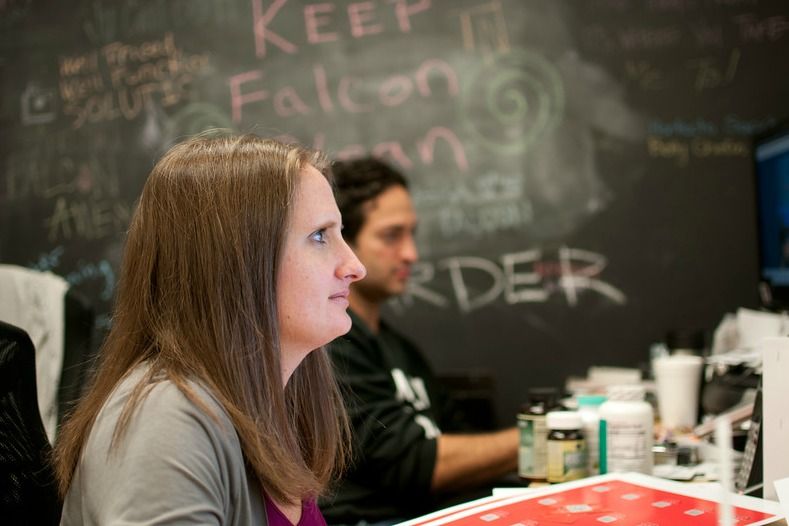 Falcon Lab employee Tracy Shields
"We always offered design services, but it was an ancillary service and generally after the initial strategy had been done," says Azabdaftari, who says that it was a relatively seamless evolution for the business to make to becoming a full-service marketing firm. "We had enough good ideas for enough customers that they started shifting all their creative to us. One client actually asked us to host his email as well so he could have everything in one place, but we had to draw the line somewhere."
Today, Azabdaftari employs a full-time staff of seven and supplements that with a roster of contractors who create a wide variety of creative campaigns for more than 500 clients in the D.C. area that range from startups to Fortune 500-sized companies. "We like to partner with companies that embrace innovation and want to have fun with their marketing," says Azabdaftari. "I think what really sets us apart is that we listen and really learn about our customers' goals. We don't make the same suggestions for everyone. We really think of ourselves as an extension of our clients' companies—and we tailor our product so that it speaks directly to their customers."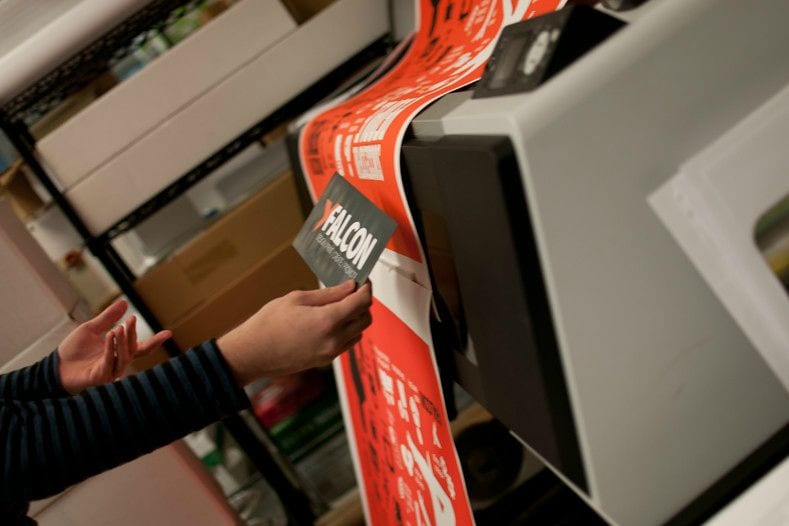 The Falcon Lab offers in-house printing, which allows them to tackle all aspects of a marketing campaign.
Although social media has radically transformed how companies market, it's becoming harder and harder for businesses to stand out to potential customers in those channels. As a result, Azabdaftari says that high-quality printed materials are making a comeback—something that his business is aptly positioned to deliver on. "We have always tried hard not to distance ourselves from being a printer," he says. "That's still a huge part of our business and I take a lot of pride in making a good, tangible product that people remember. Doing that in-house gives us the ability to turn things around quickly and keep an eye on quality."
Plus, by having the ability to print in-house, Azabdaftari says The Falcon Lab appeals to companies who want their creative agency to tackle all aspects of a marketing campaign—everything from setting up a website and developing a custom Snapchat campaign to providing custom-designed T-shirts and temporary tattoos. "We don't say no to anything," says Azabdaftari. "If a client doesn't know exactly what they need, we'll help them figure it out. We enjoy the challenges that each client brings. We are definitely a group of creative problem-solvers."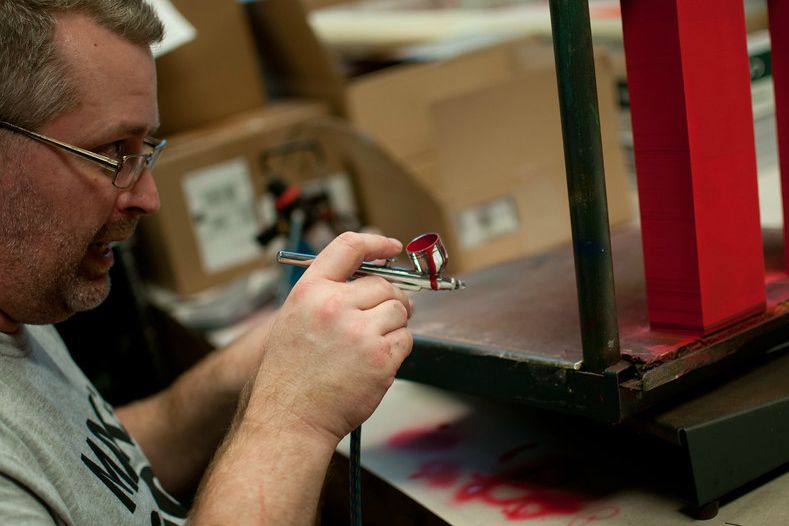 Falcon Lab employee Robert Kimble
Thanks to its ability to pivot to meet the demands of its customers, The Falcon Lab passed $1 million in revenue in 2015. The business is also profitable, but Azabdaftari says he reinvests all of that into growing his business for the future. He has also never taken on outside investment, relying on his credit cards to finance his purchases instead. But he believes his business has the potential to go national someday, maybe even by the time he turns 40. "Like most entrepreneurs, I have a sky-or-the-gutter mentality," he says. "So my biggest hopes are pretty big. But that also means my work is never boring."
Photos from top: iStock (1), Colleen Bucher Photography / Courtesy of The Falcon Lab