Most entrepreneurs, at some stage in their growth, want to get noticed by big media. These outlets offer massive reach, the potential for new capital, and other immense value that has traditionally been unmatched. As a leading crowdfunding platform, my company, RocketHub, wanted to develop pathways for exceptional people to be heard by those that can help them "do more."
Crowdfunding is a new and non-traditional way for raising funds. But it isn't just a potential source of capital—it can also be a new option for big media to discover and promote startups.
In 2013, RocketHub rolled out multiple partnerships with big media companies looking to collaborate with the crowdfunding community and showcase stories of real-life folks making amazing things happen. Because of this, the awareness opportunities within the current crowdfunding landscape are game-changing for startups and business owners looking to take their endeavor to the next level.
Case Study: Bon Appétit
In January, culinary magazine Bon Appétit launched The Food Innovator Awards on RocketHub to empower food entrepreneurs from their audience. Bon Appétit restaurant and drinks editor Andrew Knowlton and Michelin-starred chef Chris Kostow selected projects with promising ideas in food innovation to showcase and promote. The top funded project received an extra $10,000 grant from Bon Appétit and Lexus, as well as a coveted feature placement on Bon Appétit's website.
So what went into their decisions when selecting projects to feature? For Chef Kostow, it came down to the purpose and mission of the entrepreneur. "I love SHFT Mobile Kitchen Classroom because it provides practical, applicable insight for children," Kostow said in a Q&A with the RocketHub blog, "and SaucyKids because it empowers children. Instead of dictating to them what they should eat, it appeals to their competitive nature and allows them to make decisions that they will then be rewarded for."
Five projects were selected as challenge finalists, but in the end, it was Kristi Murphy and her SaucyKids "food journal game" that got the Food Innovator Award (and the extra $10,000 from Bon Appétit and Lexus). She raised over $21,000 and was featured in detail on Bon Appétit's multimedia site.
The Takeaway: Mission matters. Funders and big media alike are drawn to entrepreneurs looking to make a positive difference.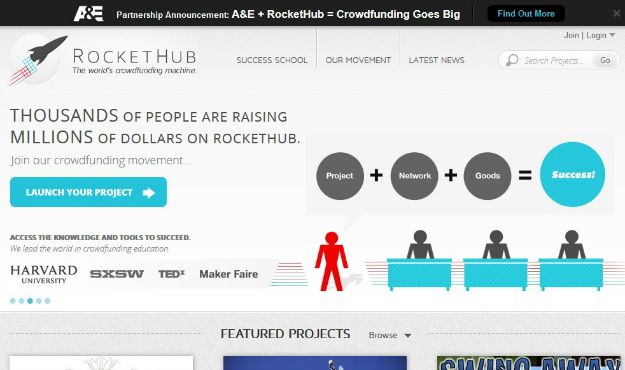 Screenshot: RocketHub.com
Case Study: A&E Networks
In April, we announced our partnership with A&E Networks, called Project Startup. The collaboration is massive in scope, moving the crowdfunding movement into the mainstream by featuring stories from startup founders within A&E's reach of 100 million television sets. In addition, A&E is contributing significant extra funds to selected RocketHub projects.
Andy Krafsur, CEO of Spira Footwear, raised over $40,000 on RocketHub and was among the first projects to be selected. Now his story is in steady rotation on A&E TV.
"There are any number of challenges facing entrepreneurs seeking to bridge the chasm between start up and scale up; cash flow, brand awareness and distribution are chief among them," Krafsur told me. "Project Startup and RocketHub were instrumental in providing critical support in all three areas. Not only were we able to pre-sell approximately 800 pair of shoes, we were also provided with a credible platform for both consumers and prospective retailers to have a 'discovery' experience. Since our launch on RocketHub and Project Startup, we've become a profitable company, and are positioned for exponential growth."
How can an emerging entrepreneur using crowdfunding catch the eyes of A&E Networks and Project Startup? Through exceptional startup stories, passionate and authentic leadership, and crowd validation (i.e., funding momentum). Project Startup is live and active right now—with A&E scouring RocketHub for projects that are a fit for their audience.
The Takeaway: Big media exposure can be a game-changing catalyst that takes a company from startup to profitability.
Case Study: Popular Science
Popular Science has served as a major media beacon for science and technology for nearly a century and a half. With the #CrowdGrant Challenge launching on RocketHub in July, Popular Science is selecting funding campaigns from its community, bringing the stories to millions of monthly website visitors, millions of print magazine readers, and a rapidly growing number of tablet users. Popular Science intends to promote finalists as widely and as deeply as they can, engaging their community in the process.
The Takeaway: Bringing big ideas to engaged communities can help entrepreneurs break out, fund faster, and open doors to new adventures.
As a much deeper form of engagement than following or voting, crowdfunding has become the new "Like" button. It is immeasurably more valuable than just a click of approval, since funding is where the real "rubber meets the road." Big media companies have begun to realize this dynamic shift.
Expect more opportunities as the rise of this new content class becomes the norm in fundraising for seed stage endeavors. Entrepreneurs and small business leaders must quickly realize and act upon the immediate possibilities associated with crowdfunding.
Brian plays a mean ukulele and is the CEO of RocketHub, one of the world's top crowdfunding platforms. He has lectured on crowdsourced funding at SXSW, TEDxBrooklyn, White House roundtables, Maker Faire, and Columbia University, as well as other colleges and institutions. His goal? To teach entrepreneurs how to leverage the crowd for funding and awareness.
Photos: Thinkstock