I'm a detective, or at least I feel like one, as I walk through Chicago's River North neighborhood in search of a nearly-extinct treasure: a thriving bookstore.
Is there such a thing? I'm skeptical, especially after passing the sad shell of a former Borders on Michigan Avenue, but seven blocks later I find myself standing in front of Open Books, a wildly popular bookstore with a philanthropic mission.
Upon entering, I am greeted by the sight of two knight statues, a seven-foot-long flying copper dragon suspended from the ceiling, and a multicolored mural stating, 'Building a World of Readers, Artists & Dreamers." Open Books is far more than a bookstore. It is a non-profit that provides programs to help fight Chicago's literacy crisis—the bookstore helps fund the operation.
How big is Chicago's literacy crisis?
"It's huge; the statistics are terrifying," says Stacy Ratner, founder and executive director of Open Books. "About 53 percent of Chicago's adult population reads at or below a fourth-grade level."
Ratner (pictured above) is a serial entrepreneur with degrees from Brandeis and Boston College School of Law. In 2006, she was looking for a new venture when she learned of the literacy crisis and decided do something about it.
She started by launching Open Books Buddies, a program pairing volunteers with high-risk elementary-age students for one-on-one reading and comprehension practice. With a store as a long-range vision, she began asking the community for used book donations.
"We got a little over our heads with that," Ratner says. "I didn't realize how many used books were in Chicago. At this point, we were still in my basement. Our goal was to get 50,000 books and we surpassed that quickly. Soon, we started renting a storage unit, then 10 storage units."
In late 2007, she moved the supply into a warehouse and began selling used books at events and online. The books kept coming and in November 2009, Ratner and her team unveiled a 5,000-square-foot bookstore.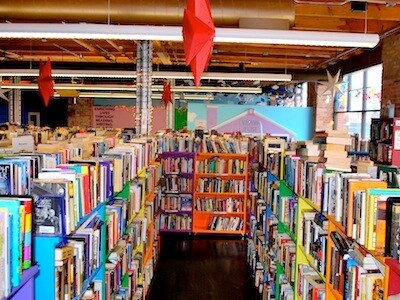 Which brings me back to today. After admiring the suspended copper dragon's wingspan, I step into the cavernous bookstore and feel immediately at home. As a huge lover of used bookstores, this is a Cadillac version. Perfectly-groomed aisles outlined by purple, green, and blue shelves create an easily navigable maze. Sunlight pours in through oversized picture windows on two walls reflecting diamonds of light off of paper stars hanging from the ceiling.
Want to read more from Katie Morell? Check these out:
I walk around, a kid in a candy store, expecting to see tattered, reject titles with frayed edges from the 1940s. Nope. Today's best sellers are lined up by category, all sitting on welcoming displays. Every few feet I find a lounge area with leather couches, coffee tables and pillows.
"We have 50,000 titles in the store," says Becca Keaty, director of external relations. "All of our prices are roughly half off. Since we are entirely donation-based, our books are a direct reflection of Chicago. They are books for Chicago."
In addition, Open Books has expanded its literacy programs, which operate out of classrooms above the store. Open Books Buddies is still going strong, as is Adventures in Creative Writing Field Trips where, "students are brought in from surrounding schools to write their own stories," Keaty says. VWriter, a virtual mentoring program for high school juniors, is another offering; as is ReadThenWrite, a program in the "piloting stages that will include students meeting weekly with mentors to write their own stories," she adds.
The future of bookstores
It's no secret that bookstores are having a tough time, i.e. the recently bankruptcy of Borders. So how will Open Books stay afloat in this market?
"I think there will always be a place for bookstores," Ratner says. "I also think the market is brighter for used bookstores, rather than new. As a used bookstore, we have more flexibility about what to offer and how to price it. Plus, all of our inventory is donated."
Keaty is equally optimistic.
"Our sales are really steady—things are going great," she says, adding that Open Books also sells titles online. "I have yet to see someone come in and not fall in love with this store. People who love books, love places like this. Plus, we serve a greater mission, which I think is attractive to the community."
Starting a social venture
Want to launch a business that makes a difference but aren't sure where to start?
Ratner offers four tips.
Live the cause
"Choose a cause that you want to live every day and every night because it is going to take all of your energy, passion, blood, sweat and tears," she says.
Link the mission and business
"If you want to run it as a business, make sure the business is really part of your mission," Ratner suggests. "For example, we wouldn't start a bakery."
Identify your strengths
"Know your strengths and know what you know," she says. "I know a lot about bookstores and about the customer experience we want to create here. Make sure to take advantage of what you already know."
Make and break your plan
"Make a plan and be prepared to abandon it," Ratner says. "If something goes wrong, use it as a learning opportunity to make sure it doesn't happen again."