I want to introduce you to a man who, through making small, incremental changes, radically changed his life, and the planet.
As we enter into a new year, people's minds naturally turn towards resolutions and doing things better, either personally or in business. It is human nature. But it is also human nature to eventually fall off the wagon: "I'll get back on that diet after my birthday in March." But of course the birthday comes and goes but the diet stays gone.
How can we make big lasting change?
The answer: use the trim tab method. That's what Buckminster Fuller did.
Fuller is best known as the inventor of the geodesic dome – those domes made of triangles that pop up as everything from a playground climbing structures to stadium domes to Navy outposts in the frozen arctic tundra.
But Fuller was proficient and masterful in areas as diverse as mathematics (the field he invented was called Synergistics), architecture (though he was not a licensed architect), cartography, writing (many books, including Operating Manual for Spaceship Earth), and poetry (he was once the Charles Eliot Norton Professor of Poetry at Harvard.) For a while he had the longest entry ever in Who's Who, and he was the international president of MENSA.
But before all that, in 1927, he was an abject failure. Having failed in several businesses, and having recently lost a young child, he decided to kill himself. But before he could, he had an epiphany that changed his life.
Want more from Steve Strauss? Check these out:

Though he did not have the power of nations or governments, what he could do, he realized, was think for himself and act on his own. He was, he decided, a trim tab:
"Something hit me very hard once, thinking about what one little man could do. Think of the Queen Mary – the whole ship goes by and then comes the rudder. And there's a tiny thing at the edge of the rudder called a trim tab. It's a miniature rudder. Just moving the little trim tab builds a low pressure that pulls the rudder around. Takes almost no effort at all. So I said that the little individual can be a trim tab. So I said, call me Trim Tab."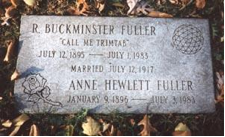 The idea is this: Just a small change in direction can result in a whole new outcome. The tiny trim tab turns the rudder, and the little rudder turns the bigger ocean liner. Before long, that giant ocean liner is heading in a new direction, all because that tiny trim tab set things upon a new course.
When we think of change, we often think we have to do things differently. "I will not eat any more carbs this year" or "I am going to master social media next month." But the lesson of the trim tab is that, fortunately, real change occurs when we make small changes that set us in new directions.
The process might look something like this:
Consider what direction your ship is headed
Decide where you would like to end up instead
Decide which small changes can you can make that would set things upon that new course
Ask whether your trim tab may have a trim tab, and start with the smallest one first
Decide how best to exert pressure on that trim tab
And remember, steady as she goes as you navigate the new direction
It's that simple.
And it should be comforting to know that to make real, effective, lasting change, you need not re-think and redo what you are doing wrong. Instead, look for the small thing, the fulcrum, the trim tab, and just slightly alter that.
Happy sailing in 2011!