Contrary to popular belief, customers do not respond to data. Instead, they love to hear a good story. The reason that storytelling is so effective is because it elicits an emotional response from the listener that can be much more impactful. Stories work because, ultimately, buying is not a purely objective process. Attitude, emotions, social pressures and other assumptions play a major role in the decision-making process. As a result, telling stories is one of the most important tools for marketing a company's product.
To acquire customers, great company brands always tell stories. For example, on the side of the People's Gas truck in Chicago, it doesn't simply read, "We deliver natural gas," it says, "We deliver … warmth, safety, smiles, expertise, hot breakfasts, confidence, cozy nights, trust …" A flower store at Penn Station in New York City displays a sign alongside three different sized bouquets and asks, "How mad is she?"  
Make Customers Listen
Every presentation I give starts with the same story: "I have had three businesses over the past 20 years. The first company went out of business. The second company, I was kicked out of by my two partners two weeks before my first son was born. The third business, which I started two weeks after my first son was born, I was fortunate enough to sell in July of 1999 and pay back the $1.3 million I owed the bank. My wife, Sara, says I got her back just about the same time."
This takes the audience off guard. They realize I'm just like them; they can relate—and in turn they listen more closely to my message.
Stories are especially powerful when customers tell them. For example, Chris Hurn left his son's favorite stuffed animal, "Joshie," at the Ritz-Carlton Hotel in Amelia Island, Florida, on a family vacation. When he got home, his son was devastated. Hurn told him that Joshie had decided to stay a few extra days at the hotel on vacation. The hotel staff sent Joshie back to his son. In the box, Joshie came with pictures of him by the pool, having a massage and taking a drive on the beach. Hurn was so impressed that he made a video about it that got 30,000 views.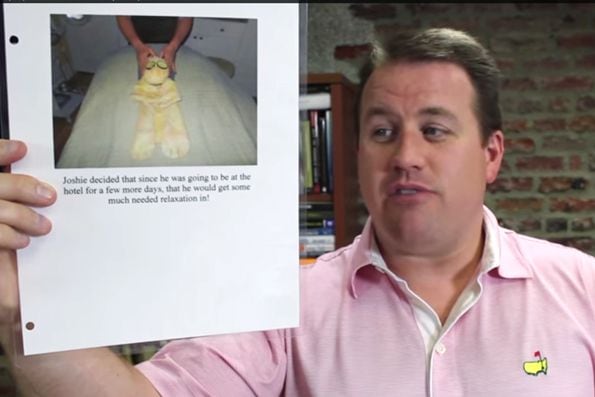 This experience told by a customer showed that the Ritz-Carlton cares even after the guest checks out.
To increase bottom line profits, companies need customers to stay with them to build profitability. According to some marketing researchers, it is seven times more expensive to get revenue from a new customer than from current ones.
Craft Your Story
Every story has the same basic structure, according to Judy Carter, author, speaking coach and humorist. The hero starts with a mess, but ends in success. Carter says, "It may not be the success he or she had in mind, but in all effective stories, our hero learns something and benefits."
When building your business's story, find a customer who was in an extreme situation and then show how your company exceeded expectations to help them. It's not always about a customer, either; it can be about an employee or vendor. The reader needs to be able to identify with the main character so they can see it happening to them. Details such as time, place and particular circumstances make it easier to visualize and will increase the story's effectiveness. It needs to be told in a logical, unified manner that meets the readers' expectations about what will happen.
Instead of asking, "What do I sell?" think about, "What story can I tell to relay my message?"
Read more articles on marketing.
Photos from top: iStockphoto; youtube.com