Small businesses are predicted to maintain steady marketing budgets next year, including spending on websites, direct mail, email marketing, social media and print advertising, according to a recent survey by Zoomerang and GrowBiz Media.
Small business marketing budgets leaned toward websites this year, with 39 percent of SMBs with fewer than 1,000 employees spending greater than 20 percent of their budgets in that area. Online spending is expected to continue in favor of websites, as 17 percent of respondents plan to increase budgets for their sites in 2011 -- the highest percentage increase in planning for any marketing item included in the survey. In comparison, 15 percent of respondents reported that they plan to spend more on email marketing next year, while 13 percent of respondents plan to up their social media marketing budgets.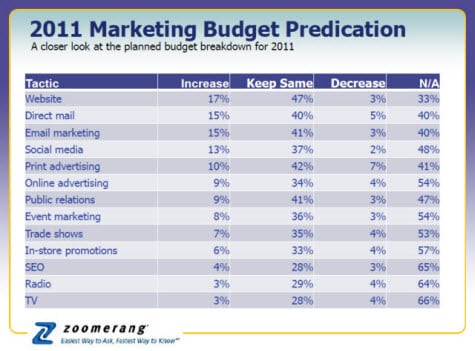 According to the survey, 54 percent of respondents indicated that their businesses currently have websites. Regarding website features, the vast majority (80 percent) of websites include general business information, while customer service (45 percent), lead generation (35 percent) and e-commerce (30 percent) features trail in at a distant second, third and fourth places. A mere 13 percent of businesses reported having a blog.
The survey indicates that there is large room for improvement among small business websites, including the addition of more value-added features, such as online shops, reservation systems and relevant content via corporate blogs. We see this as an opportunity for small businesses with brochure-like websites to progress into the 21st century with more useful and better designed websites.
Social media is predicted to be the third most increased area for online marketing spending next year. Among the more than 750 businesses surveyed, 34 percent indicated that they currently engage in social media marketing. Of those using social media, Facebook (80 percent), LinkedIn (37 percent) and Twitter (27 percent) were the most commonly used platforms.
As use of basic social media tools increases, we believe greater adoption of other technologies, such as location-based services, group buying platforms, 2-D scanning technologies -- such as QR codes -- and mobile and web apps will take place, as well. In the end, it all depends on business owners's willingness to test and adopt new technologies.
The beauty is that all of these advancements are materializing, even on low budgets. The majority of respondents (55 percent) reported having marketing budgets of less than $1,000, while an additional 20 percent of respondents reported budgets of between $1,000 and $9,000. With low budgets, small businesses seem to be making the most of the web and its low-cost marketing opportunities.
How is your small business utilizing the online space to market your products and services?
Image courtesy of
iStockphoto
,
kemalbas