Summer travel usually brings to mind tropical beaches, national parks and family reunions. But for busy entrepreneurs, summer travel simply means you're hitting the road while everyone else—or so it seems—is on vacation.
Due to the sudden influx of people headed for some rest and relaxation, hotel lobbies, airports, train stations, rest areas and roadways are more crowded than usual—which only helps underscore that you're doing anything but getting some R&R. As you fight the crowds to connect to your next flight or train, it can make for a weird disconnect seeing everyone else having fun while you're hoping to score your next business deal.
But business doesn't stop just because summer's here, so if you're planning any business trips in the next few months, here are some action items to consider before departing.
Save Money by Booking Your Travel on the Right Days
If you're flying in July or August and have some flexibility, schedule your trip for August, suggests Travelzoo editorial director Andrew Young. "July is generally the most expensive month to fly all year," he notes.
As for zeroing in on when to leave, Young suggests, "Take the first flight out in the morning. It's the flight most likely to be on time." His reasoning? Summer air travel is particularly notorious for weather delays—although with the rough winter we recently had, Young's advice might be smart to follow all year round.
When it comes to booking your flight, one experienced business traveler suggests early morning—even before the crack of dawn—is the best for that, too.
Parisnicole Payton, owner of Philadelphia-based The PNP Agency, a PR and marketing firm for sports and entertainment professionals, travels for business two to three times a month. She says she learned the ticket booking trick several years ago while she was looking for a cheap flight to Miami.
"When I checked the airfare prices at 1 p.m., the ticket was more than $600," Payton recalls. After staying up all night, she checked prices again around four in the morning and saw that the ticket price had dropped significantly. "It went from $600 to $287," Payton notes. Ever since, she says she frequently finds much cheaper airfares when everyone else is sleeping.
And if you really want that sweet spot, then check for the best fares in the wee hours of the morning on Tuesdays and Wednesdays. According to Elizabeth Avery, founder of Solo Trekker 4 U, a travel website for individual travelers, "Many travel providers publish new deals on those two days."
But while midweek might be best for finding the best deals, it's often not the best time for businesspeople to actually travel. Avery notes that trying to get a flight or reserve a room for a Tuesday or Wednesday may mean you'll pay a premium. That's because, as a general rule, if you're traveling a common business route, such as Chicago to New York City, or if you're staying at a hotel that caters to the business crowd, you're going to find prices higher during the middle of the week and cheaper on the fringes.
"Air travel on top business routes tends to be more expensive during the week than on weekends since there's usually low load factors on Saturday and Sunday," Avery says. Recently, for instance, she says she found a Washington to LaGuardia Delta shuttle, flying the same day, that was going for $451 roundtrip on Tuesday, July 8, whereas a Saturday, July 12 same-day shuttle flight was priced at $290.
But lower weekend prices on common business legs make sense. After all, who wants to conduct a business meeting on a Saturday?
Sign Up for the TSA PreCheck Program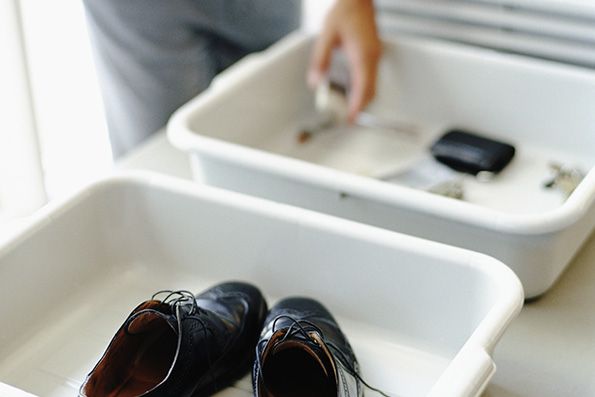 Hate waiting in long security lines? Or learning that the tube of toothpaste in your carry-on is too big, might be a security risk and needs to be immediately thrown away? Then you might want to look into the Transportation Security Administration (TSA) PreCheck process. If you're eligible, it allows you to move through security faster.
To start the process, you have to apply in person at an enrollment center, which is generally available at any airport that offers the TSA PreCheck service. According to the TSA website, there are currently 118 airports that offer it. When you apply, you'll be fingerprinted, have to provide proper ID and pay an $85 fee. As long as you pass the application process (and you likely will, unless you have a criminal or terrorist past), then you'll be free to waltz through the faster TSA PreCheck security lines for the next five years.
"Some businesspeople knock it, but when you consider the current state of airport security, this can be a godsend," Travelzoo senior editor Gabe Saglie says. "It moves two to three times faster than regular security lines."
Elle Kaplan, frequent traveler and CEO and founding partner of LexION Capital Management in New York City, agrees. As she puts it, "The time and hassle saved are priceless."
Understand Changing Airline Miles Programs
If you live and die by the rewards your airlines give you, it's helpful to know whose rewards programs will work best for you. For years, most major airline mileage programs awarded fliers miles based on the distances they had actually flown, but two major airlines announced changes in recent months. As of January 1, 2015, Delta will base its miles awarded on the amount customers paid for their ticket instead of on how far they've flown; United Airlines will do the same beginning March 1, 2015. JetBlue and Southwest Airlines already do this.
The odd airline out, for now, is American Airlines, which still offers award miles based on actual miles flown. Obviously, this trend works out well for businesspeople who spend a lot on their air travel. It's not so great if you accumulate mileage by taking a lot of cheap business trips. If you frequently fly on the airlines that are making changes, it might be wise to book some inexpensive long-distance travel this year to get the most bang for your buck.
Use a Business Travel App
There's an app for everything these days, and business travel is no exception. Offering help with everything from organizing your trip to tracking your miles and hotel points, the following apps can help make your travels easier and more productive:
Put Business Travel Technology to Work for You
Mobile apps aren't the only tools plugged-in business travelers can use to make their trips as headache free as possible. Many upscale hotels are adding technology-based services to assist their business travelers. For instance, if you're staying at the Hyatt Regency in Boston, you can use the hotel's Swank Draw iPad App to select equipment and chairs that you want to use in a conference room. The app then shows you how the room will look.
Starwood Hotels & Resorts Worldwide has been working on a pilot program that will allow Starwood Preferred guests to use the SPG app on their iPhone, iPad or Android device to unlock their hotel room door, making for a speedier check-in process—and no more fumbling for the key card. While this technology isn't in all its hotels yet, it will be in the near future.
For business travelers who travel by train, you'll be happy to know that Amtrak recently announced it's working on building a high-capacity, broadband-speed WiFi network for all trains going from Washington, DC, to Boston. No word yet on how long it will take, but for regular business travelers along that route, this news couldn't come soon enough.
Decide Where to Stay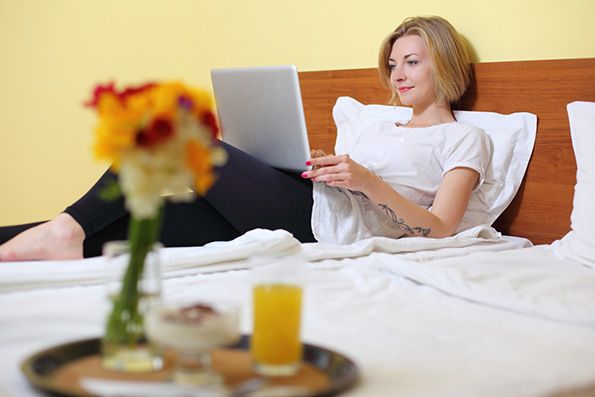 Don't roll the dice when it comes to booking lodging for your business trip. Instead, review the results of TripAdvisor's annual business travel survey. The online travel website surveyed more than 1,500 travelers worldwide to discover their top picks for hotels, airlines and more. Marriott was the top hotel choice for business travelers for the second year in a row. Hilton was the second favorite, followed by Sheraton and Holiday Inn, which tied for third.
If an upscale hotel isn't in your budget, there are plenty of lower-priced chains that offer business amenities to their guests. For instance, Red Roof Inns offer rooms for well under $100 a night, with an average Red Roof Inn room costing just $66.35. You'll pay $71.93 if you're staying at a Red Roof PLUS+ property. 
"The chain offers free WiFi at properties nationwide, desks in each room, additional electrical outlets ideal for laptops, cell phones and tablets," says Lindsey Norris, a spokesperson for the hotel, "all to attract business travelers."
The hotel chain has seen an uptick in business travelers, Norris says, since recently undergoing a redesign.
Join a Loyalty Program
Choosing based on price isn't a bad idea, but if you don't at least take a look at a hotel's loyalty program, you may be missing out, according to Travelzoo's Saglie. "I can't say enough about this," Saglie says. "At hotels, loyalty programs allow you to book the most competitive rate and still gain perks, like upgrades, free WiFi and late checkouts, that make a work trip a lot more enjoyable."
For instance, the Marriott Rewards program for hotel guests offers guaranteed priority check-in to members of its loyalty program as well as a free fifth night after a consecutive four-night stay. Guests can also redeem the rewards points for flights through more than 30 airline rewards programs.
Last year, United Airlines came out with a loyalty program for small-business owners that helps members accrue points faster. The company's United MileagePlus Small Business Network is unique among airline rewards programs because it allows you to compile reward miles with the airline by making purchases—such as for your office—through United's program partners.
There are dozens of loyalty programs available to frequent travelers. Be sure to ask the companies you do the most business with what they have to offer.
Travel Light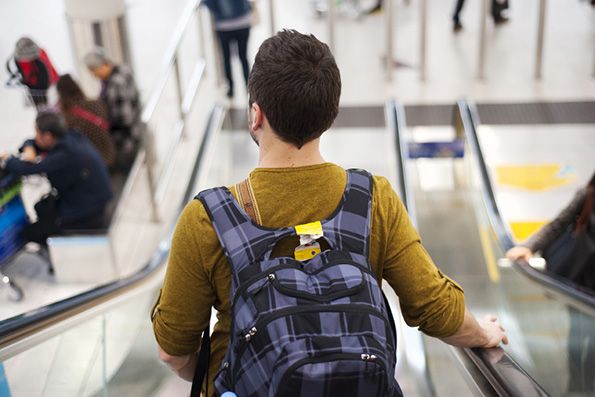 While you probably don't need to be told to pack light at this point in the game, it can still be easy to forget, especially if you don't travel for business very often. Many inexperienced travelers use the "I want to be ready for anything" method of packing and cram clothes for every possible contingency into their suitcase.
Don't get caught in this game. As frequent traveler Kaplan says, "Packing light makes it easy to go from city to city, from plane to train to car and back again ... you can be so much more relaxed and effective."
To help you pack with ease, Kaplan suggests, "There are some fabrics that are very forgiving when crunched up in a suitcase, and those that will show every last wrinkle. For instance, Gore-Tex is great for travel, as are items that are nylon with a touch of spandex. Dresses [or pants] in that kind of fabric blend, for instance, keep their shape and don't really show wrinkles or wear.
"You also want to be strategic about color," Kaplan adds. "You'll be mixing and matching and ideally wearing things more than once, so you should travel with two basic colors. It makes life a lot easier when everything goes with everything, and with crisp neutral basics, those necessary repeats aren't noticeable." Many travel experts recommend darker colors for a jacket, dress or pants—if something spills, nobody will likely notice.
Kaplan also suggests laying everything out in advance—then cutting back on what you plan to bring. "I always tell fellow travelers to bring one pair of shoes and wear one on the plane—that's it," she says. "And you can always rinse delicates at your hotel rather than bringing a whole week's worth."
Add Some Vacation Time to Your Business Trip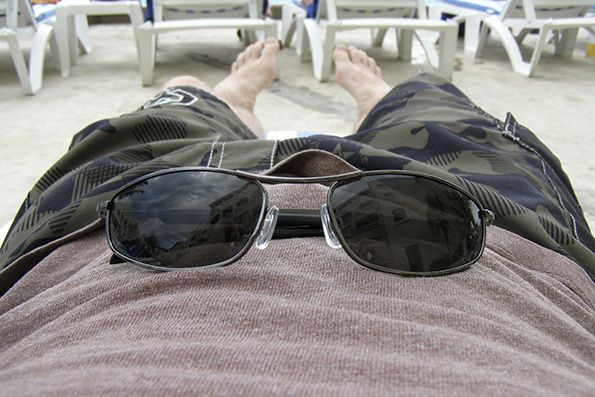 It isn't always practical to build downtime into your business trip. After all, time is money, and if you've left the spouse and kids behind and extended your trip by a few days for some fun in the sun without them, you may get some deservedly frosty looks when you return.
But if you can turn your work into a working vacation, you might be able to write some of that vacation time off on your taxes—or just enjoy your journey a little more. If nothing else, soak in what you can and enjoy where you are and what you're doing—you are, after all, traveling, and, unless you travel to the same place time and time again, you're experiencing something new. You owe it to yourself to enjoy your trip, even if there are insane crowds everywhere you look.
One easy way to make the most of your time is to take to the streets: Walk or run after your business day is over, and you'll see the city in a whole new light. "Getting outside for a quick run on your trip," says Kelley Long, a CPA and money coach in Chicago, "is a great way to check out the city you're visiting while also working off some steam." One word of caution: Be sure to check in at the hotel desk before you head out, Long suggests, so someone knows where you are.
After all, you may not know the city or the neighborhood, and who knows what you might stumble into? It's that type of forethought and preparation that can make any business trip a success.
Read more articles on business travel.
Photos: iStockphoto, Thinkstock