"It's tough out there," is a common phrase uttered by thousands of single people every day. And it's true. Being single can be difficult, especially if you like someone but are too afraid to go up and talk to him or her. That's where Tinder comes in. Originally launched in fall 2012, Tinder is an app that syncs up with your social networks to flash photos of people you know (or might want to know), allowing you to like or pass on each person without their knowing. If one of the people you like likes you back, bingo! The app will let you know, thereby taking a portion of the will-they-think-I'm-crazy-for-talking-to-them nerves out of the way.
And there are a lot of nervous people out there when you consider Tinder's metrics. "We've had over 40 billion profile ratings and 400 million matches," says Sean Rad, Tinder's co-founder and CEO. "We've touched on an important issue for society. Meeting someone new is a universal problem." 
Tinder was born out of Hatch Labs, an IAC incubator. (IAC reportedly closed Hatch in late 2012 but is still an investor in Tinder.) Rad, a serial Web entrepreneur, was a partner at Hatch Labs and was looking for a new project when he and his co-founders, Justin Mateen and Jonathan Badeen, came up with the idea for Tinder.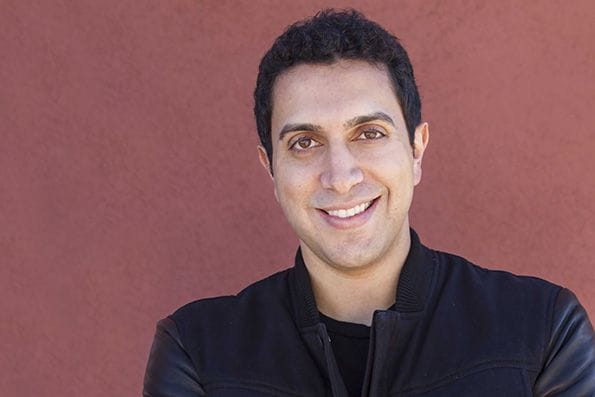 Based in Los Angeles, Tinder has been lauded as one of the hottest dating apps on the market today. OPEN Forum asked Rad about Tinder's beginnings and plans for capitalization.  
How did you come up with the idea for Tinder?
It was part of an experiment when I was at Hatch Labs. We wanted to solve a major problem; meeting people is daunting and can be overwhelming. One of the big issues is that you are either the hunter going after a relationship or you are the one being hunted, and there is an overwhelming amount of noise coming at you.
We looked at that and thought there had to be a better way to meet people. With Tinder, you already know if the other person is interested in you, so it starts the relationship at a heightened level. It validates the need for a conversation. 
What was it like when you launched?
We built the product not anticipating the demand and reception. It was crazy. Like with most startups, we'd built a minimum viable product, but what happened was beyond expectation. It grew faster then we ever thought possible. As great as that was, it was also a challenge responding to the demand. We had to go back and re-architect things to handle the amount of people who wanted to use the app.
How are you making money right now?
We aren't making any money right now. Tinder is free.
Are you planning to develop a revenue stream?
We are never going to charge for our core offering, but we do see a future where we will offer value-added services for a fee. It will be kind of like a game on your phone where you have the core value for free but you are asked to pay for a "power-up." 
What does the future hold for Tinder?
We are hoping to do a better job of managing and connecting people. With more than 400 million matches, it becomes very daunting and difficult to manage messages and communicate with people. I can't say much about our plans, but we will soon give our users better tools in which to connect and share.
What advice can you offer entrepreneurs just starting out?
Ask yourself why you are starting a company. If you are starting it because you are trying to solve a problem and create efficiency and you are so obsessed that you need to create a solution, then you are doing the right thing. I see too many people start companies just for the sake of being an entrepreneur. Make sure you are doing it for the right reasons and that your level of passion is almost irrational. 
Read more articles on building an empire.
Photos: Courtesy Tinder