The ubiquitous open-source content management system WordPress started out as a blogging platform. Thus, WordPress is almost always associated with blogs.
Through excellent development iterations and with the help of its passionate development community, WordPress continues to grow and has become a publishing platform solution for many types of sites. WordPress can be used for portfolio and image gallery sites, company websites and full-fledged ecommerce sites.
If you're in the market for the latter, here are some plugins that plugins that will transform your WordPress site into an e-commerce publishing platform powerhouse.
Want to read more about e-commerce? Check these out: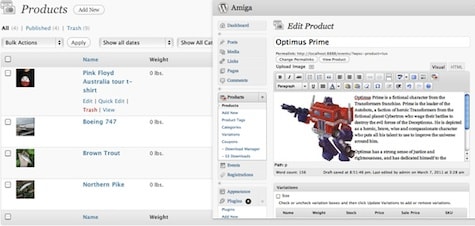 With more than 1 million downloads, WP e-Commerce is the most popular ecommerce WordPress plugin. It has many great features, including multiple payment options (PayPal, Authorize.net, Google Checkout, etc.), a nice dashboard to give site administrators an overview of sales performance and plenty of navigation enhancements such as breadcrumbs and product filtering.
2. PHPurchase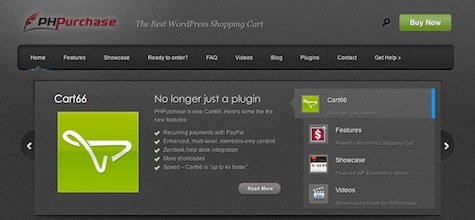 PHPurchase is another top-notch option for converting your WordPress site to an ecommerce platform. It allows you to sell both digital products (such as ebooks) as well as physical products. It also has a handy UPS shipping calculator for accurately determining actual shipping costs from source to destination.
3. Shopp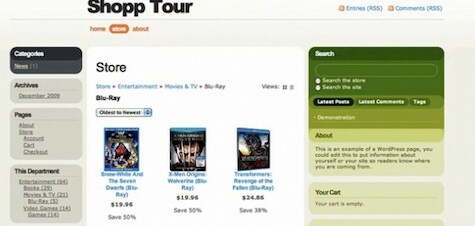 Shopp is a robust WordPress ecommerce plugin with myriad features, including search engine-optimized product pages, a fast product-search feature and drag-and-drop user interfaces for administrators to manage their inventory. There are also dashboard widgets to give you sales and marketing reports.
4. eShop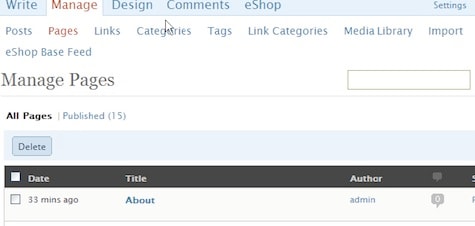 One of eShop's characteristics is its deliberate focus on developing a Web-accessible e-commerce solution for WordPress site owners. Among this plugin's features are a good set of shipping options, the ability to customize "out of stock" messages once a product's inventory has been depleted and e-mail templates for system messages.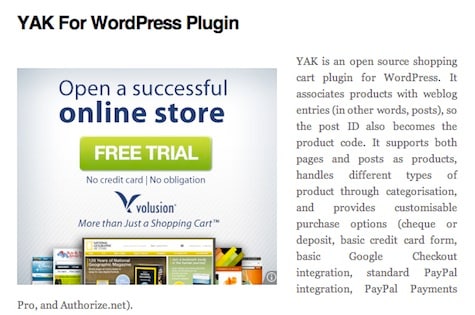 YAK is an open source WordPress plugin for creating a shopping cart using WordPress as your publishing platform. YAK is able to manage digital downloads so that you can easily sell e-books, whitepapers and so forth. You're also able to create promotional codes for special discounts of your products. It has a simple XML feed so that your estore users can subscribe to product updates.