CES 2012 saw the launch of a slew of new gadgets, many of which could be useful for your small business. Here's a roundup of some of the top gadgets for entrepreneurs, aside from the new batch of tablets, which are got their own post chock full of spec comparisons. Take a peek at the seven gadgets below, and then check out the rest of our CES coverage here.
1. Swivl
Producing video for your small business just got a whole lot easier. In fact, you don't even need a cameraman–just grab your smartphone. Set up the Swivl with your iPhone and get into position, with the "marker" in your hand. The Swivl will pivot the iPhone to follow the marker–and thus your movements–as you demo a product, give a mini-lecture, host a videochat or broadcast a company announcement.
But beyond just pointing the camera at you, the Swivl also has a built-in microphone so that the audio levels stay constant and aimed at your voice, even as you move around the room. Check out the video above to see Swivl in action.
The iPhone model will be available during Q1, and Android version is reportedly on the way. Price: $159
2. Behringer Soundscape Air for iPod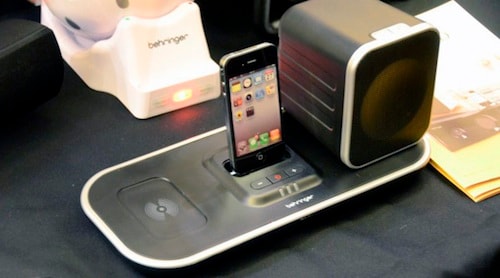 A quiet office is a sad office–up the cheer factor with some tunes. Throw out the 1980s boombox and instead opt for an iPod dock with speakers that will amplify the jams up to 150 feet from the base. The 3" speakers will charge up when they're placed back on the dock. Price: $129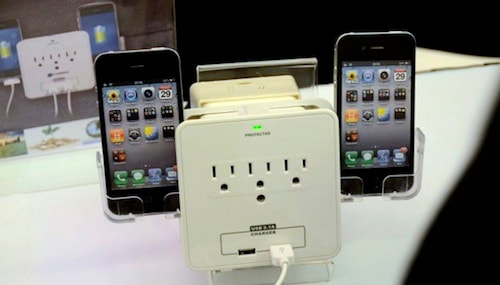 With a smartphone, a tablet, a laptop and maybe even an iPod, you've got a lot of devices to keep juiced. The Powertech USB wall charger lets you plug in traditional power cords, but there are also two inputs for USB devices to keep everything charged. Powertech claims the gadget has the "world's slimmest" USB adapter. This will definitely prove to be a useful accessory for business travelers. Price: TBD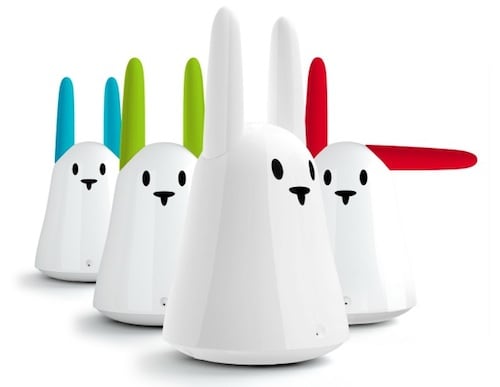 They may look like toys for the under 5 demo, but Karotz are actually Internet-connected "smart rabbits" that can be integrated with your social networks. The rabbits will update your Facebook and Twitter pages, send emails and read texts. And there's more–the voice-recognition software helps the rabbit do requested commands, such as searching the web, playing music, checking the weather forecast and consuming RSS feeds. There's also a built-in microphone and webcam, so Karotz can snap a pic and upload it right to Facebook. It's kind of like Siri, but better.
There's also an RFID add-on–at the office, you can set up the Karotz at the front desk, and when guests come to the office, they can swipe the RFID tag to notify you of their arrival. So Karotz is your new personal assistant and front desk person in one.
If your Karotz won't be on your person or nearby, you can control it with an app that enables you to give orders remotely. The app is available in the Apple App Store and Android Market. Price: $129
5. Victorinox SSD with 1TB Flash Drive
As a small business, most of your lean team is analogous to a Swiss army knife–each person is does a little bit of everything in one handy package. Well, now there's an actual Swiss army knife that will prove useful to your business–and we're not talking about using the knife to open FedEx boxes. The Victorinox SSD has all the bells and whistles of your standard Swiss army knife–blade, scissors, nail file with a screwdriver tip and a LED laser pointer–along with a little something extra–a USB flash drive that holds 1 terabyte of data. And in case you're wondering, a terabyte is huge.
But that's not all–this knife also it connects to eSATA II/III and USB 2.0/3.0 with a single connector, there's a graphic display showing what's saved to the drive. Plus, it supports 256 AES encryption, so you don't have to worry about file security. Price: TBD
Need a screen in the office to show your website's Google Analytics or to display news, inventory details or sales stats for all to see? Try Samsung's new 55-inch OLED HDTV. Mashable's gadget guru Charlie White checked it out in person and reports that the display is thinner than his pinky finger, so you won't have to worry about the screen protruding off the wall. The price has yet to be announced, and it very well could be out of reach for some small businesses, but you have to admit–that is one sexy machine.
Price: TBD
For entrepreneurs on the go, Bluetooth is a godsend ... kind of. In theory, Bluetooth headsets are great, but far too often, the devices suffer from poor sound quality, pairing issues, an uncomfortable fit, ugly aesthetics or a bulky design. But Parrot's Zik may ring in a new era of Bluetooth headsets. "The Zik is one of the cleverest implementations of wireless technology we've seen in headphones to date," says Mashable tech analyst Pete Pachal.
The earcups completely enclose the ear, which helps to make the headset more comfortable and not as alien-looking, like other Bluetooth headsets. In fact, these just look like a snazzy pair of audio headphones.
You can use the headphones either to listen to music or to pair with your cellphone to take calls. You'll have to set up pairing for the devices (unless your phone has near-field communication, like the Galaxy Nexus), and you'll be ready to rock (or talk) simply by tapping the phone to one of the earcups. There's also noise-cancellation technology that makes music and calls more audible.
With functionality and style in spades, it looks like the Zik could be the gadget of choice for entrepreneurs in 2012.
Price: TBD
 What other gadgets from CES will you be using for your small business?