After spending nearly a decade working for ad agencies, Emily McDowell quit her full-time job in 2011 with an eye on getting back to her childhood love of drawing and writing. While people liked the drawings she posted for sale on her Etsy shop, McDowell's new career skyrocketed after a design for an awkward-dating-themed Valentine's Day card went viral. She has since moved into a space of her own in Los Angeles and hired full-time employees to help support the growing demand for her hand-lettered and illustrated greeting cards, tea towels, temporary tattoos, prints, and tote bags.
We spoke with McDowell about how she's built her thriving business, one sketch at a time.
Were you a creative person growing up?
I was always creative. But my mom was a working artist and a single mom. She decided early on she didn't want to play the game and wasn't going to sacrifice her vision, so we didn't have much money growing up. I felt that struggle she went through and I thought I needed more stability and more of a career. So, after college, I moved to San Francisco to take a job as a junior marketing person. The psychology of marketing was very interesting to me.
But then you ran into some health problems.
Yes, in 2000, I was diagnosed with Hodgkin's lymphoma. I was 24. I moved back to Boston to undergo a year of chemo and radiation. I was lucky that I had health insurance to cover it. I got better, but that experience further convinced me that I needed to have the kind of career that provided heath insurance. I entered and won a contest that gave me a full scholarship to the Miami Ad School. I thought that a career in advertising would fulfill my desire to be creative but also give me a structured career.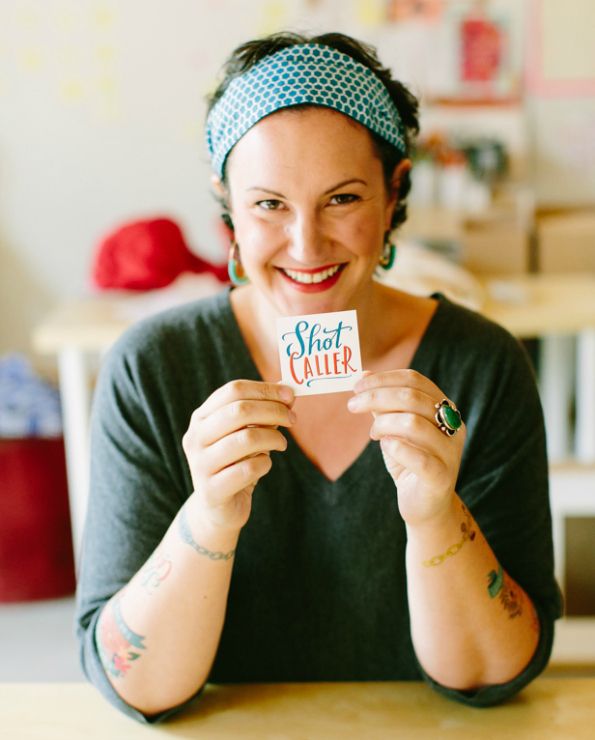 Emily McDowell, with one of her creations
So you got back into advertising again?
After I graduated, I moved back to San Francisco to take my first agency job. By 2011, I had worked my way up to the creative-director level and was living in Los Angeles. But part of me always knew this wasn't quite what I wanted. I was good at it, but it felt like I was always chasing the next promotion or campaign or award to make it feel better. Over time, I became less wide-eyed and excited about it.
Was there something that pushed you to think differently about what you could do instead?
In 2011, one of my best friends, my college roommate, was diagnosed with cancer and passed away a few months later. I then had a wake-up call that I hadn't experienced 10 years earlier with my own illness. My friend had been so vibrant and lived according to her own values and beliefs. And I knew that to honor her and myself, I needed to live a more authentic life. The good thing about advertising was that you have the option of freelancing, which was something that could pay me well and give me the opportunity to work on my own creative stuff. That was a huge blessing.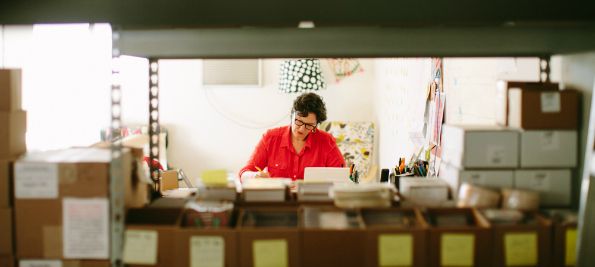 McDowell at work
What happened next?
I freelanced for the next year and a half and asked myself, "Money issues aside, what do I really want to do with my life?" That's when I started drawing for fun, which is something I hadn't done in a long time. I then started posting the comics I made on my blog. And the people who saw them liked them and suggested that I should try and sell them. So I opened an Etsy account and posted them there. I didn't sign any of my work. It wasn't really calculated.
Were you making any money from what you were selling?
Not enough to live on. I was still working freelance jobs. But I had always wanted to do greeting cards. I thought there was an opportunity in the market for cards that actually spoke to the kinds of relationships we actually have in our lives rather than the aspirational ones that talk about the relationships we think we want to have. But I also didn't think you could make any money selling cards that wholesaled for $2.
But something happened that changed your mind about that?
I started thinking about Valentine's Day and about how there are so many weird and nebulous relationships where you are kind of dating someone but not really dating them. Where if you give them a Valentine's card, you have to preface it with this speech about how it's not really a big deal. And I thought it would be funny to put that speech in a card. So I printed about 100 of them and put them up on my Etsy shop. It then went crazy viral and got picked up by all kinds of sites like BuzzFeed and CollegeHumor to Glamour. The card appealed to this large piece of the population. I ended up shipping 1,700 of them in eight days. I was constantly on the phone with my printer saying, "I need 300 more!"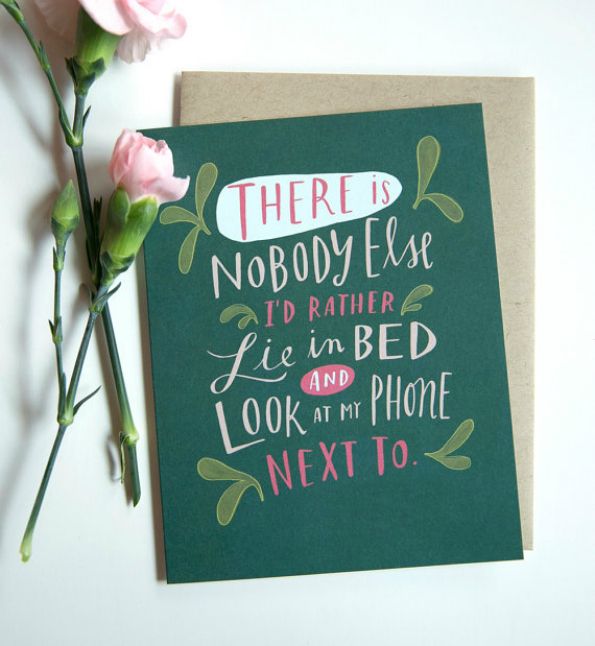 One of McDowell's popular cards
Is that when you decided you might be able to do this business full-time?
I thought maybe I could. But I also wanted the opinion of a sales rep in the industry. It was kind of like taking a proposal to a book publisher to see what they thought. I designed 15 cards and looked up the Los Angeles rep group for Rifle Paper Co., which is a card line I really admire. I sent them a cold email, and they ended up meeting with me the next day. They told me they liked my card, but for them to rep me, I needed to attend the National Stationery Show in New York City. Not only was that expensive, I also needed to have 40 card designs. This was in the middle of March 2013, and the show was in May. I wasn't sure I could make it happen, but I had saved enough money to take off a few months and try. So I did.
So you made it to New York?
I worked like crazy to get my collection together. I was also lucky to have a friend who owned a letterpress printing company who let me use part of her booth for the show, which meant I didn't have to worry too much about logistics. I showed up in New York not knowing what to expect. Maybe I would break even and maybe I would go back to advertising.
How were your cards received?
Things went well. I wrote about 40 orders from stores and was feeling good. Then reps from [a national chain] came by and took samples. They were just getting into adding cards for their stores, which sold home goods. But I also knew big companies never gave you a purchase order right away. Only, later that afternoon, after we broke everything down and I was eating lunch, I got an email from them. It was a purchase order for 15,000 cards in five different styles. And they wanted them in three weeks. I wasn't sure how I was going to fulfill that order, but it was also enough money where I could rent the space and hire the people to help me do it.
So that's how you came to launch your business?
I started by calling a friend who had launched a similar business six months earlier and asked her if she knew anyone had space in downtown Los Angeles, where I was living. Turns out her landlord had space right down the hall. I actually had to borrow my friend's space at first because mine wasn't ready. I hired people through Instagram to work for me for $10 an hour stuffing envelopes so I could ship out my order.
And the business has continued to grow from there?
We are now in [hundreds of] independent stores in the U.S.. Up next is my vision for expanding into gifts; we've already started, with our dish towels, tote bags, and notepads. My goal is to build a brand that is more universal than stationary, both directly to customers online, and through our retail partnerships. Our online shop, emilymcdowell.com ... [has] become our direct-to-consumer proving grounds for some of our new products. If our products sell well there, then we know we can produce them in larger wholesale quantities.
So how hands-on are you these days?
I am still doing all the writing and design. There are a lot of things that I can delegate ... But I love writing and coming up with ideas. That's what I'm best at.
This article was originally published on August 19, 2014.