It's going to be a good week for iPhone users because American Express is releasing an iPhone app for OPEN Forum, which you can find out about on the site's mobile page.

There's nothing like an app that's dedicated to a site to make the iPhone reading experience better. I didn't have a thing to do with the OPEN Forum app, but I want to add some goodness to the iPhone experience by bringing another great app to light.
The name of this app is Twitbird, and it's a Twitter client for the iPhone and iPad. I discovered it a few weeks ago, and I now use it to manage my Twitter activity on both my iPhone and iPad.

Admittedly, I'm not the typical Twitter user in terms of volume of outgoing tweets and search results, but let me give you my general requirements for a great iPhone/iPad Twitter app.
First, it has to make maximum use of screen space. In other words, I want to see as many tweets as possible at once—at least three on an iPhone and ten or so on an iPad (This is something that French people cannot understand, but I digress.)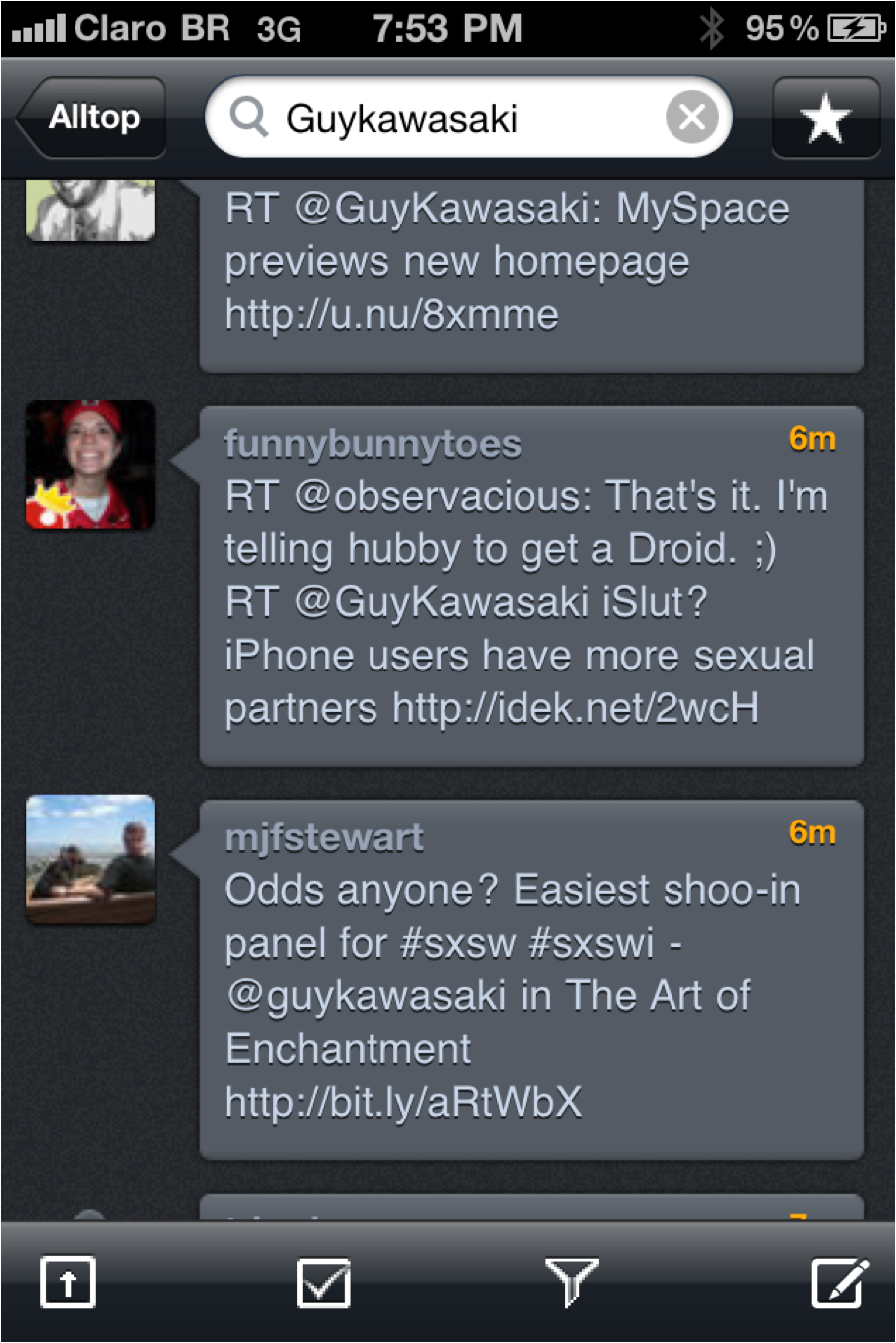 iPad ten-up goodness.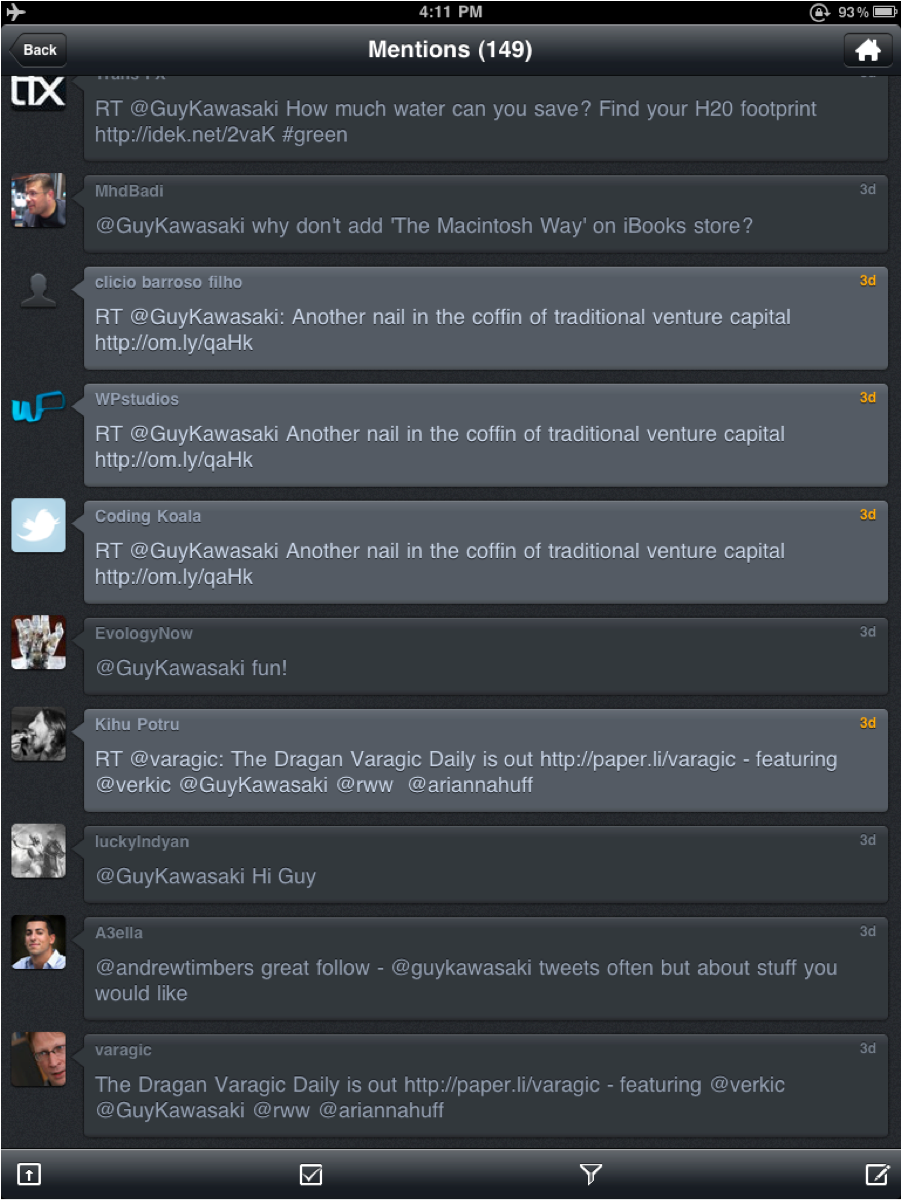 Second, it has to work with TextExpander.

TextExpander is a honey of a program that expands abbreviations into full text, and it's indispensable if you frequently tweet the same link because entering in links is painful on the iPhone and iPad. For example, I enter "zhow" and TextExpander swaps in "This explains how I tweet http://bit.ly/aoIueP?"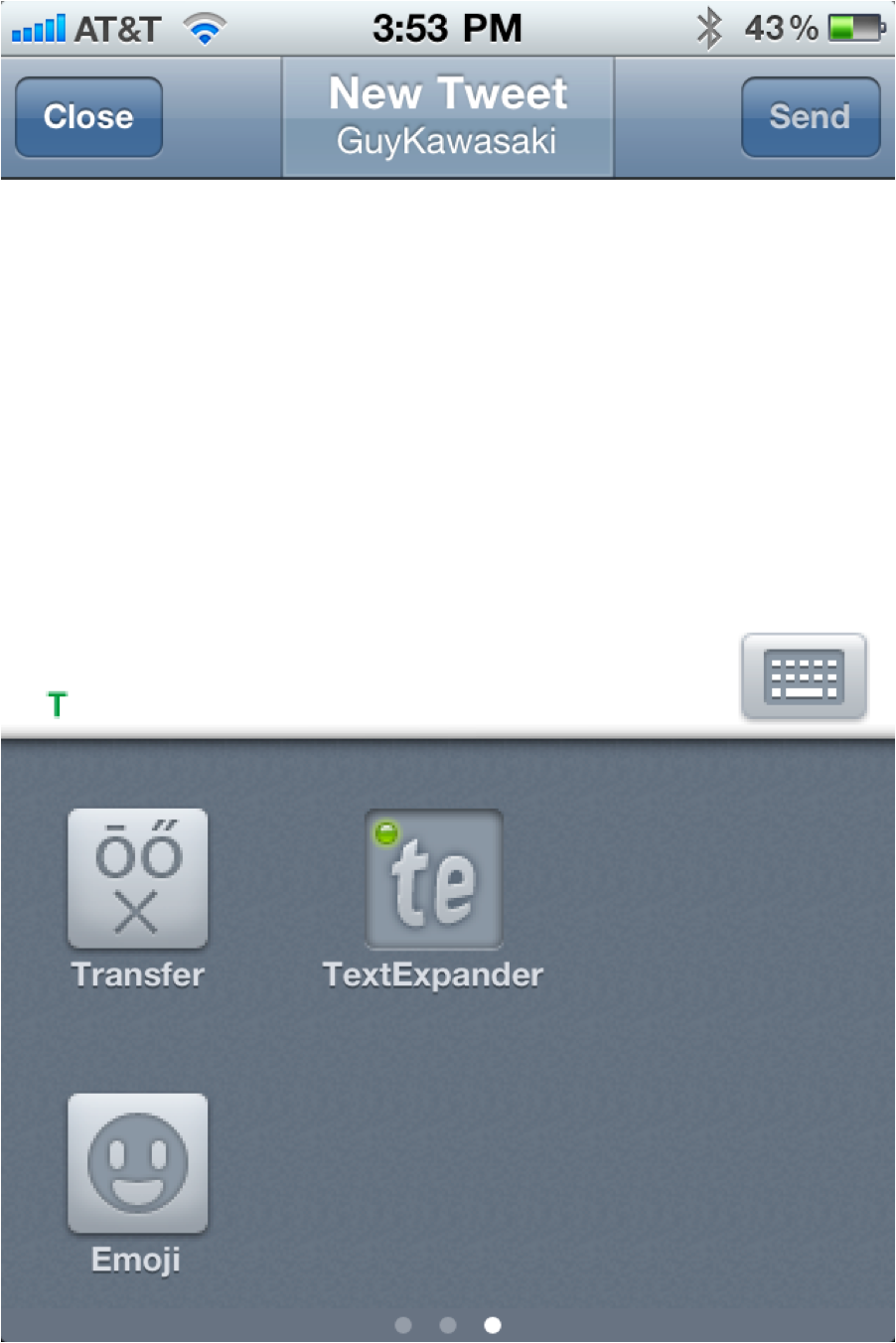 Third, it has to let me process a tweet from the columnar view of a list of tweets and not force me to click on a tweet to do things like reply and favorite it. And if a tweet is favorited, I need to see that it is from the columnar view and not have to click on it to see its status.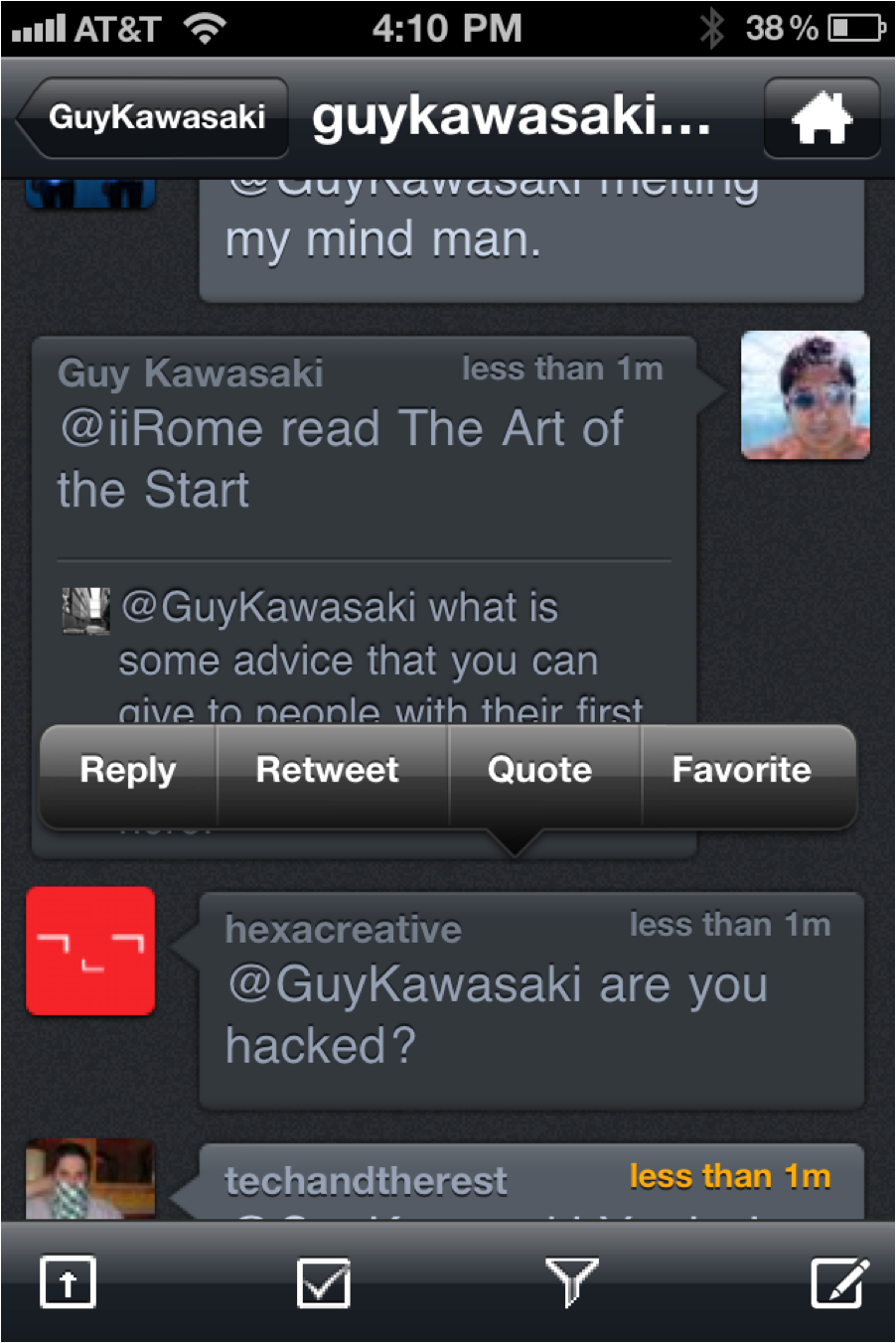 Fourth, it has to let me get to the top of search results very quickly—that is, without stroking my iPhone or iPad for ten or fifteen times. My search results often reach 200 tweets, so getting to them is a non-trivial matter with most Twitter applications. (The arrow in the bottom left corner of the previous screenshot takes you to the top in Twitbird.)

Fifth, it has to thread tweets so that I can see what I'm responding to. I am involved in so many twonersations at once that I cannot remember previous tweets. And it's not just my advanced age—it's also the sheer volume.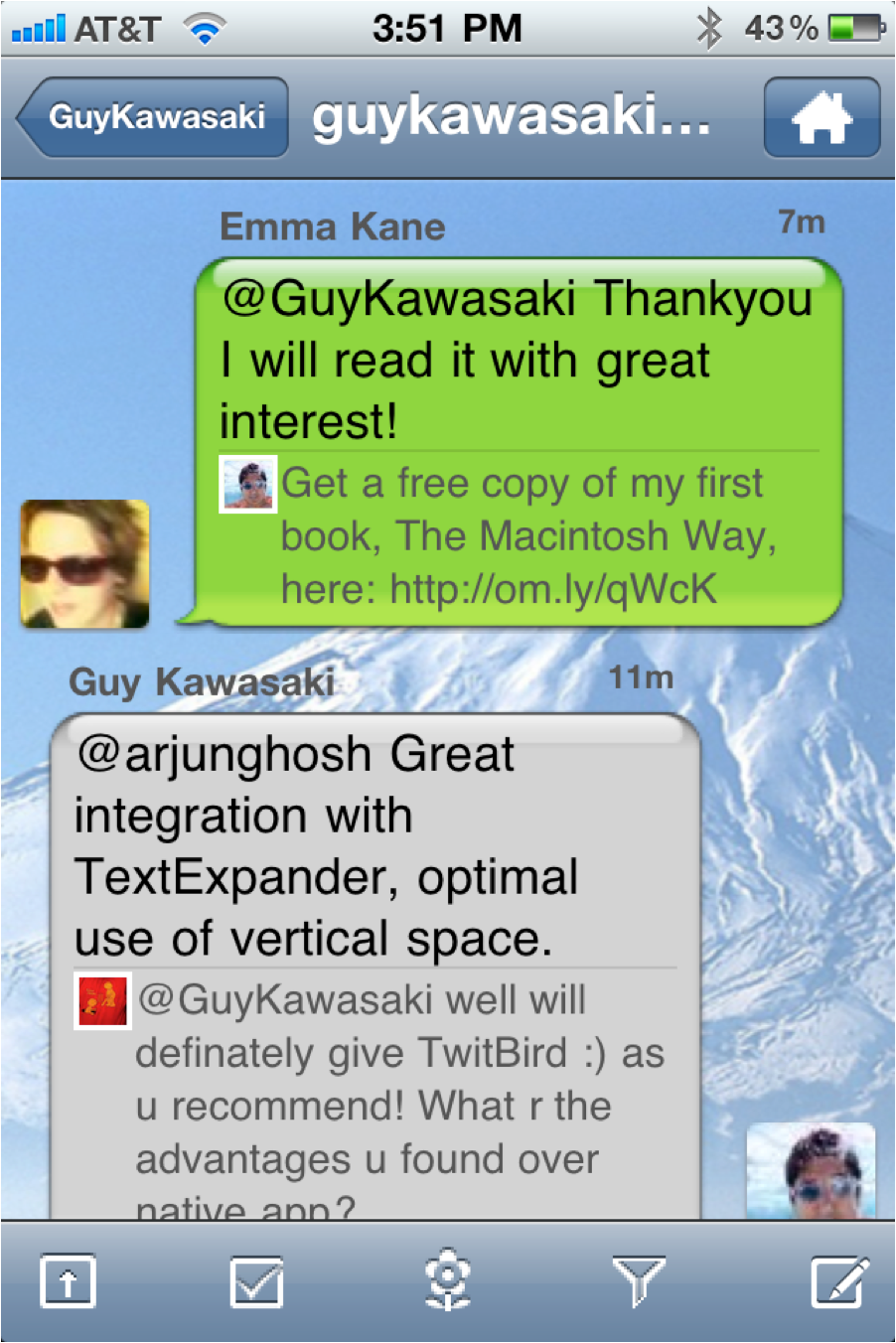 So with these basic requirements, I've been searching for a Twitter app since the day I got an iPad (April 2, 2010 to be precise), and Twitbird is the app that comes closest to what I want. Here are a few more screenshots to show you additional enchanting features of the app:
 
Overall status area.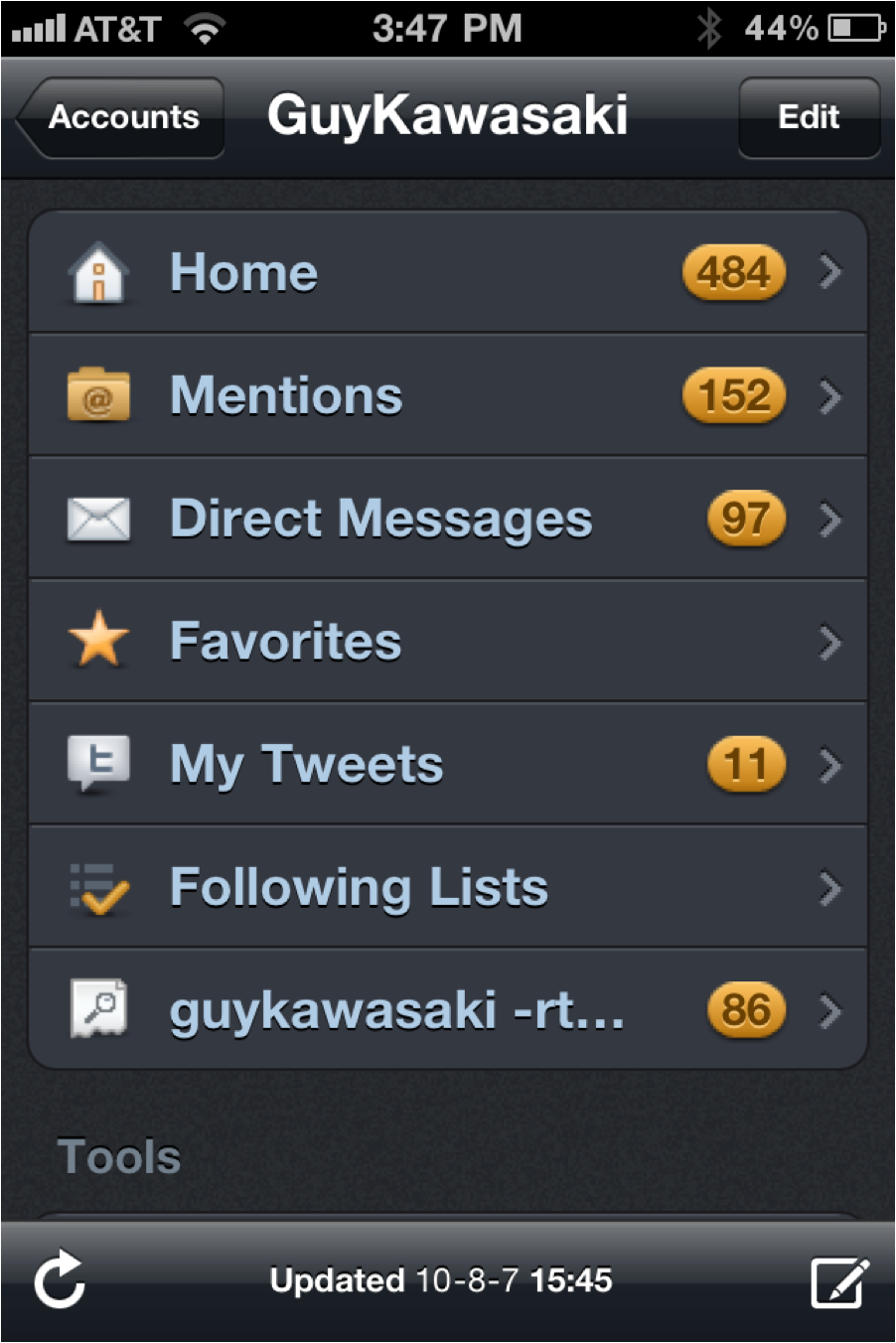 Control what gets refreshed.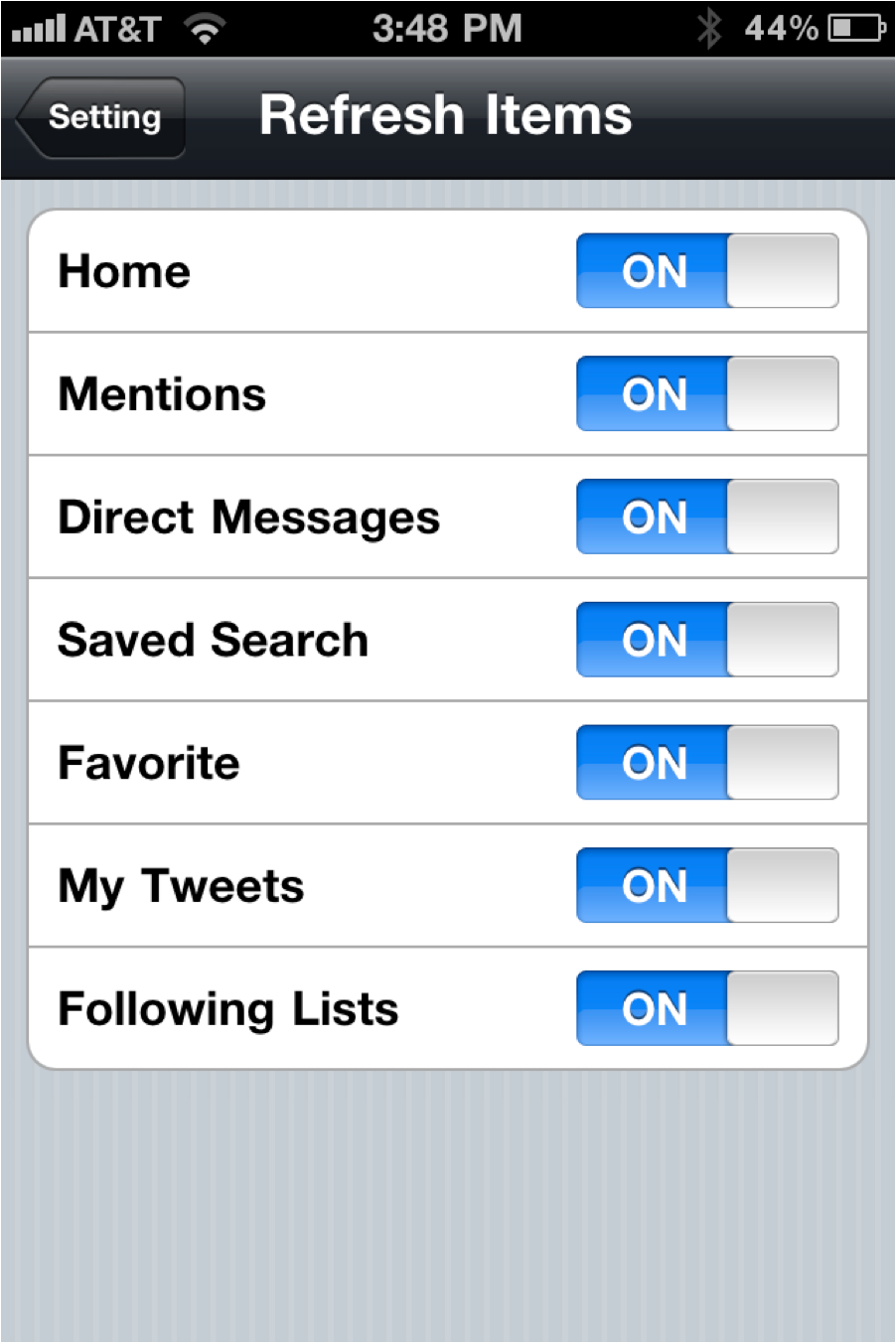 Translation setup.

Click on the "A" in the bottom left corner to translate a tweet.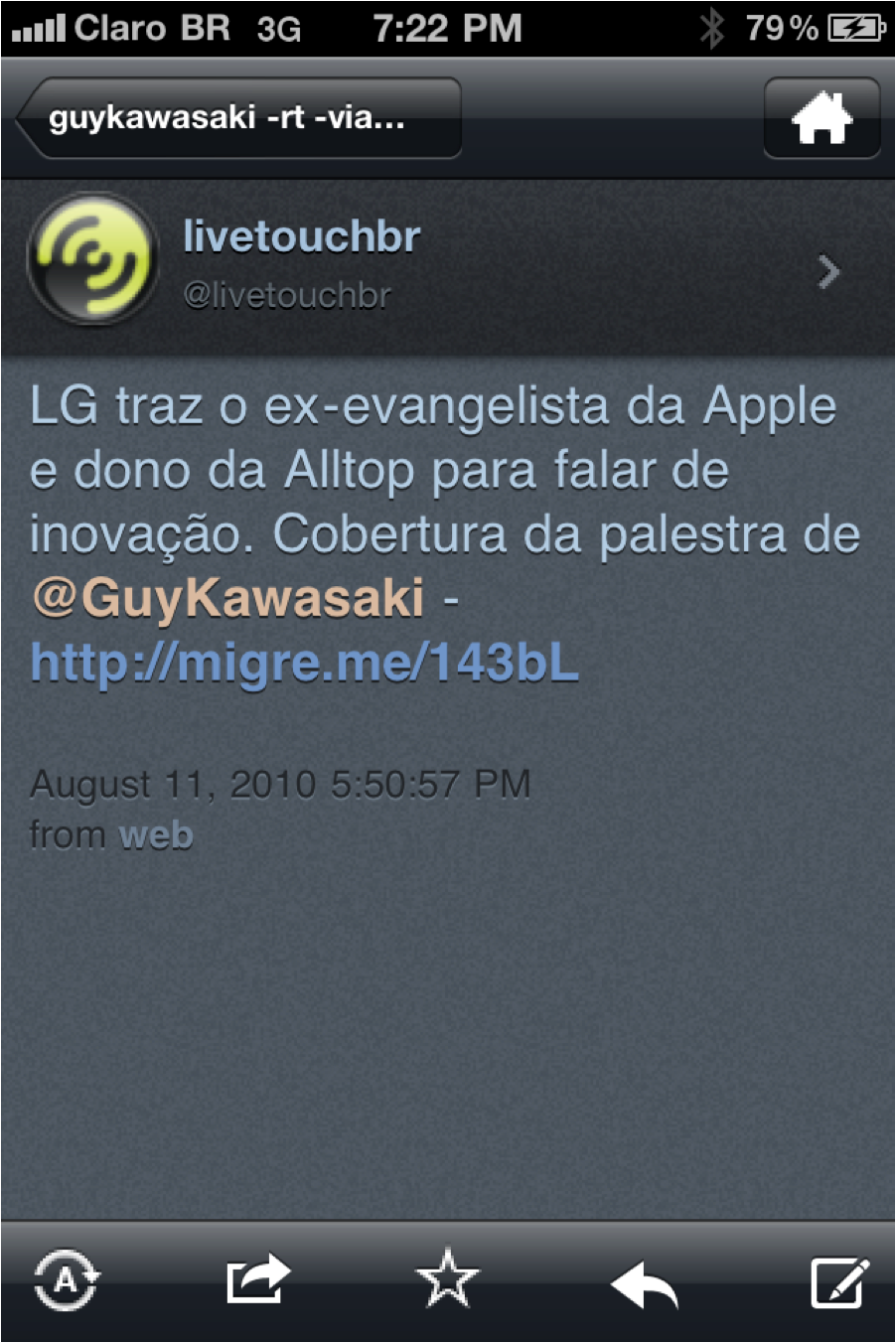 Options for reading links.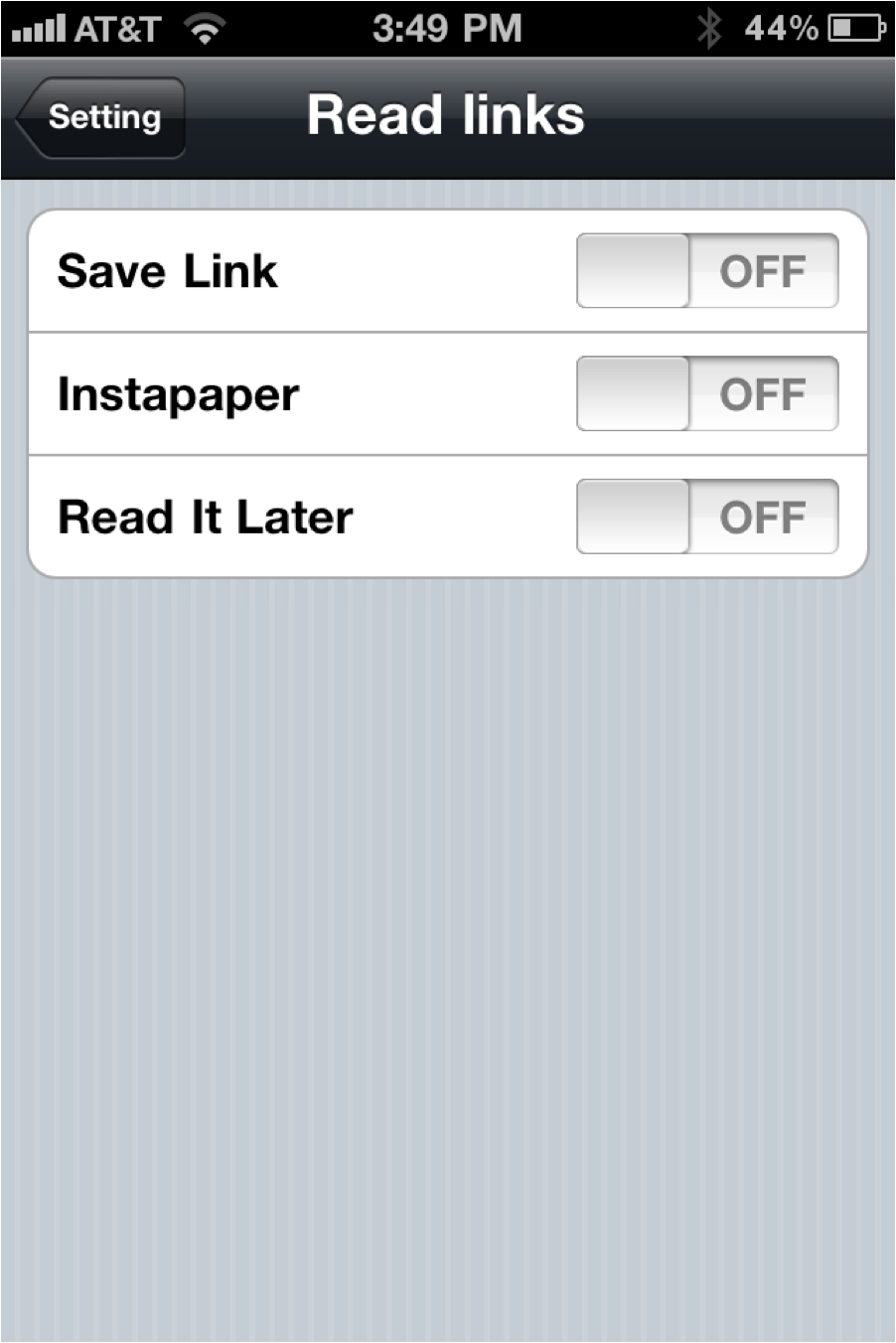 Ability to mark tweets as read.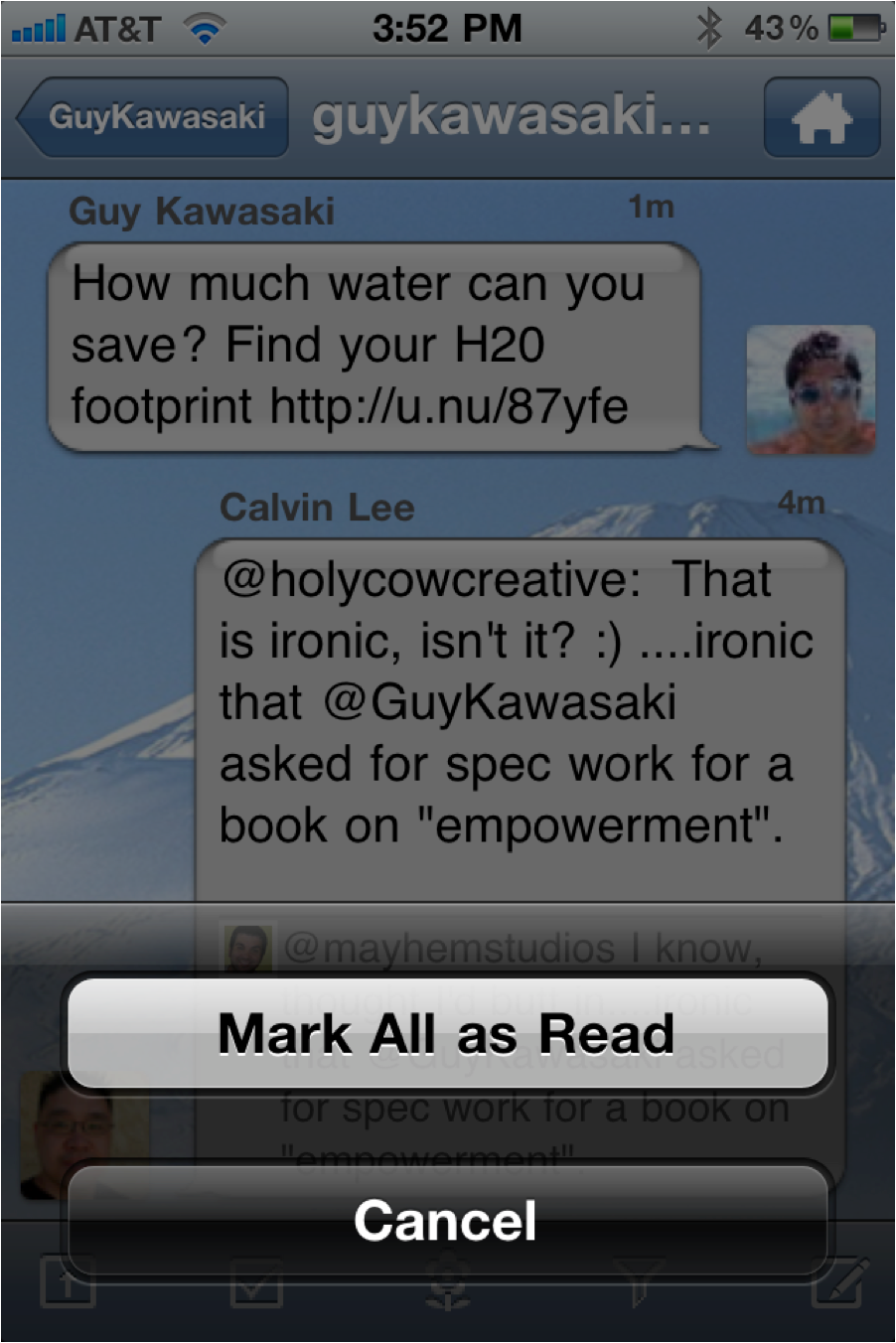 Control of which tweets are displayed and how they are displayed.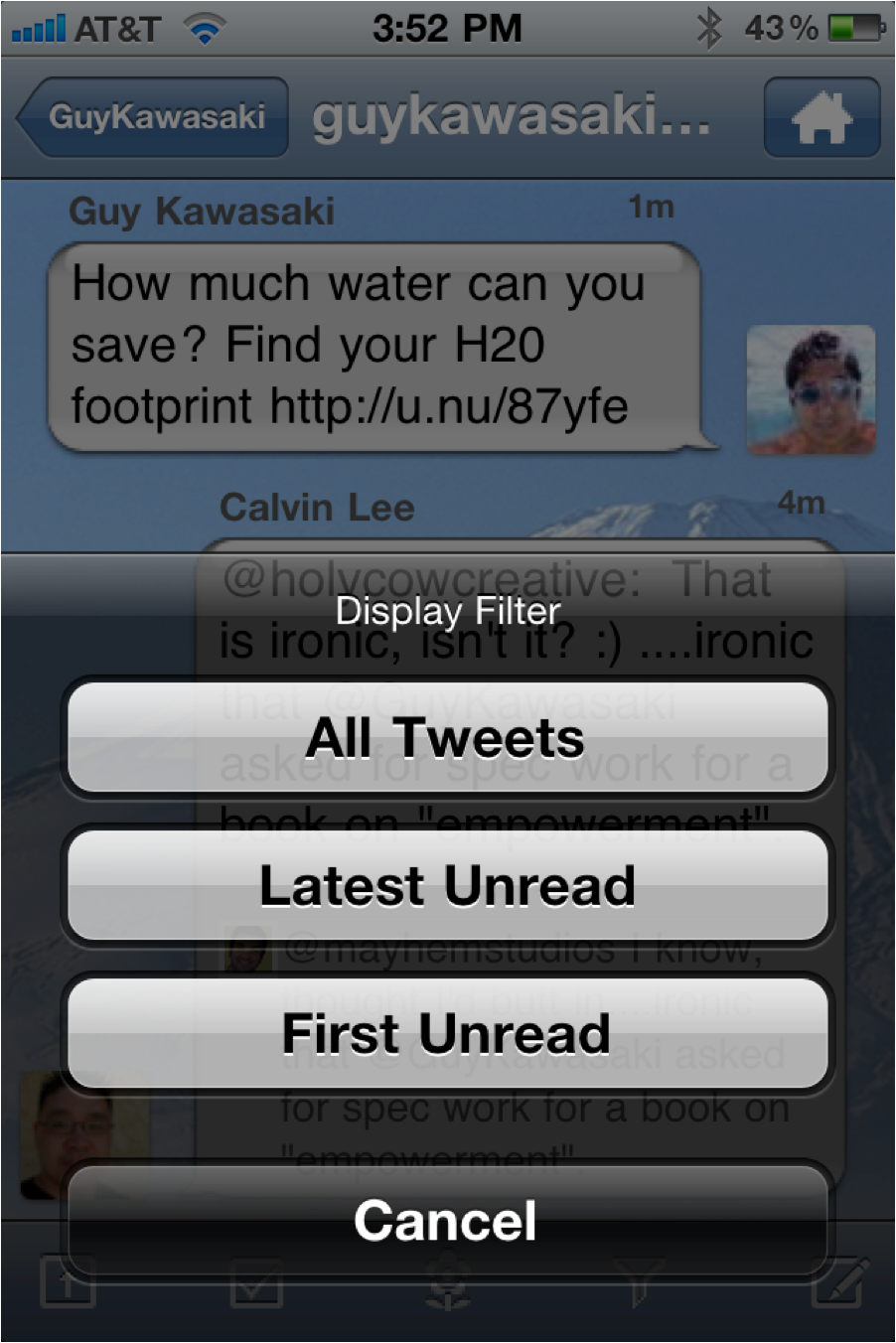 Pretty much useless but cool font control.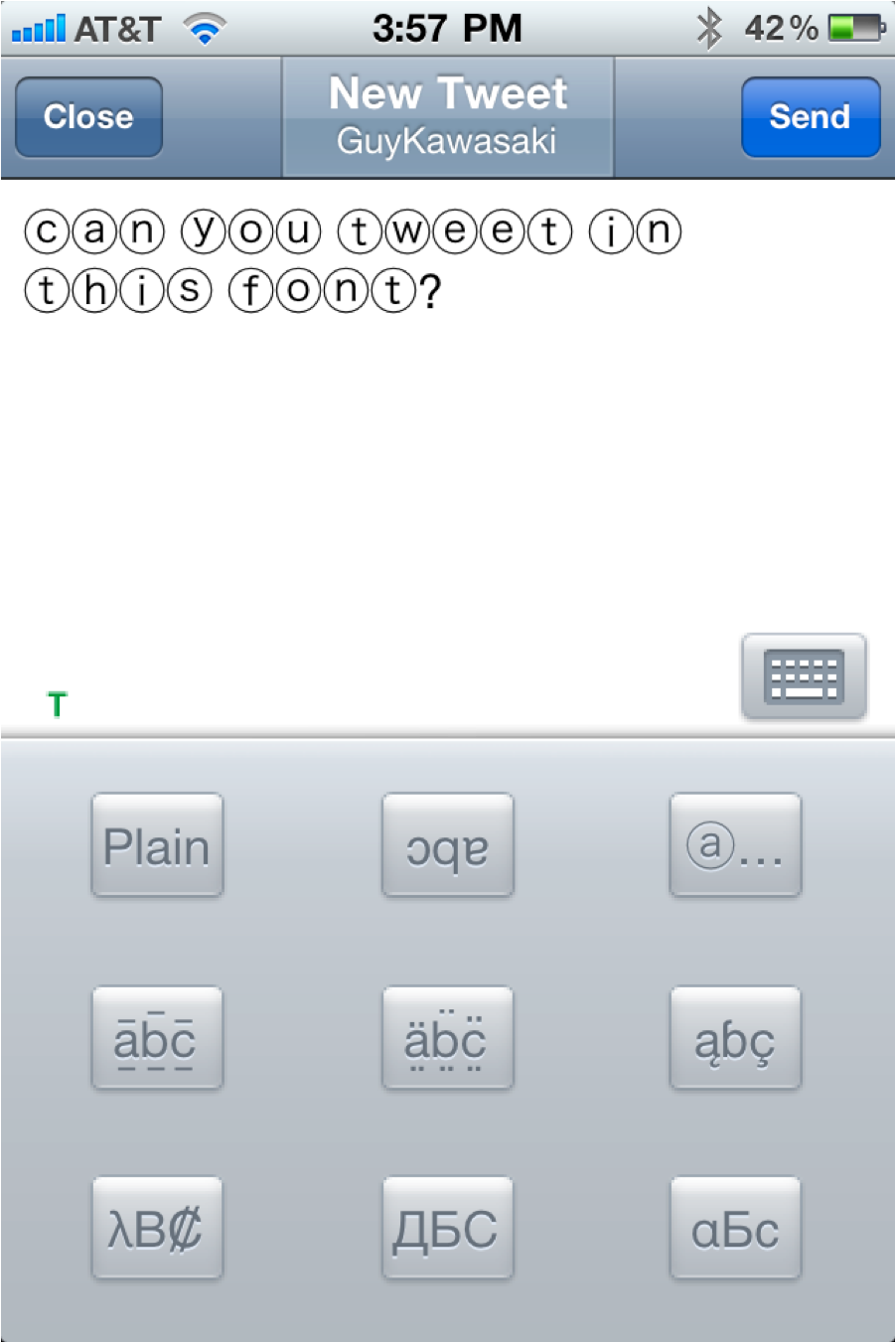 Customization of wallpaper.

From my warped perspective, Twitbird is the way to go for Twitter access on the iPhone and iPad — at least until something better comes along. So now you have two apps to install: the American Express OPEN Forum app and Twitbird. Don't leave home without them.