The home of Brooklyn-based UncommonGoods, a website dedicated to selling tongue-in-cheek, fun and functional odds and ends, is a little more industrial than you might expect: The company's headquarters is located in the concrete and white-bricked BKLN Army Terminal, a former army base that shipped out hundreds of thousands of wartime soldiers—including Elvis Presley. 
Walking through the company's in-house warehouse, you'll see rows and rows of bright orange shelves holding boxes of items you didn't know you needed: a wine rack that can convert into a carrying case; utensils shaped like construction equipment; and a wide array of unicorn items, from unicorn mugs to unicorn piggy banks.
"We solve problems you don't know you have," says UncommonGoods' CEO and founder David Bolotsky, as he shows off a beautiful blue ceramic bowl that also happens to filter out unpopped popcorn kernels.
It's the same proposition Bolotsky had for artisans and vendors when he thought up the idea for UncommonGoods 17 years ago. Bolotsky always had an appreciation for the arts and entrepreneurship—his father's work as a photographer meant growing up around a lot of artists in New York's Lower East Side and, at 17, he started his own successful lawn-mowing company.
UncommonGoods founder and CEO, David Bolotsky (right) with one of his employees, Fabian Garcia.
After graduating college, Bolotsky worked at a well-known investment banking firm on Wall Street for 14 years, starting as a research analyst and eventually becoming a managing director. The job gave him a "fabulous business education." (He was responsible for predicting the rise and fall of big-name companies' stock prices.) Bolotsky was also getting a crash course in the still-fledgling Internet and immediately saw the opportunity in e-commerce. He wanted in, and in late 1998, he decided he was ready to start his own business.
Leaving the security of a job for self-employment always raises eyebrows. But Bolotsky was turning his back on more than a steady, hefty paycheck—he was leaving right when his company was set to go public.
Both UncommonGoods' office and warehouse spaces are located in the BKLYN Army Terminal, a former army base.
"It was a hard decision," he says now. "I was going to get a grant of millions of dollars' worth of stock, and I would have [had] to stay there for four years to get it. I was at this crossroads: 36 years old, about to start a family. Everybody that I respected told me once you have children, your appetite for risk is going to plunge and life goes from being about you to being about them. It had always been my dream ever since I was a teenager to start my own business, and I didn't want to give up on that dream.
"Every year I was going to leave and start my own business," Bolotsky continues. "Thirteen times I said no, and the 14th time I finally said yes and did it."
Bolotsky thought up the idea for UncommonGoods in 1999, after a trip to a crafts fair.
The idea for UncommonGoods came from an unexpected trip in 1999 to the Smithsonian museum in Washington, D.C. for a crafts fair. Putting on his researcher hat, Bolotsky learned a few things: Consumers wanted gift options that were authentic and meaningful, and artisans and vendors wanted an easier way to reach those consumers rather than flying themselves and their pieces out to craft fairs around the country. UncommonGoods was launched that year to meet those two gaps in the market, creating a platform where a traditional store for "creatively designed" products met eBay for artisans. Bolotsky's team would "buy product directly from artisans who make their profit from that transaction, [and] we then make our profit from selling it to customers at a higher price than we pay the artist."
UncommonGoods quickly grew out of Bolotsky's apartment and into increasingly larger offices in downtown Manhattan. His sizeable savings—plus his Wall Street friends, family connections and investor enthusiasm—kept the company growing at a clip, until the dot-com bubble burst all but leveled it.
The company was whittled down from 35 employees in 2000 to five in 2002, mostly from people quitting voluntarily, but "brutal, brutal" layoffs were unavoidable, Bolotsky says. Morale, both for the remaining staff and Bolotsky, was low.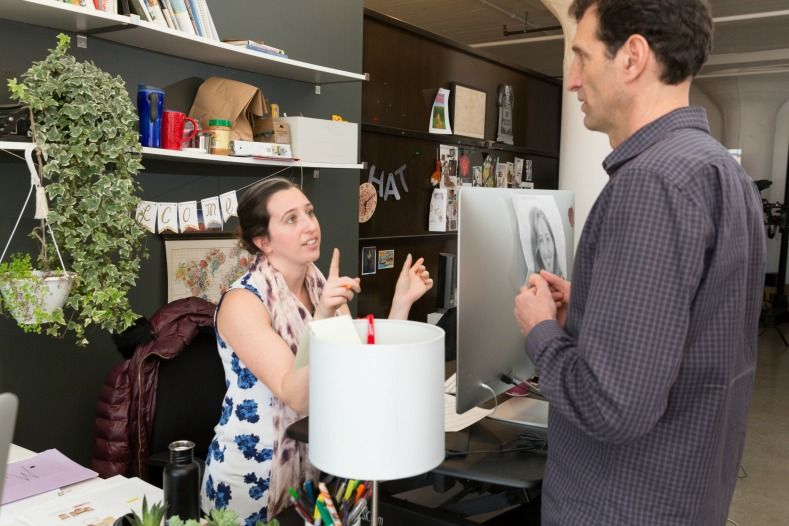 Bolotsky talks to Caitlin-Marie Miner, one of the site's graphic designers.
Bolotsky, who wasn't yet taking a paycheck, loaned the company a significant amount of his savings to keep it going. The dot-com crash was devastating to anyone in that space those years, but Bolotsky says he felt especially bruised.
"I felt really stupid. I knew it was a bubble," he says, pulling out an old report he had written during his Wall Street days, and reading aloud from the page with his pre-crash prediction. "I knew there was going to be a shakeout and it was going to get ugly, [but] I had made the decision to grow relatively quickly. Not nearly as quickly as most of our competitors were growing, but I felt responsible. I felt terrible about it."
It was then that Bolotsky made two decisions that would help the company get back on its feet.
"I was going to run the business in a really financially responsible way going forward, so that if we did let people go, it was because of their performance, and not because of my stupidity," Bolotsky explains. "I went from running a business that in a sense had too much money and spent that money unwisely, to not having any money and really being careful about how we spent every dollar."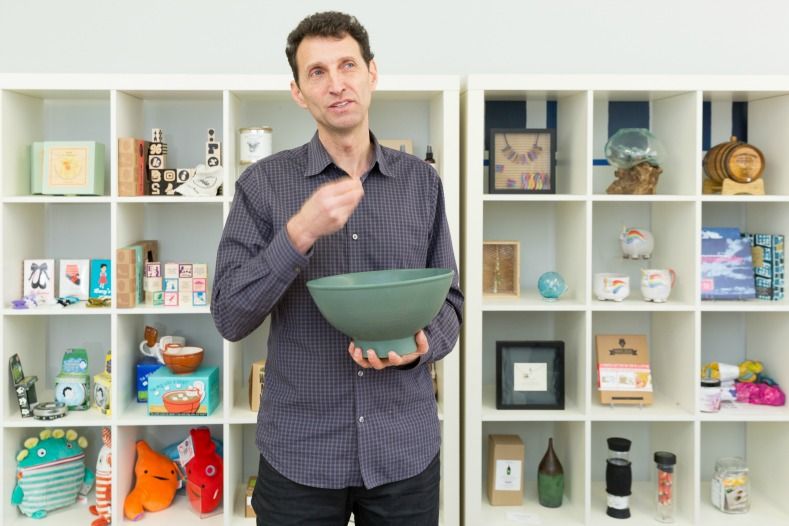 According to Bolotsky, UncommonGoods sells items that solve problems you didn't realize you had.
Bolotsky didn't take a salary for years. UncommonGoods began to focus more on ROI, keeping a leaner inventory, reducing the office from two floors to one, and going old school with a highly successful print catalog for the website that they still use today. (The company was also an early, pre-Google adopter of paid search, paying just a penny for high-traffic keywords.)
"We were really, really focused on being profitable on every mailing," Bolotsky explains. "We were able to do that and grow the business, making money on the catalog [by] looking at our mailing list in segments—including looking at how recently the customer shopped, how frequently they bought from us, how much they spent and what time of year they made the purchase. We look at the results of that mailing and determine whether that's a wise tactic to repeat based on the cost and the revenue generated from that mailing segment."
Instead of outsourcing the company's warehouse to a different, cheaper location, Bolotsky made the decision to have the warehouse in the same building as their office space.
The other course of action? Ignoring the competition, and focusing on what makes UncommonGoods different. "Basically what we had to decide was let's be UncommonGoods, and let's be better at it," he explains. Part of that means being the best option for customers who want what they're committed to delivering: a well-curated assortment of unique pieces, high-quality customer service and an easy shopping experience. The other part is the company's unwavering commitment to sustainability—a kind that takes both people and the environment into consideration.
"We were a founding member of B Corporation, [a designation that nonprofit B Lab gives to businesses that work toward social and environmental good], back in 2007, and that's provided us with a useful external yardstick against which we can measure ourselves and see where our practices are strong and where we need improvement," he says. "We've tried really hard to make conscious decisions about everything that we do." To that end, many of the products sold and packing materials used are "green," every UncommonGoods employee is paid above minimum wage and instead of outsourcing the warehouse and customer service teams to cheaper locales, the entire team works under the same roof.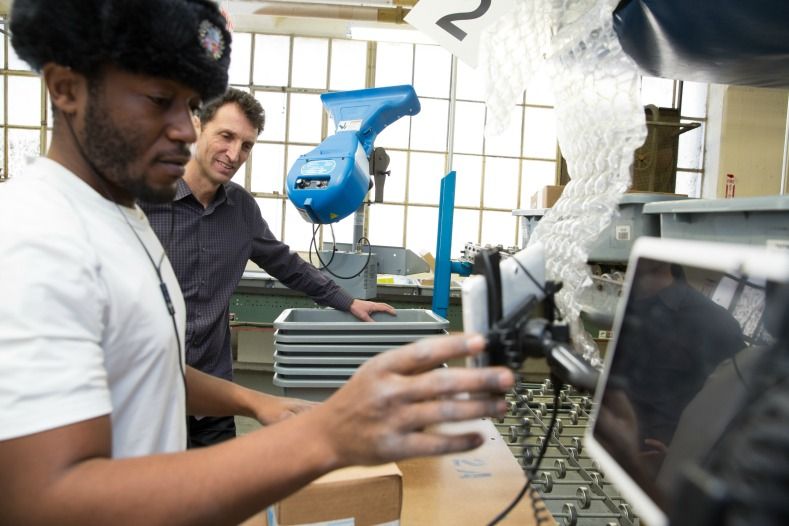 Bolotsky speaks with Arnold A. Pittman II, operations team lead for UncommonGoods.
It wasn't an overnight transformation, but UncommonGoods eventually reached profitability in 2004. That sum, $38,000 pretax, was "vindication" for Bolotsky.
"Just the fact that we had gone from losing hundreds of thousands of dollars to making a profit was a lifting of a burden," he says.
Since those early years of keeping the company together with "chewing gum and chicken wire," UncommonGoods has grown to 150 employees (up to 400 during the holiday season) and moved to their new and bigger home in Brooklyn. Now Bolotsky is thinking about the next 17 years of his business: Increasing its mobile presence, the company's commitment to sustainability, in-house product development and continuing to make customers happy.
"Our focus is constantly trying to do a better job for the customer," Bolotsky says. "Making sure we have that compelling distinctive product is most important, and then providing the customer with a really positive experience."
For more tips on using social media for your business, access our exclusive guide, The Right Content, Right Now: Navigating Social Media for Business.
Photos: Christopher Lane