When he was raising money for his new pharmaceutical company, Denver-based UrgentRX, Jordan Eisenberg, 31, says he had five meetings a day—breakfast, lunch, coffee, dinner and a beer—every day for six months. That's a pretty good measure of both Eisenberg's persistence, and how wildly difficult it is to start a company in an industry dominated by large, entrenched players.
His idea seemed simple enough: Take over-the-counter medicines, such as aspirin, and package them in flavored, powder form, so they could be consumed on the go and without water. "My father is in his 60s and he and his friends carry aspirin in case they have a heart attack," Eisenberg says. According to the American Heart Association, taking an aspirin at the onset of heart attack symptoms greatly improves the chance of survival. But an aspirin carried in a wallet can get lost or crushed, so Eisenberg came up with an idea to package the drug in a soft packet the size of a credit card. And in powder form, "aspirin works two and half times faster than a pill," he says. But ideas—even goods ones—are a dime a dozen. Here's how Eisenberg pulled off the devilishly difficult execution.
Convincing the Skeptics
Sure, many of his potential investors were his dad's age and were aware of the heart attack/aspirin connection. Still, Eisenberg had a tough time convincing them. "I opened myself up to harsh feedback," he says. And he got it. The objections were predictable: He had no experience in the pharmaceutical industry; it would take tens of millions to start the company; had he thought about the FDA? He was undeterred. "At some level, you just need to trust yourself," he says.
RELATED: 4 Surprising Tips to Attract Investors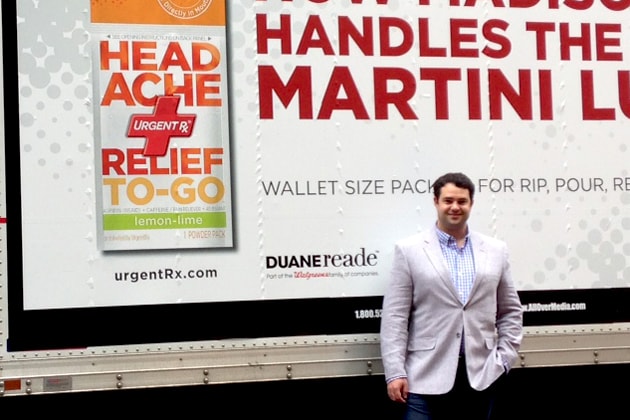 Six months of pitching gave him enough feedback to improve his business plan and gather enough supporters to create an advisory board. Using $40,000 of his earnings from previous ventures (a successful iPhone app, and a thermos-like device to protect EpiPens from extreme temperatures), he created a prototype of the product, which he handed out at meetings. His persistence, and his ability to put a prototype into the hands of people who could help him, resulted in a $1.65 million angel round at the end of 2010–three times what he thought he needed to launch his company.
Targeting a Test Market
UrgentRX was established early in 2011 and launched its first products—aspirin, a headache product, and an ache and pain remedy—at the end of that year. Eisenberg bought raw chemicals from major suppliers, brought in a flavoring lab, and had everything blended and packaged by a contract manufacturer in upstate New York.
While his investors and advisory board gave the company credibility, Eisenberg made a strategic decision to avoid mass-market retailers for his initial launch. "Large retailers are very risk averse," he says. More to the point, he didn't want to risk failing with the big boys right out of the gate. Instead, he contacted smaller supermarket chains, such as Fred Meyer and Kings, a few regional pharmacy chains and a handful of gas stations. In every instance, Eisenberg found a contact at the company and made a convincing pitch that carrying UrgentRX "was to be part of something really exciting." He then used their feedback to make improvements.

Growing Strategically
By the beginning of 2012, revenues were growing and retailers seemed pleased. Still, Eisenberg decided to put on the brakes. He had his eye on national distribution and knew his products needed tweaking before they were ready for prime time. "The flavoring was not good and the packaging stunk," he says. So he decided to raise another round of financing and landed $3 million to "hire adult supervision." A new VP of marketing analyzed data from retailers and spearheaded the design of new packaging. Later in the year, a new VP of sales was hired, and the company came up with a merchandising plan that put Urgent RX packets in displays affixed to register poles. "We don't ever want to be in the middle of the store," says Eisenberg. "We're an impulse buy."
RELATED: 6 "Shark Tank" Lessons for Entrepreneurs
The company is now in the middle of a huge national launch with major retailers such as Duane Reade, Walmart, CVS and Kroger. It has also added upset stomach and heartburn medicines to its product line. By the end of this year, Eisenberg predicts that UrgentRX will be sold in 25,000 individual stores, up from 2400 currently. The company is tracking for $2 million in revenue this year, he says.
Preparing for the Future
Just two weeks ago, Eisenberg raised another $2.5 million from previous backers JUMP Investors and Boulevard Capital Partners, who were joined by billionaire Sam Zell, real estate magnate Herb Simon, and actress Hilary Swank, among others. Eisenberg makes no secret of his desired exit. Within three years, he thinks that UrgentRX will be an attractive acquisition for a large pharmaceutical company. "I've outsourced their R&D," he says. "I'm cheaper to buy than to build."
Read more leadership and management articles. 
Photos: Courtesy of  Jordan Eisenberg