Major corporations have changed the dynamic of shopping in the United States over the past few decades, with some big-box stores driving out small, local retailers by undercutting their prices and building mammoth operations. But in cities and towns all across America, locally owned businesses are making a comeback—and it's making a difference.
A 2012 study by Civic Economics, a company that analyzes the impact of buying local, has found that local businesses are known to have a "multiplier effect" on their communities—the idea that every dollar spent at a local, independently owned business can stay in the community and help generate a far greater economic value. But it's not just about the economy: Research shows that vibrant local business communities lead to more charitable giving in a community and more walkable neighborhoods with unique character, according to Michael H. Shuman, an economist and author who specializes in community economics.
As Small Business Saturday® approaches on November 28, it's a good time to remember the value that locally owned businesses can provide their communities. Small Business Saturday is an annual event that recognizes the impact local, independently owned businesses can have and encourages consumers to spend their money on them.
"It truly is the celebratory kickoff to the holiday season for small businesses," says Nicole Leinbach Reyhle, founder of Retail Minded, a retail lifestyle publication. "But it's not just about the small businesses celebrating themselves; it's about customers celebrating those local small businesses that they love."
Why Support Local Businesses?
More than two dozen studies have looked at the value that small businesses bring to their local communities, says Shuman.
"Every single one of them shows that every single dollar spent at a local business leads to two to four times the amount of jobs, income and wealth, tax collections and charitable contributions," Shuman says. "There's no magic to it—it's basic economics that companies that are local have more local relationships, and that's what creates this disproportionate positive effect."
Shuman also says that studies have also found that regions with higher densities of local business have superior economic performance.
Beyond the direct economic effects of shopping local, Shuman says communities with many locally owned businesses are generally more shielded against economic distress because they're better diversified across a wide range of businesses—such as retailers that are focused on selling various types of goods and service businesses that might provide everything from pet grooming or accounting to housecleaning.
Strong, walkable local business communities also lead to more tourism and "smart growth," Shuman adds, by encouraging people to visit and live in towns where they can easily walk instead of drive to local businesses. Studies have also found that local businesses are more likely to adhere to new local environmental regulations, while large companies often "flee," Shuman notes.
Jef Buehler, director of Main Street New Jersey, a state-run program that helps towns in New Jersey revitalize and build strong local business communities, says independently owned businesses offer a distinct character and "flavor" that major chains cannot. "In terms of maintaining community character and keeping a sense of place," Buehler says, "you cannot beat small, independent businesses."
It's the real-life experiences of local business owners that show the true, positive impact that locally owned businesses can have on their communities. I spoke with several small-business owners across the nation about how they've created thriving local businesses and become cornerstones of their community.
Shining Star
In 2002, Karen Hollis took a year-long break from her job as a special-education teacher and started designing jewelry from home using beads she bought online. Within a year of selling that jewelry from home, she realized she had a viable business model: "I was selling bracelets off my wrist," she says.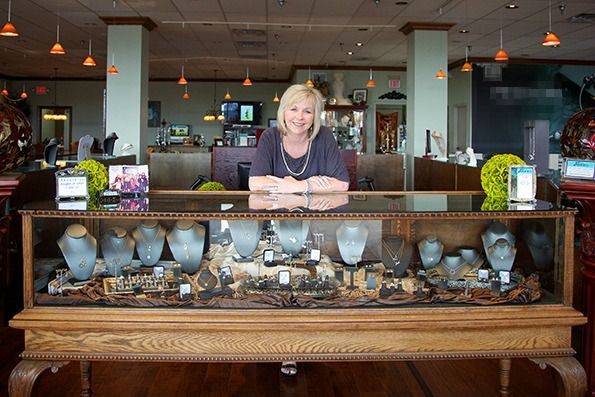 K.Hollis Jewelers prides itself on its friendly atmosphere and custom work.
So Hollis and her husband, Rob, decided to rent retail space in a local shopping center in Batavia, Illinois. The store, K.Hollis Jewelers, was named the best jewelry store in Chicago's western suburbs by the Daily Herald's Readers' Choice awards for the second consecutive year in 2015, and surpassed $1 million in annual revenue for the first time in 2013.   
The shop has stayed prosperous by creating a laid-back, friendly atmosphere and offering merchandise and services that other jewelry retailers in the area don't, Hollis says. For example, the store focuses on helping shoppers create custom jewelry from stones or family heirlooms they already have that may just be "sitting in a box in their closet," Hollis says. Moreover, the store also offers jewelry repair that consumers can't get at big-box retailers.
Several years ago, the store, which has 16 employees, expanded from a 1,800-square-foot space to a 4,100-square-foot shop in the same center. Since then, they've also added a wine bar inside the store to provide a community gathering place and event venue for nonprofits, networking groups, clubs and special occasions.
As local business owners, the Hollises are strong community boosters and active in many local organizations—something large retailers in the area generally aren't. Rob is a former president of the Batavia Chamber of Commerce and is the current vice president of Batavia MainStreet, an organization that focuses on the economic vitalization of downtown Batavia. The couple also gives money to and helps fundraise for local charities, including Tri-City Family Services and the LivingWell Cancer Resource Center.
"I think it's about that personal touch and being part of our community," Hollis says. "Everyone knows everyone else here, and they're greeted with a hug."
Dressed for Success
Third-generation business owner Steve Ashworth has taken his family's small, men's clothing business, Ashworth's Clothing, and turned it into a small-town destination. Ashworth's, in the downtown area of Fuquay-Varina, North Carolina, offers the charm of an old-school menswear store with some modern twists.
The store, which opened in 1937, has a humidor, which offers customers the ability to take a break from shopping, smoke cigars and chat, Ashworth says. But the store also hosts seasonal trunk shows and brings in trendy brands and designers to offer a selection of "what's hot now" clothing. While Ashworth's still mostly sells men's clothing, it has expanded and now offers some clothing for women, too.
"After 78 years, we've had a lot of families come through our business," Ashworth says. "Everybody in town knows us."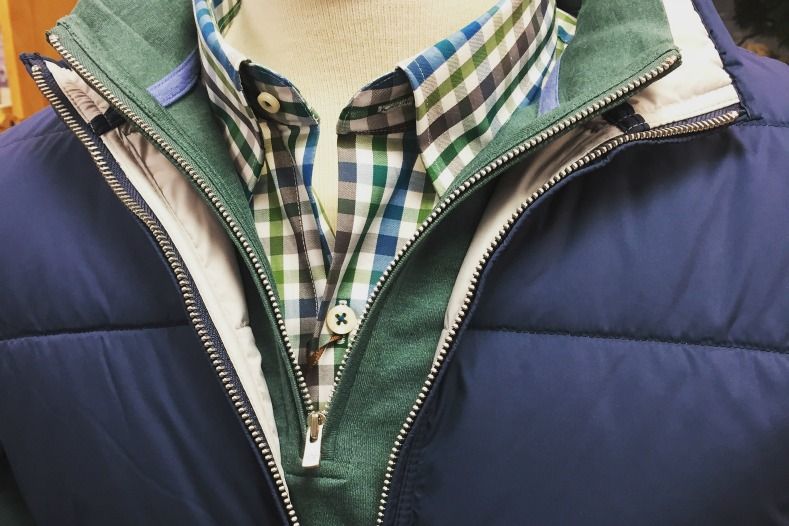 Customers at Ashworth's are fans of their clothing and customer service.
The secret to running a successful local business like Ashworth's is offering above-and-beyond customer service. According to Ashworth, a regular customer, who works about 20 miles away in Raleigh, once called in the middle of a workday to say he needed a particular pair of dress shoes within the next few hours. The only trouble was, he couldn't get away to shop at the store. So an Ashworth's employee drove up to Raleigh and hand-delivered the shoes he'd ordered to ensure they arrived on time.
"We probably didn't come out ahead on that pair of shoes," Ashworth says, "but it's about the big picture. You have a lot of pride when you do something like that for a customer."
Not Just Child's Play
Several years ago, after gauging interest by adding toys to the product mix at her stationery and gift store in Hammonton, New Jersey, Kelly Donio decided to turn Simply Stationery into an independent toy store, which she renamed Toy Market. The 3,500-square-foot store—which markets itself as "South Jersey's largest independent toy store"—offers a broad mix of toys not sold by such major chains.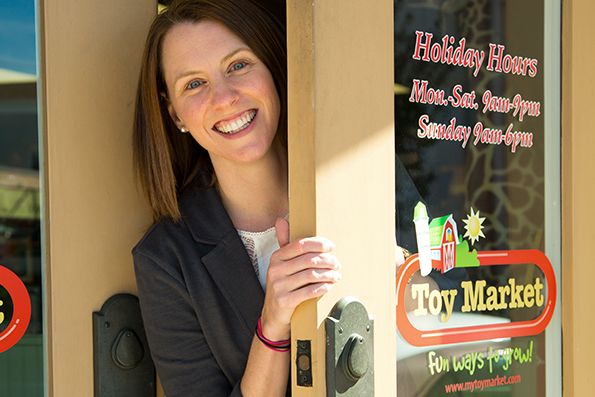 Toy Market keeps long hours in order to be available for customers who are working parents.
"We've found there's a niche for us," says Jim Donio, Kelly's husband, who helps market the store. "People are still looking for that hands-on interactive toy and puzzle store."
The Donios have taken many steps to stay competitive with the big-box chains beyond just offering a diverse product selection. They train their small sales staff to ask the right questions when shoppers walk into the store. ("How old is the little one you're shopping for today?") They keep long hours—staying open seven days a week and until 9 p.m. on most nights—to be convenient to working parents. They also try to help educate their shoppers on buying inspiring toys—"not just disposable toys," Jim says—geared toward childhood development and longtime use.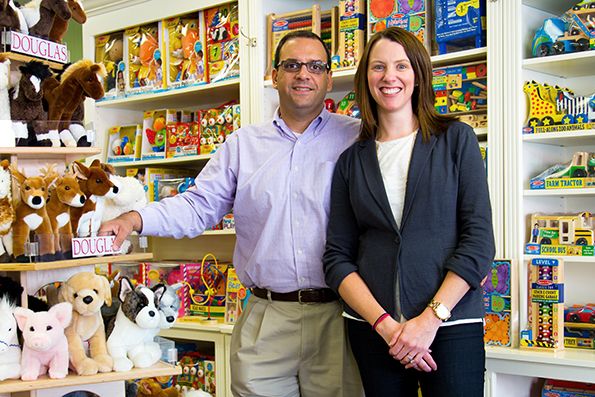 Toys sold at Toy Market are designed to be educational and inspiring.
By offering shoppers long hours along with a well-trained and informed staff, Toy Market can give its customers the ultimate toy-shopping experience. To entice new business, the store hosts various events for kids and parents throughout the year.
The Donios' long-term plans include opening new stores throughout New Jersey in the coming years, with a particular focus on towns that attract tourists and have a strong downtown business community.
"We're always adapting and evolving," Donio says. "In a nutshell, what we believe is, we're not just selling toys. Our core value is that we can be a resource for parents and grandparents."  
 Read more articles on Small Business Saturday.
A version of this story was originally published on October 28, 2014.
Photos from top: Courtesy of K. Hollis Jewelers (2), Courtesy of Ashworth's, Courtesy of Toy Market (2)