The more you rely on your website to drive revenue, the more you start to realize that there are two key levers for your site's success: getting more traffic and making the site work smarter for the existing traffic. Increasing traffic can be expensive, so often a better investment is to make your site work harder—whether that be increasing checkouts, size of orders, clicks on ads or forms filled out. This is where A/B testing tools come in.
With A/B testing you can compare alternate versions of the same page to see which perform better. It's not unheard of for a website to double its performance of the course of continuous testing. A local business like a real estate agency might test the placement, number of fields and language around its form that lets visitors ask agents questions to get a higher percentage of visitors to fill it out. An e-commerce site might test how many items to feature on a homepage to drive maximum sales. A content website, such as a blog or news site, might place ads in different parts of the page to figure which ad positions get better click-through rates.
Just a few years ago, this type of testing was only widely available to companies with large marketing budgets. Now there are a number of free and low-cost tools available to smaller businesses.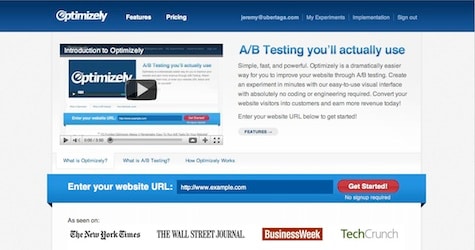 30-day free trial (credit card required)
Starts at $19-$79 a month, depending on number of visitors
Optimizely bills itself as testing software you'll actually use because it's so easy to set up tests. You can configure tests visually through a browser without needing to code HTML. For example, you can change the headline on the homepage or color of a button through a browser to learn what drives the metrics that matter for your website. Setup requires placing a single snippet of code on your website to both run the experiment and measure the results. Optimizely does a good job of measuring multiple goals (say, e-mail list signups and e-commerce purchases for the same experiment). It shows the results in an intuitive way that doesn't require deep statistics knowledge.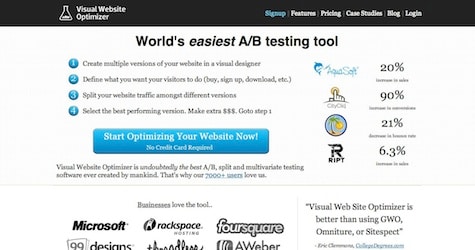 30-day free trial for up to 1,000 visitors
Starts at $49 a month for testing 10,000 visitors a month
Visual Website Optimizer also features the ability to visually create variations of pages via a browser, which makes it dead-easy to set up a test. You simply need to click the area of the page you'd like to vary and you can edit the text, change positioning, change links, change formatting and more. I was able to set up a simple A/B test in five minutes—and test results are easy to understand.
One area that differentiates Visual Website Optimizer is its reporting, which can show results of the test variations on over time. It also gives users a clickmap—a visual representation of aggregate user clicks to qualitatively inform opportunities for optimization. It also offers advanced features like segmenting results on dimensions such as first-time visitors vs. returning visitors and integrating with Google Analytics or Omniture SiteCatalyst.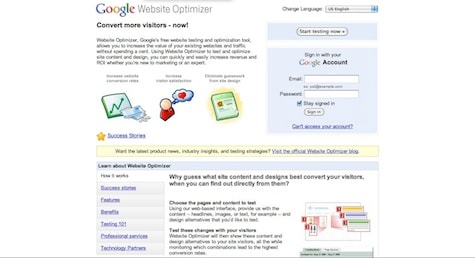 Free
It's hard to beat the price of Google Website Optimizer. In contrast with the other two tools, which vary elements of the page at the time of a page load, Google Website Optimizer works by randomly redirecting user populations to different URLs and measuring the performance of the respective pages. Like the other tools, you can measure more than one goal and track experiment results in real time. Setup for Google Website Optimizer is a little more cumbersome than the other two tools because it requires multiple tags to be deployed to different pages of the website.
OPEN Cardmember Jeremy Bieger is the founder of UberTags, a cloud-based tag management system that improves website load times and operational efficiency related to managing third-party code snippets (aka tags).