From my conversations with Sir Richard Branson over the years, I feel as though I've earned an accidental degree in positivity and optimism—his contagious laughter, almost-boyish curiosity, and a can-do spirit that long ago earned him the nickname "Dr. Yes" are qualities I experience every time we sit down together. It's why he's inspired countless entrepreneurs around the globe and others that simply harbor big dreams.
But during a brief, difficult-to-watch press conference a week ago in the Mojave Desert—following the tragic crash of Virgin Galactic's SpaceShipTwo the day before—I, like the rest of the world, witnessed a more human side of the high-flying billionaire better known for kitesurfing across the English Channel and tending to baby lemurs on his private Caribbean island.
"We do understand the risks involved, and we're not going to push on blindly," a visibly shaken Branson told reporters. "To do so would be an insult to all those affected by this tragedy. We're going to learn from what went wrong, discover how we can improve safety and performance, and then move forward together."
When asked about the future of Virgin Galactic, the once-certain space pioneer paused at length, and said to himself, as much as to the media assembled, "We would love to finish what we started some years ago."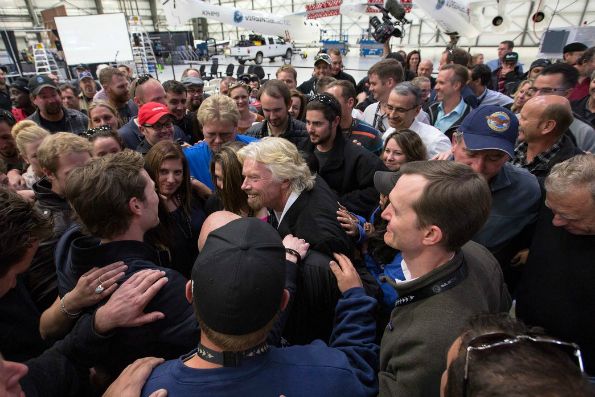 We're not used to seeing larger-than-life icons taken down a peg, and it feels a little disorienting when they are. TV footage of the ship's wreckage, strewn across the California desert bearing Virgin's well-known, whimsical logo, is a searing image for those who have watched and cheered the brand over the years.
When talking to Branson, it's easy to zero in on the successes, of which he's had plenty, magnified by his one-of-a-kind showmanship. And when the conversation does turn to stumbles during his well-documented entrepreneurial career, he usually points to the follies of driving a tank through Times Square to promote the long-since-defunct Virgin Cola or the amusing-in-hindsight Virgin Brides endeavor, for which he donned a bridal gown and lipstick.
Those now seem trivial compared to his latest setback and challenge—plotting the future of a commercial space program that he's openly declared his life's ambition, which has claimed the life of one test pilot from Virgin Galactic's partner, Scaled Composites, and seriously injured another. Millions of dollars and countless hours also have been lost, while more than 700 people who have already signed up to soar into space now watch from the sidelines, no doubt a little nervously. Branson himself had planned to join the first commercial flight, as early as next year, and had been undergoing rigorous training lately. That now may be years away.
I don't know what the future holds for Virgin Galactic. I'm not sure Branson fully does either, in the immediate aftermath of such a stinging personal and professional defeat. But in my conversations with his team in the days since, one message has become clear—they believe hard work is, indeed, hard, and you can't have great days without some tough ones when you're trying to accomplish big things. Let's not forget, this may not be a literal moonshot, but it's about as close as you can come. Last Friday was a very tough day. Branson and his team are resolved to have more good ones.
And that's what tests any entrepreneur's mettle—not toasting the victories, but how you bounce back from the defeats. In this case, one involving life and death. Branson may seem like he has a Midas touch at times, but it's a banner-headline blow like this, and how he and Virgin Galactic move forward from here, that will likely teach us more about the hard path to achievement than any of his past successes.
Fellow entrepreneurs should watch closely.
Photos from top: Shutterstock, Mark Greenberg/Virgin Galactic