To walk into a WeWork collaborative workspace in New York, London, Los Angeles—or any of the company's more than 200 locations in 65 cities worldwide—is to experience a taste of the connected future. Part analog, part digital, it's a place where professional introductions, coffee, and fruit-infused water flow freely. In select spaces where the company's new office space management service, "Powered by We," is offered to enterprise clients, a smart desk can auto-adjust to a member's preferred height at the scan of a mobile phone. In this world, community managers will greet a visiting, keycard-holding member by name upon first visit. If the system reveals a member's birthday, a staff member might gather a crowd around for surprise cupcakes.
WeWork, founded in 2010 by Adam Neumann and Miguel McKelvey, is at heart a hospitality company. Its products, services and lines of business—which includes furnished apartments by WeLive, Rise by We fitness and mindfulness classes and its recently acquired Meetup social network—are powered by both cutting-edge technology and a hyper-intentional human touch.
The thread connecting all lines of the WeWork business is hospitality, and Rob Cartwright, the company's head of global hospitality and member experience, knows a thing or two about getting business done amid rapid, trans-continental changes to the company's operations and infrastructure. Cartwright joined WeWork 18 months ago after two decades at a global hotel company, followed by his role as CEO and founder of a hospitality firm, which he ran from a WeWork in Boston.
What was the path to your current role at WeWork?
Since the age of 15, I've been in hospitality. It was a totally natural progression from coffee server to vice president of a global hotel company. I'm the guy who goes into an elevator and strikes up a conversation with strangers. I truly enjoy getting to know people and relate that back to how I can make their day better.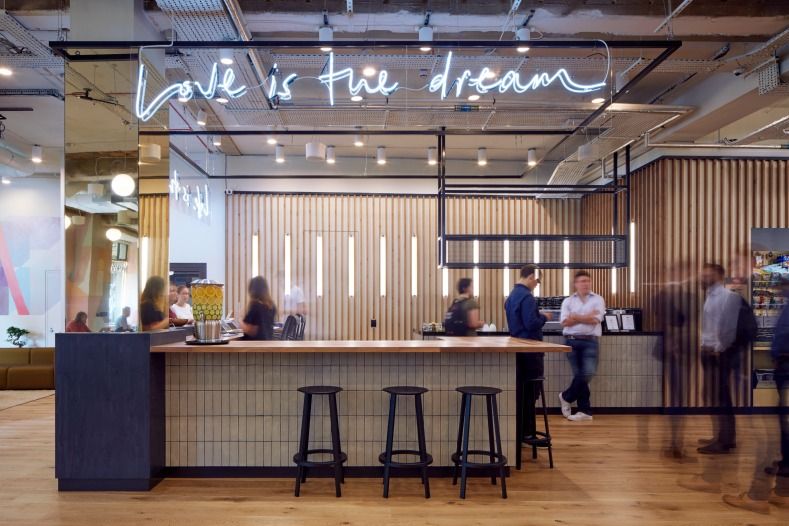 WeWork in Aldwych House, London
At the large companies where I worked, I always had creative ideas. I wanted to do things differently in the hotel space. I was often told, "That won't work here," so I launched my company as a hospitality entrepreneur. When the opportunity at WeWork came along, I knew it was a fit. In 2016, my company was acquired, and I joined WeWork. Everything we do is about connecting people, and doing it requires a hospitality mindset across the entire company. I understand how to instill hospitality as a philosophy and deliver experiences in that spirit to help our members thrive.
How does having been a WeWork member impact your current outlook?
As a former member, I know how meaningful WeWork perks and events can be. One of my favorites is "TGIM" [Thank God It's Monday], a weekly community event where we serve breakfast in all of our buildings. All supplies and goods for "surprise and delight" experiences go on our American Express corporate cards. The cards are necessary tools for community managers in all of our buildings. Along with being the primary source for purchasing, they help our operations team identify and track trends in spending. There's also the great association of two companies doing amazing things to build community in the world.
How are you able to facilitate connections at WeWork?
We help people connect on a deep, emotional level by how we welcome them, through the food we serve, the music we play and how we resolve issues when things go wrong. It doesn't go right all the time, but the way we choose to respond makes our members feel like family.
How do you extend that experience across variations in culture?
Thankfully, we all have a common vision: Helping people create a life and not just a living. We're a global company with a local handbook. All around the world, people want to find more human ways to work. As we grow globally as part of this movement, we have an efficiency of scale. We have established foundations in operations, design and standards of hospitality that are consistent everywhere we go. When someone walks into a WeWork—in any location around the world—there is an immediate and palpable energy. This isn't accidental; it's by design. So while each location is unique, it's still distinctly WeWork.
Hospitality means empathizing with other humans, showing gratitude for the day and working together to bring the personal or company mission to life.
—Rob Cartwright, head of global hospitality and member experience, WeWork
Locally, we consider each building to be its own project. Regional teams develop relationships with local artists, and we try to partner with local artists in ways that make sense for specific spaces. We also focus on how people like to live, work and play across regions. For example, in India and other communities where most members like to sit down to a hot, homemade lunch in the common area, we ensure that we have appropriately configured kitchens and resources.
How else are you creating consistent international experiences for WeWork members?
I'll never forget the feeling of losing my bag on an early business trip in 2004. I was in Istanbul, and everything was stolen, including my passport, all my cash and my credit card. I called, and American Express had a replacement card to me within twelve hours and made sure my room was covered.
It was nerve-wracking at the time, but there was a reassurance on the line when I called Member Support Services. We're building that same feeling of safety and security into the WeWork experience, wherever you might be. Whether you're in a WeWork in Shanghai, Boston or San Jose, you should feel at home. We create that through a backbone of technology and attention to details. It's a vibe and an energy that makes a member feel comfortable and at his or her best.
We try to alleviate as many pain points as possible through technology, and as we learn about our new markets, we make any necessary adjustments. Between our amazing talent and the playbook we're creating, those successful processes become muscle memory.
What excites you most at the intersection of tech and member experience?
Without a doubt, the Member Notes section in our internal app built for community managers. By utilizing a basic notation system, we can extrapolate what's best for each member and act on it. We'll be able to track individual preferences: likes, dislikes, whether a member loves a certain snack and what makes them most successful. We're enabling our teams to fulfill those requests. That knowledge will lead to unexpected delights and a great member experience.
One of WeWork's locations in Shanghai, China
As WeWork expands its products and services, in part by acquiring Meetup and the educational coding platform Flatiron School, what connects the dots for you?
Serving others with purpose and creating loyalty beyond reason. My mission in life is to engage and connect with people in meaningful ways so that we live in a more fulfilled world. Hospitality means empathizing with other humans, showing gratitude for the day and working together to bring the personal or company mission to life. At WeWork, it means we're always seeking to innovate and improve the member experience. That's the backbone of what we do.
Photos from top: Courtesy of WeWork / Benoit Florencon, Courtesy of WeWork / Mark Cocksedge, Courtesy of WeWork / Seth Powers