Back in 1936, when the Great Depression was devastating the Dust Bowl states, Gerald Saddoris, a salesman in Bartlesville, Oklahoma and his wife, Lenna, were having trouble making ends meet. So they started taking in laundry from neighbors.
It worked.
As the bad years fell away, the business steadily improved and even flourished. It grew out of their home and eventually became what is now United Linen & Uniform Services, a regional restaurant linen and uniform laundry service, with customers in Oklahoma, Missouri, Arkansas and Kansas. Last year, it laundered about 15 million pounds of tablecloths, napkins, uniforms and even doormats.
In peak season, it employs about 150 people, and is still a Saddoris family-run operation. Now, Mat Saddoris is at the reigns and his son Colby is being prepped. United Linen, it seems to me, is an unlikely source for small business social media leadership, and Bartlesville, a town of about 37,000 located 50 miles north of Tulsa, seems an unlikely place.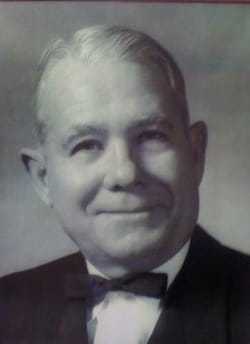 Gerald Saddoris 

But United Linen is exactly that, and its story has lessons for many small businesses to learn. It starts back in 2006 when marketing director Scott Townsend joined the senior team for an off-campus discussion.
"We were proud the company had been around for 73 years, but we started wondering what it would take to be around for another 73," he recalled.
The talk turned to social media, and Townsend was designated to give the new tools a try. As has been the case for many of us, his first attempts didn't achieve much.
Townsend started with Twitter. He turned to local sports teams, which were followed by most people in Bartlesville, and he started posting game scores. Twitter could get the results out faster than other channels and it was of course nearly free.
Great idea, except the Bartlesville mobile carrier did not yet support text, so tweeting didn't work on phones.
He remained undaunted. The service improved. He live-tweeted the local orchestra and people started talking about how interesting that was and United was complimented for supporting its local community.
But the lesson was that for many small businesses, you may need to be creative to demonstrate that your efforts are more valuable than just trying to shout messages as if Twitter were a megaphone.
Townsend turned to YouTube where he produced and uploaded a stark, but informative seven-part series on restaurant napkin folding.  If you ever want to master the art of transforming little cloth squares into swans, crowns, the always-elegant lily, and my favorite, the rosebud—these clips are for you.
Want more on social media? Check these out:
More important for restaurant owners, these clips provide a useful free training program, and it elevates United Linen to thought leadership in a niche that is valuable to potential customers.
In 2008, Townsend also discovered the power of Twitter in a crisis. He used it to warn customers when an ice storm hit, apprising them of revised delivery schedules and receiving advice back on alternative routes.
Townsend has since become prolific on Facebook, Twitter, YouTube, and on a company blog. He cross-links each to the other. Everything he does stays focused on customers.
United Linen understands it will never muster the sort of universal interest that say a celebrity recovering from chemical dependency will, nor does it aspire to do so. Instead, it stays steadfastly focused on customer needs and interests.  From time to time, Townsend tosses in trivial tidbits. For example, he did the math and reported in a blog that if you took all the napkins it launders in a day and laid them end to end, they would stretch 24 miles. He illustrated it on a Google Earth map of Bartlesville.
Today, United Linen is nationally known. It's social media innovations have been covered by big media such as The Wall Street Journal.  Townsend speaks at professional social media and marketing industry events.
National recognition aside, the social tools are business tools focused on doing online what United Linen has done in the real world since the Great Depression.
"This is and always will be a relationship business," he noted. "We always benefited and evolved from conversations with customers." Social media allows the conversations to scale. He can answer one customer and all will see what he had to say. Other customers can jump in with additional ideas or insights.
Townsend has now been at it nearly five years, longer than most small business people. He's learned much. I asked him to share a few tips:
1. Go Where Your Customers Are
Townsend noted that the company embraced social media before very many customers were using it. "We took a dig-your-well-before-you're-thirsty approach. By the time United Linen customers started coming to the social spaces, the service had gone through many trials and errors. The company knew what worked.
But many of United Linen's customers are still not in social media and may never go that route for a variety of reasons. United Linen talks with its customers where and how the customers want to speak.
2. Follow, Like, Watch and Learn
Townsend advises companies to "get a lay of the land," when they first enter social media. Follow people in your profession. These people are more important for most small companies than the luminaries. "If you want to reach stay–at-home moms, then follow stay-at-home moms. Show you're there before you talk. Use "Follow" on Twitter and the Facebook "Like" button. Leave comments.
3. Set Guidelines
As your employees and customers join social media, set behavior guidelines. There are several online resources that can help, including this OPEN Forum article on how to create a social media policy.
4. Tell Your Story
Every company has one. Make yours as interesting to as many readers as you can. It makes your company more memorable and it puts people on your side.
It seems to me that very often small businesses try to act or sound or look like bigger businesses on social media. They hide human faces behind corporate logos.
It's important, I think, to remember there is beauty—and power—in small.