Scott Adams is probably best known for his 25-year-old comic strip Dilbert, but when the famous cartoonist isn't making America laugh with his satirical office humor, he's starting new businesses.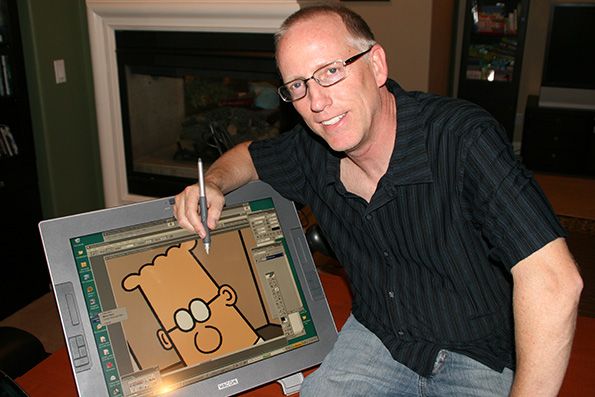 To date, Adams, author of How to Fail at Almost Everything and Still Win Big, has started 30-something business ventures, including two restaurants, a food company and multiple computer software firms. His newest pursuit is the recently launched scheduling application Calendar Tree.
Not all of Adams' business ventures take off. In fact, only one out of 10 of them do, but that hasn't stopped the famed cartoonist and serial entrepreneur from trying his hand at starting something new over and over again.
Here, Adams shares the most important lessons he's learned from his business success and failures:
1. You must identify the skills that set you apart. In order to know what you're good at, you have to first figure it out. This means trying as many things as possible but also recognizing when you're particularly talented in one area or not. Earlier in his career, for instance, Adams spent a lot of time coding and writing computer programs, but he says he just didn't have a natural talent for it.
"If I believed in passion, I would say that I had a passion for computer programming," Adams says. "I enjoyed it in an unnatural way. I mean, I just really liked it.
"But it turns out, I'm not good at it," he adds. "My mind isn't wired for the type of memory and concentration that makes a great coder."
2. Try everything, even if everyone else isn't sure about your talent. Before he became an internationally syndicated cartoonist, Adams says everyone who saw his work—other than his editor—would say, "Hmm, I don't know about this." Adams' simple drawings didn't convince people that he was set to become an international artist. That is, until he became one.
"It turned out I had a coincidental combination of skills that allowed Dilbert to work," Adams says. "Nobody would say that I'm a good artist, but I can draw well enough. And I had a background in business so I had materials to draw from, and that was unusual for a cartoonist. I could write simple sentences, which, essentially, is a hard art."
But Dilbert would have never appeared in 2,000 newspapers worldwide in 65 countries if Adams had listened to what everyone else said.
3. Know how you work best. "For me, it's not about generating ideas. It's about creating a situation where I'm not suppressing them," Adams says. "The ideas come when I'm just relaxed and I'm stimulated by my social interactions and looking at new business models.
"It's a combination of stimulation and relaxation … exercise and keeping my life sane," Adams adds. "It also has a lot to do with having regular hours."
Adams finds that his creativity is highest when he works in the wee morning hours. Whether you're an early bird like Adams or a night owl or get your best work done right after lunch, it's important to know when you do do your best work and use that time to your advantage.
4. Bad ideas aren't always bad ideas. When he first shared Dilbert with the world, Adams continued working his day job. To meet his Dilbert deadlines, the aspiring cartoonist would wake up at 4 a.m. and have to be finished with a new comic strip by 5:30 a.m. or he wouldn't get to work on time.
"There were days when I would get up and have a great idea, and I would have my full hour and a half to execute my idea," he says. "And there were other days that I would get down to the last 15 minutes and I didn't have anything except really bad ideas."
Instead of giving up on the bad days, though, Adams would take his bad ideas and make the most out of them. "What I learned—humbling and shocking at the same time—was that the readers couldn't tell the difference between my genius inspiration that came out of nothing and the 15-minute horror story that I had to throw together because I simply had to."
The lesson here is that even when you think your idea is a really bad one, if you put enough craft and skill on top of it, you may find that people will think it's a great idea.
5. If you're worried about the contract, you're probably working with the wrong people. "I've signed a lot of contracts in my life, and when you're working with the right people, it's the last time you even look at it," Adams says. On the other hand, if you find you're not doing what makes sense because it's what the contract says, you're probably in the wrong deal.
6. Don't become partners with someone because they're passionate. When he's deciding if he wants to work with someone, Adams tries to determine how much passion they have or don't have. If he thinks the person is too passionate, he's leery because "judgment can be clouded" with passion, and his potential partner may have a hard time being logical because they're too passionate.
"You have to think, does the person have a clean way of looking at the world, at what makes sense and what doesn't make sense?" he says. At the end of the day, that's what business is all about.
7. Find a partner who's the right kind of insane. According to Adams, his ideal business partner would have a weird combination of talent, experience and an insanity factor.
"The insanity factor … that's the one you don't always pick up on right away," Adams says. "Humans are flawed creatures, and we're all crazy in our own ways. If you get the wrong kind of crazy—the destructive kind, the toxic kind—then there's no recovering from that." On the other hand, if you find someone just insane enough, you'll find they'll have more creative and off-the-wall ideas and solutions than you could ever imagine.
Read more articles on leadership.
Photos: Thinkstock, Courtesy Scott Adams