Last Monday, I danced to "Copacabana" with Kristen Bell. But more on that in a moment.
Over the past 12 months, when people have asked me what I do, I've smiled wryly and responded, "Oh, I'm a producer on the Veronica Mars movie." I'm not, of course. But as one of 91,585 backers of one of the most successful Kickstarter campaigns ever, I couldn't help but feel like one, as the years-in-the making feature film debuted across the globe this weekend. And with that experience, I think, come some very important lessons for entrepreneurs trying to seize upon the growing crowdfunding movement.
Quick background for all you non-Marshmallows (as Veronica Mars fans are known) out there. Veronica Mars was a mid-2000s TV show about a cheeky teenage detective, starring Bell, canceled way before its time. Picture Murder She Wrote with a sassy young blonde armed with a stun gun instead. After years of impassioned pleas by its creator, cast, and fiercely loyal fans, Warner Bros. finally agreed to a deal: Raise $2 million in 30 days on Kickstarter, and we'll let you make the movie. They hit that mark in 12 hours and went on to raise $5.7 million in total, shattering virtually every record Kickstarter keeps. Creator Rob Thomas, Bell, and this band of bootstrapping filmmakers found a winning formula—a viral video, a compelling narrative, and a creative list of rewards, including everything from T-shirts to a speaking role in the movie. As I often say, what I love about Kickstarter and other crowdfunding platforms is that they allow entrepreneurs and creative types to prove real-world demand, even if they don't yet have the money for real-world supply. Team Marshmallow proved this in spades, and Hollywood and the crowdfunding world took notice. On the day the campaign launched, Veronica Mars was trending on Twitter alongside news of the new pope.
What followed was one of the more fun experiences I've been a part of. From day one, Thomas and his team were in constant contact with their backers, delivering regular updates about the film's production. To date, Thomas has sent out 89 (lengthy) dispatches on everything from writing the script to casting to hijinks on the set. At times, I felt like responding, "Hey Rob, don't worry about us, just focus on making the movie."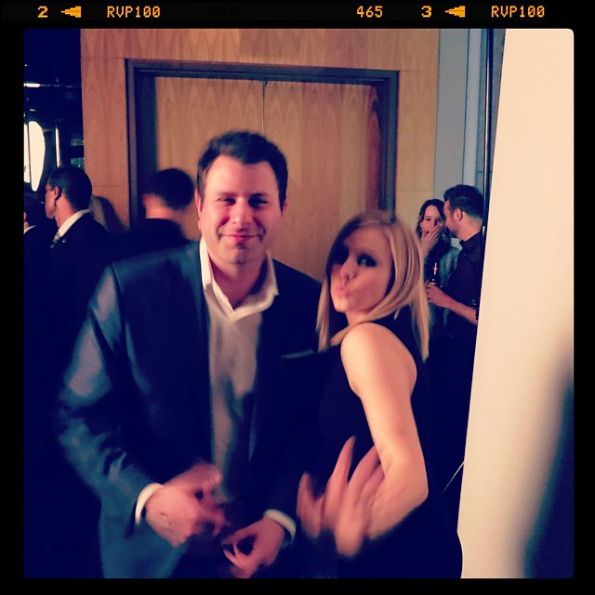 The author hits the dance floor on premiere night with "Veronica" herself—actress Kristen Bell.
While I never got to say "action" or sit in the editing room, I felt like part of the process and it was a thrill to see the project take shape in real time. Myself and my fellow backers knew everything going on with the film before the media and the wider world, and Thomas continually encouraged us to weigh in with feedback or contact his team with any questions about the campaign. More than that, I can't tell you how many times he thanked us for turning the movie into reality. While we won't see a dime from the box-office take, we felt invested in this project—and that's crowdfunding at its best. I'm sure they'll never fully admit it, but I suspect the people behind Veronica Mars had serious doubts this would actually work, which is why their appreciation has been so profound and genuine over the past year. Imagine that in Hollywood.
Well, the experience came full circle last Monday night, when I attended the New York red-carpet premiere with my friend Jessica, who convinced me to split one of the Kickstarter premiere packages (I didn't need much convincing). What's funny is that as we walked into the theater and were greeted by the cast, the movie itself was almost an afterthought at that point—the yearlong roller coaster ride would've been enough. But it was no doubt rewarding to sit in a theater with a group of people, clad in evening wear, who had been in the virtual trenches together for the past year and helped make this whole thing happen.
Which brings us to the after party. Because all good stories involve an after party. As a longtime, accidental fan of the show, it felt almost like a weird dream—drinking and dancing and reveling with a bunch of people we'd only known on TV. Like the email missives that led up to it, the prevailing theme all night was appreciation. I've been to my share of celebrity events over the years, and count a few of them as friends, so I know how tedious the act of posing for selfie after selfie can be. In this case, I actually think the cast was having more fun than we were.
Now that I've had a chance to reflect on the experience (and text the party photos to everyone I know), I've come up with a list of lessons for other entrepreneurs out there, perhaps tempted by the success of Veronica Mars and planning to plant their flags on Kickstarter. (After all, what entrepreneur wouldn't want to raise $5.7 million?) While a smart campaign is essential, what you do after being funded is arguably more important.
1. Be authentic. This may be the idealistic fan in me, but every correspondence during this project, and every conversation I had with the cast, convinced me this was a group of people that genuinely believed in the work they were doing—and created it for their fans. No matter your industry, and whether you're using crowdfunding or not, start something for the right reasons.
2. Keep people in the loop. Seeing Thomas' emails in my inbox was always a highlight of my day. People who pledged just $1 received the updates—and in my opinion, they got a bargain. For me, it was arguably the most fun part of the campaign. In coming years, thanks to the JOBS Act, we'll see true crowdfunding, where people can actually invest in startups, but right now, crowdfunding remains in the form of contributions or advanced orders. Communicating with your fans, backers, or whatever you want to call them is how you keep them loyal and engaged.
3. Go multiplatform. Sure, it all began on Kickstarter's website, but the project really came to life via email, Facebook, Twitter, YouTube, Tumblr, and beyond. Even the loyalist of audiences is fragmented these days, and you have to reach them where they are. (Ryan Hansen's post-campaign YouTube video is a personal favorite.)
4. Assemble a great team. I told Bell, mid-boogie, that it seemed like the cast really liked one another and was having fun, and she responded with, "Oh yeah, we're all friends. They're the best." When you're embarking on a startup journey, crowdfunded or otherwise, it's essential to put a great team in place. You're going into battle together—you better have good chemistry with the people next to you in the foxhole.
5. Know your audience. Thomas has said that the movie's very existence is its main measure of success. And by his own admission, he made the movie for the backers. I think there's plenty in the movie for Veronica newbies, but the inside jokes and storyline definitely spoke to the fans. A good product is designed with its customers in mind.
6. Remember, the process is just beginning. Thomas and his team are the first to admit they didn't run a flawless campaign. No one does. Complaints about downloading the digital version of the movie have streamed in (pun intended) and the cast is likely suffering from temporary Carpal Tunnel Syndrome from signing 6,000 movie posters. As I watched this unfold, at times, I wondered how the hell they were making a movie while coordinating all the rewards. It's tempting to promise a lot during your fundraising days, but it's important to keep in mind that you actually have to deliver. Things inevitably go wrong and you'll hit some speed bumps, but from my perspective, the Veronica Mars team largely came through.
7. Say thanks. I'm a big believer in thank-yous in business, whether it's to your staff or your customers or the waiter at a client dinner. They cost you nothing and go a long way. I think Thomas' update the day of the worldwide release captures his sentiment throughout the whole process: "Today, Veronica Mars returned, and it's all because of you... The strangest part, in meeting all of you, was how many of you kept thanking me, and Kristen, and the rest of our team, for making the movie—and it was strange mostly because, as smart as you all are, it seemed obvious to me that you were getting this one wrong. The thanks should have been going in the other direction."
And with that, I'll say a thank-you of my own, which I shared with some of the cast last week. Thank you—for making an entertaining film with our hard-earned money, yes. But mostly, for bringing all of us along for the ride. I learned a lot, and I think entrepreneurs of all stripes can too.
Rod Kurtz is the editor-at-large of OPEN Forum.
Photos from top: Shutterstock, courtesy of Rod Kurtz