A drag along right "enables a majority shareholder to force a minority shareholder to join in the sale of a company… [on] the same price, terms, and conditions as any other seller."
Investors use drag along rights to force entrepreneurs to take acquisition offers that are unfavorable to the entrepreneurs. University of Chicago professor Steve Kaplan explains that this contract provision keeps entrepreneurs from vetoing the sales of companies on terms that the founders don't like.  Les Nemethy writes in the Warsaw Business Journal that investors can use these rights to force entrepreneurs "to sell their business… at a valuation over which he or she has no control."
Recently, several observers have argued that investors have pushed through the acquisitions of prominent start-ups by making use of drag along rights.  For instance, Michael Arrington argued in Tech Crunch that the use of this provision made possible the low priced sale of the start-up FilmLoop.  
Growth in the Use of Drag Along Rights
While drag-along rights aren't new to investments in high potential start-ups, they are becoming more common.  Data from various years of the Cooley LLP Venture Capital Report shows this trend (see figure below).  The share of Cooley deals that involve drag along rights doubled between the fourth quarter of 2003 and the first quarter of 2010, increasing from 34 percent to 69 percent.  
(While Cooley only provides data on deals in which the law firm was involved, the firm is a leader in the industry, and the greater use of these rights in deals in which the firm was involved likely reflects an industry trend.) 
The Percentage of Deals with Drag Along Rights, Q4 2003 Through Q1 2010: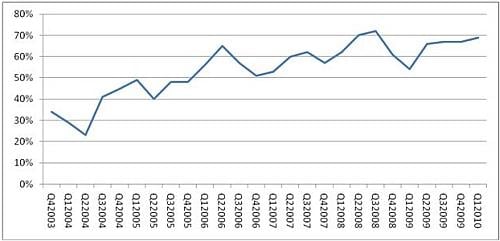 Source: Created from data collected by Cooley, LLP
Why the Increased Use of Drag Along Rights
Although some might argue that the increased use of drag along rights reflects a shift in bargaining power from entrepreneurs to investors, I think it demonstrates something else.
(From 2003 through 2007, while drag along rights increased in popularity, the number of active venture capital firms, and the number of companies receiving initial financing from venture capitalists, went up.  Barring a large increase in the number of investment-worthy start-ups over this time frame, these trends should have reduced investors' bargaining power, making a rise in investor bargaining power an unlikely cause of the increase in the use of drag along rights.)
The greater use of drag along rights probably reflects a realization among venture capitalists and sophisticated business angels that the initial public offering market is not reviving, making acquisition the only viable exit option for investments in high potential start-ups.
When investors seek to exit investments through acquisitions at less favorable valuations, some deals are attractive to preferred stockholders, but not to common stock holders.  To prevent the common stockholders from blocking the deals, investors are invoking drag along rights to a greater extent than in the past. As Bill Carleton, a securities lawyer at McNaul Ebel Nawrot & Helgren explains, investors want to "to do what they can to tamper down dissenters in any shareholder votes necessary for an acquisition."
Conclusion
There's a lesson here for entrepreneurs:  The disappearance of the initial public offering market doesn't just affect how they exit from the companies they start, or even the valuations of their companies at exit.  It also affects the structure of the deals that they can get from the investors from whom they are seeking money.
* * * * *
Scott Shane
 is A. Malachi Mixon III, Professor of Entrepreneurial Studies at Case Western Reserve University. He is the author of nine books, including
Fool's Gold: The Truth Behind Angel Investing in America
; Illusions of Entrepreneurship: and The Costly Myths that Entrepreneurs, Investors, and Policy Makers Live By.