The cubicle farms of yesterday are slowly eroding, as business leaders strive to create workspaces where talented employees actually want to spend time. Designers and architects are working hard to build the office—and office furniture—of tomorrow, and they say it will be customizable, collaborative, driven by data and oriented around wellness. Here's what's on the horizon when it comes to office design.
It will be personalized.
To better understand how to create furniture for the office of the future, the team at furniture manufacturer KI went back to college. They didn't enroll in classes, says Jonathan Webb, who is vice president of workplace strategy with the Green Bay, Wisconsin-based business, which has offices around the globe. Rather, they studied how students interact, study, relax and socialize.
Students, after all, don't have offices. They make use of cafes, green spaces and libraries, studying in groups or alone at all hours of the day and night. "College students were the original owners of work-life balance before the term work-life balance was ever even invented," says Webb.
It's really about providing a wide range of space types that are as attractive or more attractive than working remotely, because you can't substitute culture for technology.
—Michael Bonomo, principal, CannonDesign
To attract and retain young talent, Webb says businesses should consider where that talent is coming from. KI's latest office furniture line, called Tattoo, is inspired by its higher-education observations. Tattoo is a kind of "choose-your-own-adventure" set-up, where employees can customize how and where they sit, work, socialize and recharge. "Our research has told us and our clients have told us that every graduate they've hired prefers to work in groups," says Webb. Tattoo allows for that, and more.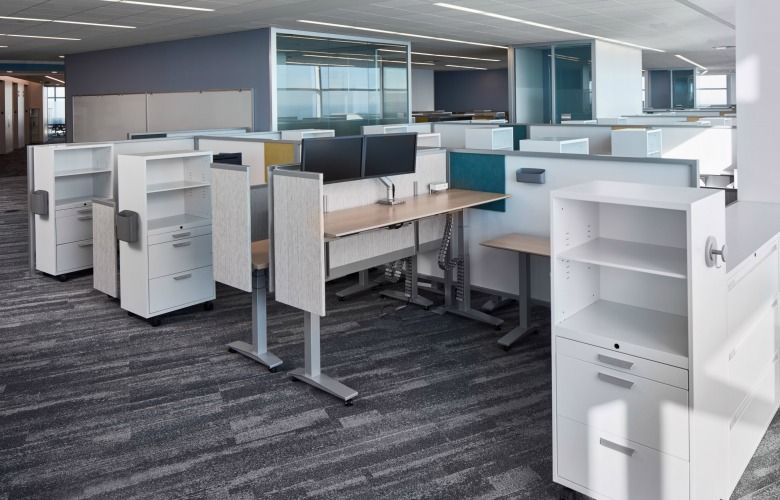 An adaptable workspace by KI
The reconfigurable spaces, complete with a desk, storage space, privacy and comfortable seating areas, are modern, stylish, lightweight and can be rearranged on a whim. "Adaptable workplaces—like those enabled by Tattoo—empower workers to take ownership over their workspace, no matter what tasks they have at hand. One analyst might pull up a privacy screen and move his desk to a standing position to hone in on a report he needs to finish on a tight deadline. Another might try a different arrangement entirely. At another workstation, a CEO who holds regular meetings with department heads might roll out additional seating and move a panel out so the two colleagues can use its surface as a whiteboard for the meeting agenda," Webb explains.
It will be destination-worthy.
Countless businesses have proven that they can exist without walls and doors by allowing their employees to work remotely. But in doing so, culture and camaraderie are at risk, says Michael Bonomo, principal, director of global workplace and co-leader of the commercial practice with CannonDesign, a global integrated design firm founded in Buffalo, New York that has 24 offices around the world. Bonomo, who works out of the firm's New York City office, points out that now and in the future, to be the employer of choice, it is imperative to design a space that's inviting to employees.
"It's really about providing a wide range of space types that are as attractive or more attractive than working remotely, because you can't substitute culture for technology," he says. "Culture is about being together. And that's really important in all businesses, regardless of how digital they've become."
Bonomo says that those spaces, which he calls "co-create spaces," look more like an international airport lounge, offering collaborative areas and individual stations; lots of power points for plugging and recharging devices; healthy food choices; nap rooms; fitness rooms and great coffee, for starters. He adds that workers will want assurance that they are working in healthy buildings, free of toxic chemicals and gases. And he says employers will provide seating that offer the choice of sitting and standing, both at desks and in meeting spaces, encouraging employees to move around and change their posture throughout the day.
The design decisions, which were once made by corporate executives, will become more of a team decision, says Bonomo. "When I started working years ago, the C-suite would often mandate what the design needed to be based on business drivers, head count and a lease they had agreed to with the broker," says Bonomo. Today, he's seeing more voices at the table, including human resources leaders, health and wellness ambassadors and staff. That level of engagement, he says, will have a long-term impact. "No business is successful if every group isn't heard, understood and represented in the design," he says.
Data will drive design.
At the Herman Miller headquarters in Zeeland, Michigan, the future is now. The design company, which provides furniture and technology-related services to the workplace, is continually working to devise a smarter, more efficient office, for its own business as well as its customers. That office is shaped by data. "Sensor and sensing and data technology has become so inexpensive and easy enough to implement that it's everywhere," says Alex Cammenga, senior technology program manager at Herman Miller. "Anything that there's a business case to measure is being measured."
At Herman Miller, one way that measurement is taken is through a system of connected office furniture, called Live OS. The office furnishings, which includes fixed-height desks, sit-to-stand desks, and, when it launches in fall 2018, the Live Aeron Chair, have sensors that collect information about when and how they are being used (other office furniture can be retrofitted with the sensors). How frequently is a sit-to-stand desk, for example, being raised and lowered in height? Is a cluster of communal desks underutilized? The data provides valuable business insights. For instance, if only 70 percent of an area with 100 desks is used, should the business bring in 30 more people? Or should it transform the area into a space more employees with use, with, say, collaboration areas? "If you don't know the peak utilization of your space, you can't make very good decisions on expanding, bringing in more people or changing your layout to accommodate different types of work," says Cammenga.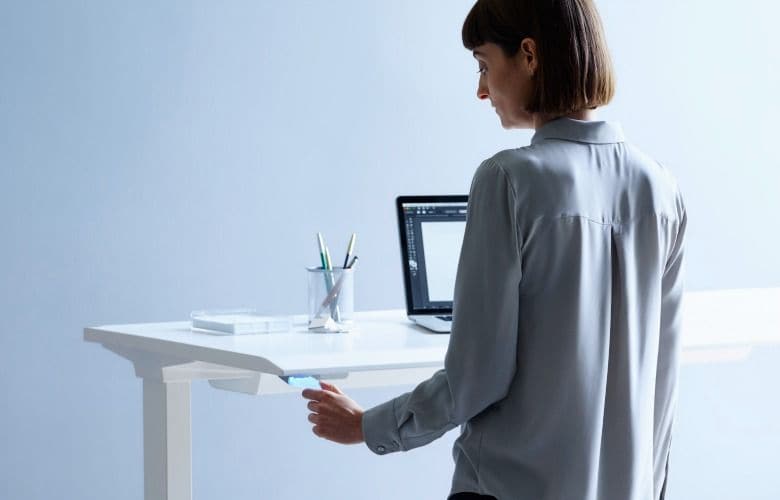 A Live OS desk by Herman Miller
The Live OS furnishings, which are connected to the cloud via a secure cellular network, also offer personalized settings aimed at improving wellness and movement. Using the Live OS app, a team member can opt to "claim" their assigned desk and chair. He or she can then set their sitting and standing heights and activity goals. The office furniture will adjust to those preferences with the touch of a button. In an office with shared desks, the team member can check in to those desks and have their personalized settings sent to it automatically. Staff can also set goals with a sit-to-stand table in the same way they would with a personal health tracker. "They can pick a low, medium or high activity level, and the table will remind them throughout the day to transition from sitting to standing for short periods to meet those goals," says Cammenga. The alerts come in the form of lights or vibration.
A data-driven office is one that can continue improving based on the preferences of those who use it most. And in the future, says Cammenga, that will hold a lot of value.
"There is no-one-size-fits-all for an office space. Being able to make decisions based on data and measurements is very important to making sure that you have a happy, healthy and efficient workforce, and you're also spending your real estate dollars as efficiently as possible," says Cammenga. "Because that all comes off of your bottom line."
Photos from top: Getty Images, Courtesy of KI, Courtesy of Herman Miller