Traveling for work can be both fun and a little stressful. When you're somewhere unfamiliar, it can be difficult to find a tasty, healthy lunch on the go, or find a store that stocks that essential computer cable you forgot to pack. But whatever you're looking for during your next business trip, San Francisco's local shops, eateries and venues can help provide it.
From starting your day with a workout at a neighborhood fitness studio to enjoying a good night's sleep in a boutique hotel, tools like the American Express® Shop Small Map can help you find businesses to meet your needs on nearly any Bay Area block.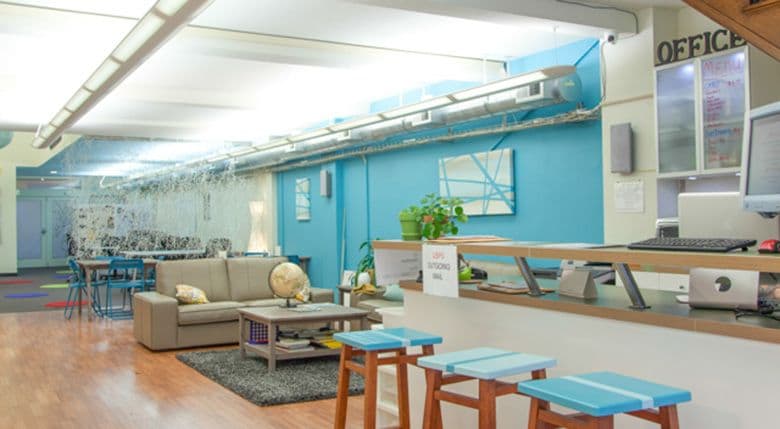 Sandbox Suites: A co-working space to get you connected
Former Wall Street trader Roman Gelfer established turnkey co-working space Sandbox Suites in 2007 to give independent entrepreneurs a shared, energizing place to work. The two-story SoMa space is the coziest of the three San Francisco locations, with monthly memberships for assigned, unassigned and private desks. Daily drop-ins are welcome for $20, and you can be up and running with Wi-Fi and insurance within half an hour of arrival, with access to comfy couches and three conference rooms should you need to host a meeting. "The biggest benefit of co-working is the people around you—we call it social capital. Most of the people here run mature companies so you make better contacts," says Gelfer.
123 10th Street, San Francisco, CA 94103; 415-659-8197; sandboxsuites.com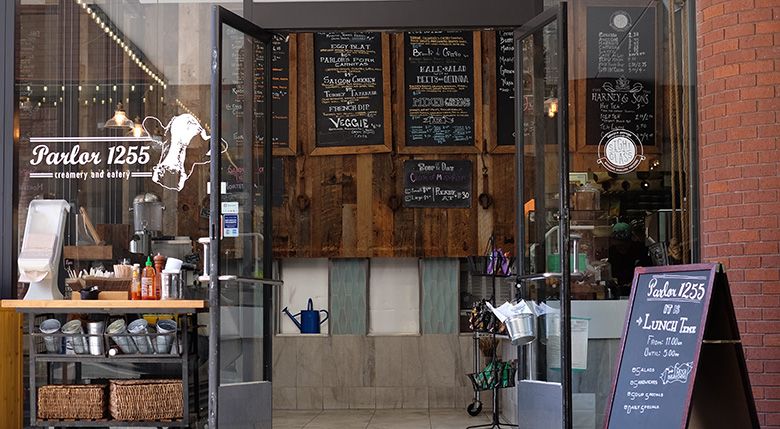 Parlor 1255: An eatery built for breakfast on the go
If you're in the heart of San Francisco's Financial District and need fresh, locally-sourced organic food, fast, Parlor 1255 may be your go-to spot. Breakfast options range from grab-and-go treats such as croissants and fruit parfaits to the more substantial maple sausage English muffin sandwich with fried egg and cheddar. Popular lunch selections include a turkey tapenade sandwich and kale salad with beets and quinoa. You can order online and prepay for immediate or scheduled pick-up–an ideal service for when you're running between appointments. Chef and owner Kaitlynn Bauman, a Culinary Institute of America graduate who has cooked at popular San Francisco restaurants Green's and Cotogna, opened this eatery three years ago as a stepping stone to owning her own restaurant.
Now, Bauman continues to develop her culinary skills by traveling. "I love to gain inspiration from chefs around the world," she says. "I think the most important thing is to stay true to your values and if you believe in your business and are passionate about it, other people will be passionate about it, too."
1255 Battery Street, San Francisco, CA 94111; 415-249-0802; parlor1255.com

Keane Mac Repair: A one-stop solution to fix your device
If you need data recovery, or a new Mac hard drive, memory upgrade, keyboard or display, Keane's CEO and sole technician Daniel Janisch (who goes by his middle name, Keane) can help—he even offers "next-in-queue" service for same-day fixes. Located within the historic Flood Building since 2007, the repair shop is convenient for almost anyone working in the Financial District. Keane Mac Repair is an Apple Premium Service Provider and provides often speedy repairs. Favoring word-of-mouth referrals and being searchable over mainstream marketing, Keane designed the company's minimalist website—which also includes Macs for sale and a streamlined appointment booking service—as an easy-to-manage, easy-to-find online shop for customers in need.
"I made a decision to be price competitive—not to be the cheapest guy, but the best guy," says Keane. "I think the two most important things when running a small business are common sense and adaptability—no matter what business you're in, things change all the time and you have to roll with it."
870 Market Street, Suite 1090, San Francisco, CA 94102; 415-835-9800; keanesf.com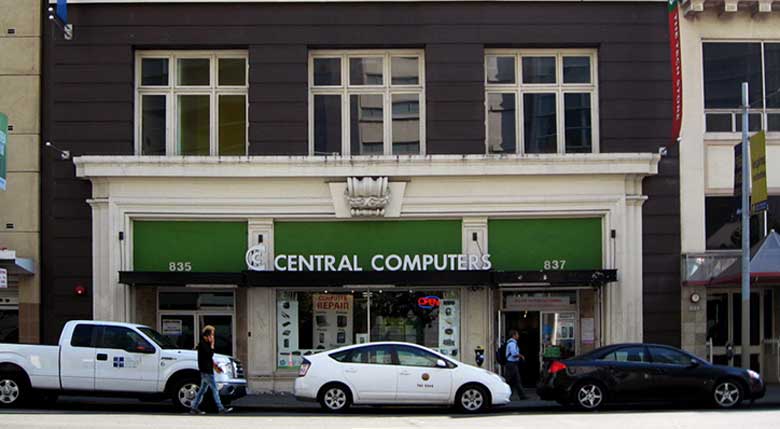 Central Computers: The place for tech help, IT services and mobile parts and accessories
For those with PC or other device needs, Central Computers—a 10,000-square-foot retail and service space in San Francisco's SoMa neighborhood—can help in a pinch. Established during the computer boom of the 1980s, this family-run B2B and retail company is contracted as one of the city's official IT suppliers, specializing in selling and maintaining custom workstations and servers as well as computer peripherals (printers, webcams, mice, etc.), software and phone and tablet accessories. Services include networking, on-site and in-store repairs, and there's a back door pick-up and drop-off on Tehama Street to help customers avoid parking headaches.
"Technology is always shifting and changing," says vice president of operations Craig Yeung. "Traditionally, we have focused on PC products, but we now also carry a wide variety of mobile accessories and gadgets. While product trends change over time, our focus on service continues to be a core principle for us."
837 Howard Street, San Francisco, CA 94103; 415-495-5888; centralcomputers.com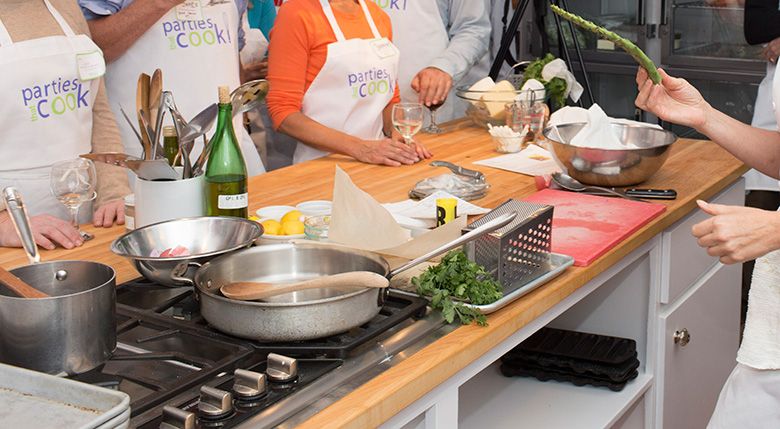 Parties That Cook: Where you can build up your team—and your cooking skills
Given 24 hours' notice, founder and CEO Bibby Gignilliat's mobile team of around 40 "edutainer" chefs, sous chefs and dishwashers can create a temporary kitchen nearly anywhere in three hours—a service she's provided since 1999. Since 2014, Gignilliat has also offered corporate teambuilding sessions and public classes at her brick-and-mortar space in North Beach. The location can accommodate up to 60 guests for a catered event, and 40 for a cooking class. Participants can choose to learn how to cook (and then eat) dishes such as handmade flour tortilla flank steak tacos and buttermilk-brined chicken, or throw down in a fast-paced cooking competition.
"The act of cooking together inspires connection and creates a level playing field—maybe the CEO isn't a good cook and an admin is a great cook," says Gignilliat. "Cooking is the universal language that can help teams from all over the world come together."
271 Francisco Street, San Francisco, CA 94133; 415-441-3595; partiesthatcook.com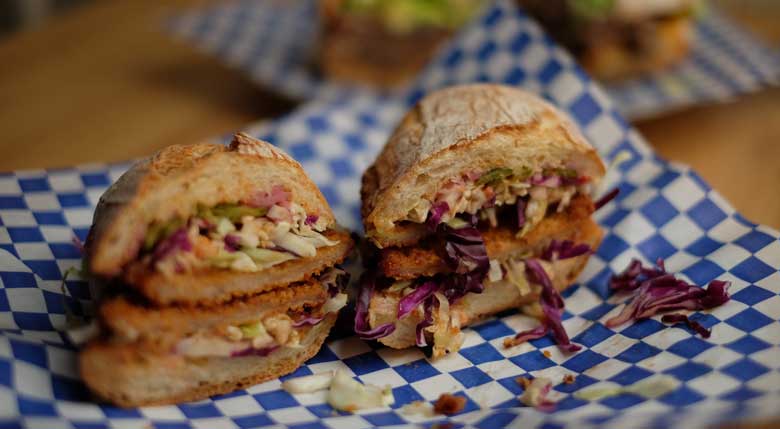 Rhea's Café: A local lunch spot with authentic flavor
James Choi started selling sandwiches at Rhea's Market and Deli (pronounced "Rays") when he took over the business from his father in 2009. Business was so good that Choi opened diner-style Rhea's Café around the corner in 2013, offering his famous signature Korean steak, pork katsu and fried chicken sandwiches for customers needing a speedy, tasty breakfast or lunch (or a snack between meetings). Choi says that he owes half his success to the insights of chefs and businesspeople he grew up with in San Francisco's Mission neighborhood, and half to sheer hard work.
"I put in months and months of 16-hour work days. If you don't give up you can always figure it out. Of course, having great people to work with helps," says Choi.
2200 Bryant Street, San Francisco, CA 94110; 415-875-9481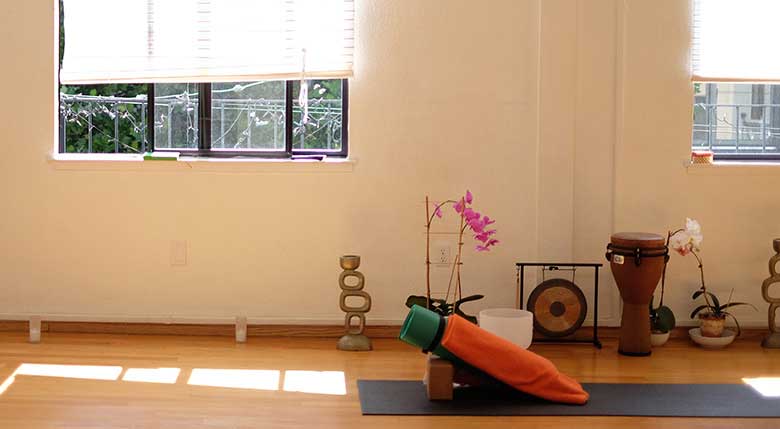 Glow Yoga: A haven to balance your schedule and fitness routine
Maintaining a fitness regimen on the road can be challenging. Glow Yoga's 6:30 a.m. to 7:30 p.m. schedule and flexible class packages, from $24 daily drop-ins to unlimited memberships, can make it easy to stay on top of your practice. Glow Yoga offers sessions for all levels and introduces new, popular classes to keep clients engaged as they continue to grow stronger. "The Barre, Pilates Reformer and Kettlebell classes are always full," owner Natasha Ivantsova says. She adds that it's important to differentiate your business by infusing it with your personality.
"Small business is about the face of the owner," Ivantsova affirms. "Even if you're the quirkiest person ever, you have to allow your personality to come through so you can connect with your clients."
1548 Stockton Street, San Francisco, CA 94133; 415-874-9141; glowyogasf.com
White Swan Inn: A boutique hotel for a good night's rest
Set a few blocks from Union Square within walking distance of the Financial District, the 26-room White Swan Inn recalls a cozy English country home. All accommodations feature a fireplace, either a queen or king bed and floral motifs with pops of 1960s-inspired color. Each morning, a complimentary house-made breakfast is served in the parlor and on the adjoining patio; from 5 p.m. to 6:30 p.m., guests are invited to mingle over wine and hors d'oeuvres. There's also a 360-square-foot conference room available for daily rentals if you need to host a meeting. General manager Bertrand Newson says the hotel's intimate feel and personable staff enables White Swan Inn to remain competitive in San Francisco's hospitality market.
"Our service professionals at the front desk are well-versed with transportation and excursions, and get to know guests on a first name basis. It's a home away from home," says Newson.
845 Bush Street, San Francisco, CA 94108; 415-775-1755; whiteswaninnsf.com
Celebrating Small Business in the City by the Bay
San Francisco celebrates diversity and the innovative spirit of its entrepreneurs. Whether you're looking for tech support or to enjoy lunch cooked by someone who grew up on the block, the Shop Small Map can help you navigate San Francisco's diverse business scene. Over 35,000 more places in the San Francisco area started accepting American Express in the last 2 years.1
Photos: iStock; Courtesy of Sandbox Suites, Keane Mac Repair, Central Computers, Parties That Cook, White Swan Inn; rest, Gemma Price
1 Based on internal comparison of American Express small merchant locations in December 2013 vs. American Express small merchant locations in December 2015.