A situation that would typically have human resources up to their ears in paperwork is the premise of White Collar Brawlers, a new reality show on Esquire, the men's magazine's eponymous TV channel.
In every episode, two male co-workers move beyond throwing passive-aggressive jibes and glares during meetings to actually throwing blows. The show, according to the narrator's action-movie intonation, helps bring an age-old fantasy to reality: having a chance to knock the living lights out of an obnoxious workmate. (Maybe they're on to something—11 percent of people in a recent survey reported "being angered by a co-worker to the point where they felt like striking him or her but didn't," according to the WSJ.com)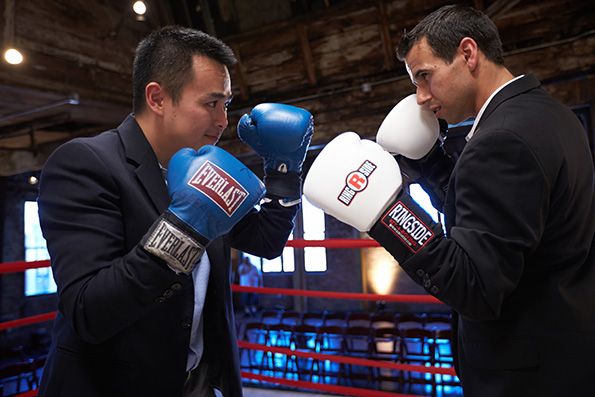 These "white collar brawlers" work with trainers for six weeks in New York gyms to get in fighting shape (and have their noses bloodied) before duking it out in a ring in front of their families, friends, bosses and fellow co-workers. But, this being reality TV, the brawl does more than clear the air between the two co-workers. Self-actualization is happening with every jab, as employees turned fighting machines "discover the real battle was already won before they even stepped into the ring," says the narrator.
Despite the potentially dangerous conceit—seriously, would you, as a boss, sign off on this?—White Collar Brawlers brings to light an issue that's been on the rise in recent years: workplace bullying and violence. Men make up the majority of workplace bullies at 62 percent, but workplace bullying tends to happen in health care and education, fields largely dominated by women. And it doesn't seem to be getting better, according to the Harvard Business Review:
Over the past 14 years we've polled thousands of workers about how they're treated on the job, and 98 percent have reported experiencing uncivil behavior. In 2011 half said they were treated rudely at least once a week—up from a quarter in 1998.
"All bullying is the need to control another person because either you lack the technical skill or the social skill that other person possesses," Gary Namie, the director of the Workplace Bullying Institute, told NPR's Morning Edition.
Along with lowering office morale and creating a negative work environment, bullying also brings down a company's bottom line. Employees who felt bullied reported intentional decreased productivity to the Harvard Business Review and were likely to leave, and customers who witnessed workplace bullying said they were less inclined to buy from the company. They were prone to "generalize about other employees, the organization, and even the brand."
Slugging it out isn't an option that leads to much resolution—even the series' first brawlers admit that. "There is still a rivalry, but we respect each other," one told WSJ.com. That's why the importance of a policy to address workplace bullying and violence can't be overstated. The Occupation Safety and Health Administration recommends that employers craft a zero-tolerance policy for workplace violence, and have a protocol in place so employees know that complaints can be brought up and will be addressed properly—and that doesn't mean a left hook in a boxing ring.
Read more articles on workplace violence.
Photos: NBC Universal