If you've been watching the news and feeling anxious about what has been going on in Ukraine and in the world at large, you may be wondering how you can help. As a business owner, you could help by hiring a refugee – from any nation. There are, after all, many people in the United States who are trying to forge a better life after leaving their home country, whether due to a war or a natural disaster or because of political violence. ("Refugee" is a legal term that generally describes anyone fleeing an armed conflict or persecution.)
Currently, in 2022, it's expected that there will be up to 125,000 new refugees in the United States, as well as the 100,000 Ukrainian refugees the U.S. is planning to accept. Your business could be a landing spot for a few – or many – people who need assistance.
Help them find a safe place of employment in your company. [...] You will find that you and your team will benefit from their hard work, and you will learn from their example of resilience and courage.
—Jennie Groff, managing owner, Stroopies, Inc.
A Business Model That Welcomes Refugees
If you've considered hiring a refugee, there are businesses across the U.S. that can provide inspiration, such as baked goods company Stroopies, Inc. Based in Lancaster, PA, Stroopies was founded in 2008 and currently has 24 refugees on its team. In fact, the company's entire business model is based on offering employment for resettling refugee women, according to Jennie Groff, who is a managing owner of the business with her husband, Jonathan Groff. The two are active in their church and were helping refugee families who were moving into their neighborhood when their friends started the company.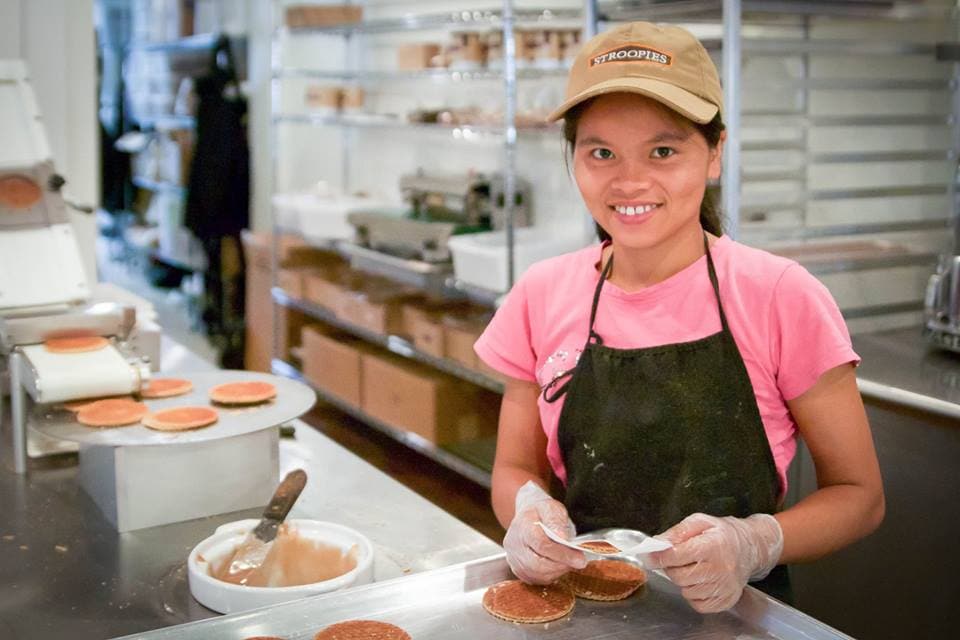 Mary Myint Making stroopwafels
"My husband grew up in a family whose business was making homemade chocolates," Jennie Groff says, referring to Groff's Candies, in business since 1969. "When friends of ours had the idea to start making stroopwafels, a cinnamon waffle with a homemade caramel in the center, with our refugee friends, we thought it sounded like a great idea. Our family's candy business allowed us to use their space to start making test batches, and the idea was launched."
The friends – Ed McManness, Matt McManness, and Dan Perryman, also owners – started the business, but in 2010, Jennie and Jonathan officially came aboard and become co-managers. The company has worked with approximately 50 refugees since its start. "We have women that have worked with us from Sudan, Syria, Nepal, Burma, Eritrea, Iraq, El Salvador, and the Democratic Republic of the Congo," Groff says. "For most of these women, this is their first job. Our goal is to provide a safe place where they can form a new community and grow in their goals as they get established." Several of the women have been promoted to management positions. 
Mary Myint, one of the company's employees, has been working at Stroopies for seven and a half years. While pregnant with her first child in Mynamar, her and her husband applied for refugee status in Thailand after learning her husband would be conscripted into Mynamar's army to fight in a civil war. The family – which now includes their two children aged 12 and 9 – emigrated to Lancaster, Pennsylvania shortly after arriving in Thailand in 2013, where Mary began working at Stroopies.
Another of Stroopies' employees, Khalideh Abdul Rahman, came from Syria. In 2011, her and her husband ended up losing their home and their tailoring business as the Syrian Civil War broke out and fled to Istanbul, Turkey with their five children. The family lived in an overcrowded refugee camp until a resettlement agency helped them relocate to Lancaster. Khalidah worked at Stroopies for five years, recently leaving to work for her oldest son who started a Syrian food kiosk in early 2022. Khalideh's husband, meanwhile, also decided to again start his own tailoring business which he now runs out of Lancaster.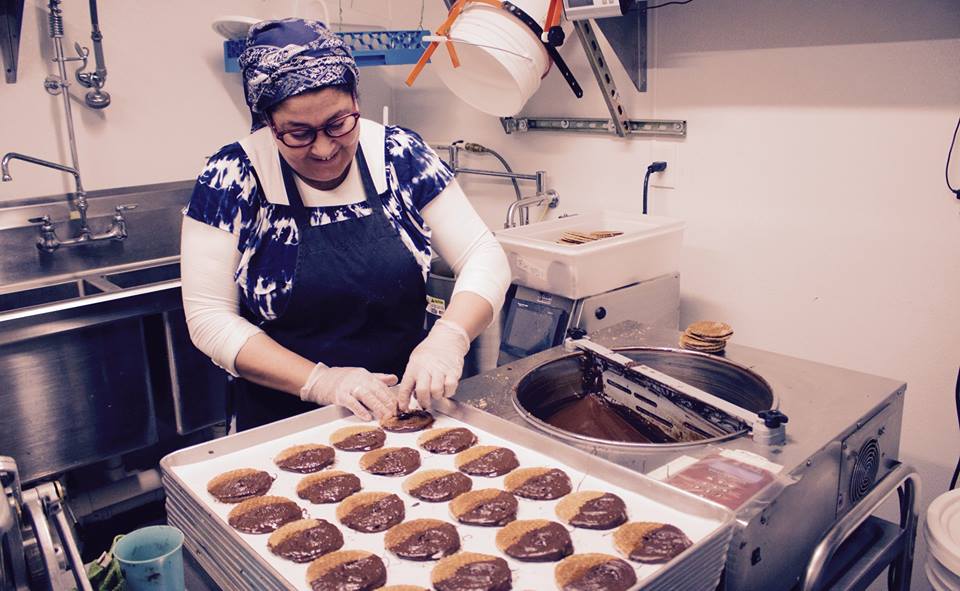 Khalideh Abdul Rahman a former Stroopies employee from Syria, dips stroopwafels in chocolate
It's been a win-win for everybody, according to Groff. "The refugee women on our staff are so grateful for a job. They are hardworking and a joy to have on our team," she says. "Their courage encourages me every day and reminds me to have gratitude for many things that I can be tempted to take for granted."
How to Hire Refugees
If you want to hire refugees, where should you look?
"The U.S. government contracts with nine resettlement organizations, all of whom can help you identify refugees for employment and help you to onboard them," says Chris Richardson, general counsel and COO of BDV Solutions, an immigration consulting company that helps companies find foreign nationals to fill unskilled but difficult-to-find U.S. jobs through the EB-3 visa program. Richardson is also a former U.S. diplomat, having served in Nigeria, Nicaragua, Pakistan, and Spain.
According to Richardson, the nine resettlement organizations contracted by the U.S. government are:
As for the actual hiring process, it's really like hiring any employee, according to Jim Hacking, an immigrant attorney with his own firm, Hacking Immigration Law, LLC, with offices in Washington, D.C., St. Louis, and San Diego. Hacking says that a refugee will have his or her paperwork for Form I-9, officially known as Employment Eligibility Verification. From there, he says, "You just treat them like any regular employee. Most HR managers are going to know how to pull it off, but it isn't hard."
Richardson advises that if you have an HR department or legal counsel, you'll want to work with them "to make sure you aren't treating them any differently than you would anyone else you are hiring, but also looking broadly at what support these employees will need given they will likely not be fully assimilated upon beginning work."
Groff says that her company – which has made refugee resettlement a core value –offers an English program for her employees as part of their paid workday. That may not be something you can do, but the larger point is – do what you can. Groff says that her company generally spends about a month training employees who are refugees, as opposed to about a week or two for U.S.-born employees, and she makes sure that her refugee employees are closely mentored by a more experienced staff member. "This gives ample time for training to happen and for the new staff to acclimate to their new job," Groff says.
She also adds that in addition to the language class, she works hard at making sure the company creates a community and bonds with the resettled refugees coming onto her staff. "In our Western context we tend to be more individualistic and do more things by ourselves. The refugee women on our staff like to share what they have and the cultures they come from are more communal," Groff says.
She says that the break room at lunch is a natural time to get to know everybody, and people are encouraged (if they want) to bring in foods from their own culture to share. She says that the company also does a lot of team-building activities, like paid field trips. Groff says that Stroopies sometimes takes the employees on paid field trips, as part of the English program that the women are participating in.
"Last year we went to the beach together. For seven of the women, it was the first time that they saw the ocean," Groff says, adding their joy was contagious. This year, Groff says, they're taking a day trip to Washington, D.C. She says the staff also will sometimes do more simple field trips, like lunch at a local international market.
"Some of the biggest challenges they have are learning a new language and healing from the trauma that they have had in having to flee their beloved home countries," Groff says. "Many have also had to be separated from loved ones and that is so hard."
When you hire a refugee, Groff suggests being patient and looking for ways to find things that you have in common. "Share a meal together, take the time to hear the stories of a refugee. Help them find a safe place of employment in your company," Groff says. "You will find that you and your team will benefit from their hard work, and you will learn from their example of resilience and courage."
Photos: Courtesy of Stroopies, Inc.