Since the recession began, venture capitalists and angel groups have been making smaller investments in their portfolio companies.
From 2007 through the first quarter of 2010, the size of the average (mean) investment round fell by 31 percent, and the size of the typical (median) investment round declined by 39 percent in real terms, according to analysis of data from Dow Jones Venture Source.
Below is a chart which shows the trend, created from the Dow Jones data.  The numbers are normalized with the Bureau of Labor Statistics inflation calculator to take into account the effect of inflation.  The chart shows that, after small increases from 2005 to 2007, the sizes of the average and typical investment round have declined sharply during the Great Recession.
Moreover, this decrease has come despite an increase in the share of later round investments (which tend to be larger).
The Size of Investment Rounds, 2005-2010: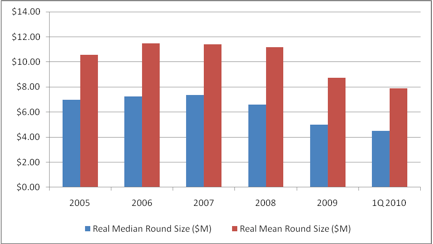 Source: Created from data from Dow Jones Venture Source.
Why are venture capitalists putting less money into companies now than before the Great Recession began?  Are VCs are taking smaller stakes in the companies in which they invest, or are investors putting in less money for the same share of ownership, driving down valuations?
There's no way to know from the publicly available Venture Source data because information on ownership stakes isn't reported.  But I suspect that valuations of high growth companies are coming down.
That's what a Fall 2009 report from TrueBridge Capital Partners suggests.  The authors explain that median seed and start-up stage valuations declined dramatically during the recession, saying "Median early stage pre-money valuations reached their second lowest point of the past 15 years in the fourth quarter of 2008, the last time period for which we have data available .... Anecdotally, downward pressure remained through the first and second quarters of 2009."
A decline in the average valuation would mean that the average early stage company is "worth" less today than it was before the recession began. 
All of this leads me to wonder: Is the average high potential start-up really less valuable now than it was in 2007?  Or were investors overvaluing the ideas and talents of the average high growth entrepreneur then and/or are undervaluing them now? 
* * * * *
Scott Shane
is A. Malachi Mixon III, Professor of Entrepreneurial Studies at Case Western Reserve University. He is the author of nine books, including
Fool's Gold: The Truth Behind Angel Investing in America
; Illusions of Entrepreneurship: and The Costly Myths that Entrepreneurs, Investors, and Policy Makers Live By.