Everyone knows company culture is critical—or at least that's what they tell you during your first year of business school. But when cash is tight, everyone's burning the candle at both ends, and you need results fast, is there really room for "culture meetings?" We think so.
Working at a startup is scary. Everyone's taking a big risk, working long hours, and usually not getting big salaries to start. Thus, in lieu of compensating with cash you don't have, building a culture that keeps the team excited, motivated, and invested in the company's mission and each other becomes paramount. If you understand what peoples' values are, what they care about, and what makes them happy, you can set up an environment to enable that.
When we set out to start Artivest, which connects smart investors with top funds through a unique technology platform, we knew we'd have a unique culture built in. We're a bunch of Wall Street expats eager for something bigger and more meaningful. What's more, we're a 12-person startup with barely enough time in the day to hit do-or-die milestones, let alone for "Kumbaya"-meets-Management-101 nonsense.
So why not just let our culture grow and thrive organically? That's all well and good for a small team; not so much when the team becomes 10 times that. It must be made explicit and actively nurtured to survive.
Assuming we've convinced you, the question then becomes, "How?" How does a busy startup find the time for culture meetings—which are more like guided conversations about the values that drive us and our ever-evolving culture—and make sure that time actually yields results? Here's how we do it.
1. Use values to set policies
A team can't function if its members don't know how to interact with each other. In any new environment, you need to know the format. You go to a classroom and know you should raise your hand before asking a question. In a startup, you literally start from zero and then learn how to play nice with others. Do we have group meetings or online hangouts? Private offices or open-floor style? MS Office software or collaborative social tools? Everyone needs to sign on to a core set of policies. Values should guide these policies. Don't have policies? Then every new decision about how we work becomes a one-off bottleneck for management to address. Don't have values-driven policies? Things will feel random, chaotic, and retention will be tough.
The Artivest team gathers for a "culture meeting" at their New York headquarters.
2. Don't "set" values—articulate them
As author and management guru Jim Collins says, you cannot "set" organizational values, you can only discover them. Nor can you "install" new core values into people. Core values are not something people "buy into." People must be predisposed to holding them.
So what values underlie our culture? Freedom, Excellence, Teamwork, Simplicity, Creativity, and Honesty. (You can read more on these here.)
3. Borrow from other companies and use concrete examples
There are many companies out there known for having excellent cultures, and we studied those. For example, we took Zappos at its word that company values cannot be set up front and left to collect dust; they must be constantly revisited. That helped inspire our meetings. We liked Netflix's take on loyalty—we call it "balanced loyalty"—where some amount of loyalty goes both ways between a firm and an employee, but has its limits.
When we first formed Artivest, members of our team shared what worked for them in previous company cultures, and took some artistic license to keep what we liked and toss the rest. This helped us ground what could easily evolve into a philosophical and abstract discussion about values into concrete conversations about specific instances companies faced.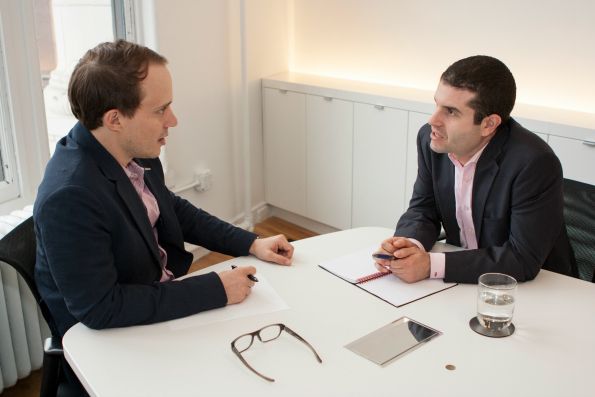 Artivest CEO James Waldinger (right) and Chief Investment Officer David Levine made culture a top priority during the company's early days.
4. Document it
Early on, we made our values explicit, in document form, and we translated that into something concrete, namely, a deck that we used as the basis for our culture meetings. That is also part of the reason we spent a lot of time looking at how other companies construct their cultures, because we wanted something specifically in writing. We didn't want to just talk about values in the way we talk about New Year's Resolutions that last through the first Saturday in January.
5. Meet!
After we originally wrote down our values, we realized we were growing, pretty quickly, and there was no real forum for emphasizing those values we arrived at other than when someone was being onboarded, when they got handed a little document to read. That's why we created culture meetings, where our head of operations encourages us to step back from our day-to-day and focus on culture.
We hold culture meetings every time we hire a few new people, which lately means quarterly. They can last up to 90 minutes, and our last one was over a pizza lunch (gluten-free... also a value). We review the ever-evolving deck and ask employees old and new (especially new): Are our values still ringing true? Does our culture reflect our values? Did our company culture come through during our recruiting process? What can we be doing as our company changes to course-correct or enhance our culture? For example, at our last meeting, a new employee felt we were living our values of freedom and teamwork, because we so freely edited one another's written work (freedom and teamwork apparently trump the potential for bruised egos).
The culture meetings don't just feel like an employee orientation that everyone has to sit idly through—it's very much a two-way conversation. It becomes more and more robust with examples we live each day as we progress.
6. Adapt with growth
We want to keep things efficient and streamlined without too much bureaucracy. Early on, we said, "You know what would be good? If, every Thursday, we all got together for a standup status update from each person." That was a useful forcing effect to keep three to four people each doing our own thing in our own little world accountable to each other. Now, with 12 people collaborating in different groups, accountability is built-in—and the full team meetings take forever.
Check-in meetings were once needed, but they do take away autonomy. Now that dynamics have shifted with our growth, teams and project owners have the freedom to set their own processes. While we're constantly striving to have a culture where everyone is heard and everyone feels empowered to share what they think, as we grow, we also talk a lot about ownership. It's important to know who owns what, who is in charge of what, and to defer to those people's decisions.
That initial standup meeting format was not an inherent part of our culture, so we scrapped it. We don't want the culture to stagnate. It always has to shift.
At Artivest, we implicitly gathered a group of people with shared values, which is a solid foundation. Then, we used our culture meetings to articulate our values and explicitly grow a culture that reflects them. We don't think effective company cultures just "happen"—and that's exactly why we built ours from the ground up.
James Waldinger served on the investment team at Peter Thiel's hedge fund Clarium Capital and worked with a variety of consumer internet startups prior to founding Artivest. He holds a JD/MBA from Stanford and a BA from Yale.
Photos: Kerry Flaherty / Courtesy of Artivest