This article is part of "Celebrating Women Business Owners," a four-week series highlighting the achievements of women business owners.
As small business advocates, American Express OPEN set out to discover what fuels the success of women-owned businesses and share it with all business owners and advocates everywhere. The women business leaders we spoke with for this week's installment were quite clear: There was a single moment they recall vividly when they knew they had a life-altering idea before them.
Finding the "A-Ha" Moment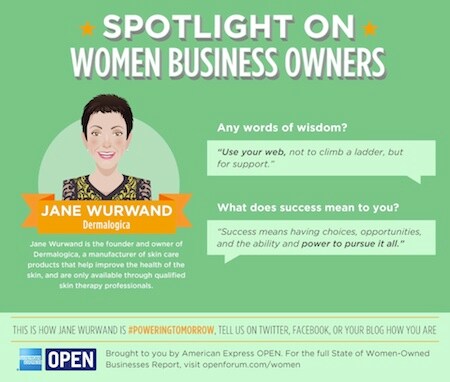 Jane Wurwand was fortunate enough to have two "a-ha" moments, which led to the development of her companies Dermalogica and the International Dermal Institute, both leaders in the skin care industry for over 25 years, with the latter training over 100,000 professional skin therapists every year. Wurwand realized from her own job search as a skin therapist that Americans were far behind Europeans in terms of training. She saw this as an opportunity to start the International Dermal Institute. Repeated questions from her students about what products to use led her to the second breakthrough when she created her own line of skincare products, Dermalogica. "When you have an idea that's different, more people will tell you that it's crazy rather than say it's a good idea," she says. "The biggest challenge is not letting them sway you and not dumbing down your idea." 
Tuning Into Your Own Needs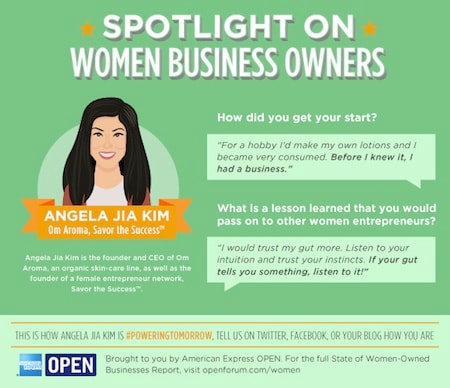 Angela Jia Kim became her own first customer when an ill-timed rash led to a course of action that would redefine the trajectory of her life and professional future. "I used to be a concert pianist. I was about to go on stage one day when I put this lotion all over my body and broke out in terrible hives—in front of an audience of hundreds!" she says. Following this experience, she took to the kitchen and worked through thousands of recipes to make homemade lotions and creams. Her work ended up spawning two successful ventures, Om Aroma, and later Savor the Success, which was born out of a need to network and learn. "I didn't really have business acumen so I started a get-together of women entrepreneurs and that was the start of Savor the Success." That gathering grew from two living room guests to 20,000 online members across the U.S. Kim says she's reached this level because, like many entrepreneurs, she was tuned in to her own needs and created solutions to fill them when no others existed. 
The Thrill of the Launch
Robin Chase, co-founder of ZipCar, marks a few memorable moments on her road to success. "The key milestone is actually launching," she says. "There is so much work to getting it out there, so that moment is thrilling." She says there are other big moments, like the first positive customer feedback and the day ZipCar expanded to a second city, but actually turning an idea into a business was the most significant for her.
Have a Plan—and Be Willing to Change It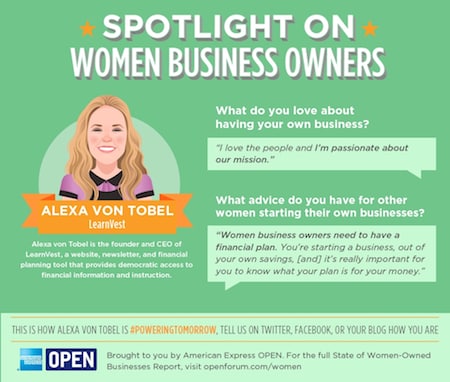 Alexa Von Tobel knew she was passionate about personal finance, but was challenged by hiring, financing and prioritizing her to-do's. So she put her business, LearnVest, into overdrive by being quick, but also agile. She learned that the key to a successful launch and continued growth in business is moving on ideas, but also being able to change direction quickly when you need to. Additionally, Von Tobel stresses the importance of thinking things through before starting a business. "Have a plan in place," she advises, "so you can avoid a dangerous situation and actually know ahead of time when you might have to call it quits." 
Join the Conversation
We hope that by unleashing the insights of these leaders, captured in these infographics, you'll be inspired to pursue success on your terms.  What was your "a-ha moment"—the one that defined the future of your venture? 
Be part of this important conversation:
Re-post these infographic (click anywhere on the images and then right click to save it to your computer)

Forward this article to a friend or colleague (you can use the OPEN Forum e-mail share tool at the top or bottom of this page)

Share and/or comment on Twitter, Facebook, or your own blog about how you are #PoweringTomorrow in your community and within your business (Hint: Use this hash tag  #PoweringTomorrow so we can all be on the same page!)  As a start, complete the following sentence:
"I am #PoweringTomorrow by ____________."
We're glad you're participating in our celebration of woman-owned businesses and learning from our stories and infographics. Stay tuned as we continue to spotlight some incredible business leaders and role models—the women that are #PoweringTomorrow. 
Read the 2012 State of Women-Owned Businesses Report which inspired this dialogue.
See more on Women-owned Businesses: Fueling the Future highlighting women business owners Laura Fitton and Sandra Yancey. 
See more on Women-owned Businesses: Financing Your Venture highlighting women business owners Nell Merlino, Shelly Sun, Rashmi Sinha and Heather Stouffer. 
Allison Silver is the vice president of brand, advertising and advocacy for American Express OPEN, a role in which her responsibilities include oversight of "OPEN Women's Business Initiative" and "Victory in Procurement," as well as other programs designed to advance OPEN's mission of helping small business do more business.