This article is part of "Celebrating Women Business Owners," a four-week series highlighting the achievements of women business owners. 
At American Express OPEN, not only did we set out to talk to successful business owners about their challenges, but we want to celebrate them by sharing their stories here. This week, we talked to four outstanding women in order to understand how they transformed a great idea into a booming business. Find more profiles of successful women entrepreneurs at openforum.com/women. 
Note: Mashable will host a live conversation with American Express and some influential female founders on August 21 at 2 pm ET. The conversation is inspired by American Express OPEN's 2012 State of Women-Owned Businesses Report and infographic series.
Personal Passion and Professional Discipline
Babble co-founder Alisa Volkman created a highly successful, parenting-focused online  community and media powerhouse. To do this she says, "I have learned that the two key ingredients in business, which don't always comfortably co-exist, are personal passion and professional discipline." She realized that when you create something that impacts your life, it will impact other people's lives, too, and that's "pretty cool." Her advice to those with an idea: Focus on the team. Volkman says once the organization grows, the focus on hiring, firing and bringing in the right people intensifies and becomes even more critical to the success of a company.
Dealing With the Inevitable "No's"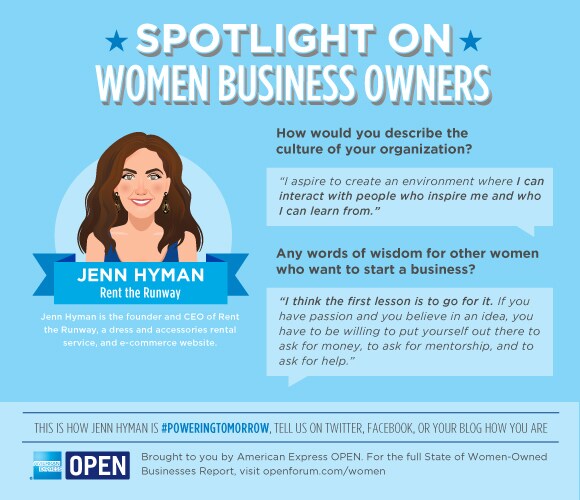 For Jenn Hyman, success stemmed from the go-for-it factor coming from her passion for her product. The co-founder and CEO of Rent the Runway, a members-only fashion community that enables women to rent clothing and accessories for special events, says that in order to turn your idea into a business, you need to put yourself out there and be resilient.

"If you have passion and you believe in an idea, you have to be willing to ask for money, to ask for mentorship, to ask for help," she says. "If you don't learn how to deal with the inevitable no's that you are going to receive, you are never going to move forward and pursue your dream. 'No' only means 'No for now.'"
Measuring Success
Alexandra Lebenthal came by her business idea naturally—it was essentially in her blood. She was named president and CEO of her family's finance company at age 31. She sold it, re-launched it and sold it again to a large corporation. But carrying on the family name and business was important to her so she had an idea to create Lebenthal & Company LLC, a company that manages money for investors with $5 million to $420 million in assets. She says success in business can of course be measured financially, but it can also measured by something else. "Success to me also means those moments where I can take a breath, look around and feel great about what I have achieved, be it a deal we've gotten into, a list of top firms we made it onto or something else." 

The Importance of Community
Gail Warrior knows there are two components to business success. Focus on your business and then focus on the community that surrounds your business.  "I love the art of creating business opportunities and working with talented individuals. I also love helping others succeed and seeing them grow and flourish." Warrior is the founder and CEO of Warrior Group, a commercial general contractor company. It's the largest of its kind owned by a woman/minority. Warrior runs her business, but also mentors, provides guidance for budding entrepreneurs and is involved in many civic organizations. She believes women have the power to turn ideas into realities. "I truly believe women are natural leaders and entrepreneurs. So, grow your business based on your skill set and your brain!"
 
We hope that unleashing the insights of these leaders, captured in these infographics, will inspire you to pursue success on your terms and turn your own ideas into a reality.

Join the Conversation
What inspiration have you gained that helped turn your idea into a business? Tweet about it or join the conversation by:
Re-posting these infographics (click anywhere on the images and then right click to save it to your computer)

Forwarding this article to a friend or colleague (you can use the OPEN Forum e-mail share tool at the top or bottom of this page)

Sharing and/or commenting on Twitter, Facebook or your own blog about how you are #PoweringTomorrow in your community and within your business (Hint: Use this hash tag  #PoweringTomorrow so we can all be on the same page!)  As a start, complete the following sentence:
"I am #PoweringTomorrow by ____________."
We're glad you are participating in our celebration of Woman-Owned Businesses here on OPEN Forum and learning from our stories and infographics. These four stories close out our series of women business owners which we profiled to highlight the findings in our 2012 State of Women-owned Businesses report. The conversation will continue at #PoweringTomorrow.
Read the 2012 State of Women-Owned Businesses Report that inspired this dialogue.
 
See more on "Women-Owned Businesses: The Defining Moment" highlighting women business owners Jane Wurwand, Angela Jia Kim, Robin Chase and Alexa Van Tobel.  
 
See more on "Women-Owned Businesses: Fueling the Future" highlighting women business owners Laura Fitton and Sandra Yancey. 
 
See more on "Women-Owned Businesses: Financing Your Venture" highlighting women business owners Nell Merlino, Shelly Sun, Rashmi Sinha and Heather Stouffer.