It's every entrepreneur's dream: a mature industry with no clear leader and very little recent, significant innovation. But sometimes it takes a team of founders who've been around the block a time or two to identify the pain points that need addressing.
Such was the case for Kevin Ryan, Shan-Lyn Ma and Nobu Nakaguchi, all veterans of Gilt Groupe, who set their sights on the $19 billion wedding gift industry. In October, they launched online gift registry Zola, "a new kind of wedding registry," after just six months of development.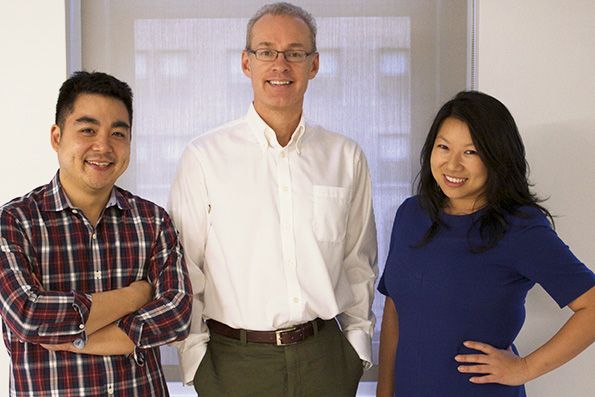 "Back in April, we started talking about business ideas," says Ryan, who is still chairman of Gilt Groupe (by the time they started brainstorming, Ma and Nakaguchi had already moved on to jobs at other companies). "I wanted to work with them again, and we decided to do something in the wedding registry sector, where we're competing against players who've been around for a long time."
Bloomingdale's, Target, Bed Bath & Beyond, and Macy's are the big players in the gift registry industry, and The Knot gives couples the option to aggregate their various registries in one place. A handful of startups, such as NewlyWish, have also thrown their hats into the ring. But Ryan, Ma and Nakaguchi still felt there was room for improvement.
Changing Demographics
"Brides and grooms have become older," Ryan says. "They have their own apartments and probably have kitchen goods and home products already." On Zola, couples can register for traditional gifts, but they may also put gourmet chocolates, a cleaning service, a handyman or meal delivery on their wish list.
The company is currently working with 100 vendors and adding more every week, Ryan says. To choose the vendors they wanted to have on the site, says Ma, who is the company's CEO, "we surveyed more than 200 couples about the brands they love." The team also leveraged relationships with vendors they'd come to know via Gilt.com.
Social Giving
"We're really focusing on bringing offline behaviors online," Ma says. For instance, say a couple really, really wants that Jonathan Adler velvet sofa for their living room. Only a wealthy uncle could spring for the entire $3,500, but a group of friends might pool their resources for that one pricey gift. Zola enables that kind of group giving and also allows couples to register for cash funds and honeymoon funds with a single checkout. 
"We're the only registry," Ma says, "that offers cash funds that doesn't charge couples an additional fee on top of the credit processor fee."
Convenience
According to Ma, other gift registries send guests to separate vendors' websites when they buy something, which means they have to use a number of shopping carts to complete their purchase. "We interviewed a lot of couples who said they ended up not knowing who bought what," Ma says. "And it was really hard to manage returns."
Zola has its own shopping cart for all items and also manages all exchanges and returns. Couples can pull items from anywhere else online into their Zola registry, exchange goods online, or opt for cash or a site credit. Additionally, they can tell Zola when they'd like to receive their gifts so that, for instance, that box of artisanal cheeses doesn't arrive when they're on their (socially funded) honeymoon to Bali. Zola, which partners directly with vendors and doesn't stock any inventory, manages all the delivery logistics.  
Customization
Zola lets couples create their own unique URL, and add photos and wedding details, along with pictures of the items in their registry and a bit of text about why they've chosen an item. In fact, Zola's registries look more like Pinterest boards than the standard list registries of their competitors.
"We wanted to make it beautiful and inspiring in the way that Pinterest is," Ma says. "The biggest thing we learned from working in e-commerce was the importance of showing products in their best possible light and the power of storytelling."  
Zola, which is named after Nakaguchi's daughter, launched in early October with seed money from Ryan. Just a month later, the company announced an additional $3.5 million in Series A funding led by Thrive Capital. The founders plan to use the funds to expand the site and its offerings, to add to its current staff of eight, and to build mobile apps that will be launched next year.
According to Ma, the site now has more than 300 registered engaged couples but notes that Zola's current version is "only about 20 percent of the ultimate vision that we're moving toward. Not having it out there all at once is frustrating," Ma says, "but we decided to launch with what we think addresses the major pain points."
Read more articles on leadership.
Photos: iStockphoto, ZOLA