Since opening The Wok Shop in 1972, Tane Chan's cookware store has become a staple in San Francisco's Chinatown community. And she wouldn't have it any other way.
"I work 24/7 and I love it. This isn't a job to me. It's my life and it's my enjoyment. You don't know how much enjoyment it is, it's a passion and that says it all. You're satisfied. You're not looking for something else," says Chan.
The Wok Shop is a prime example of how even a local specialty shop can thrive in an ever-changing economy. Since its inception, the Chinatown staple has weathered ups and downs, rising rents and the dot-com bust of the early 2000s.
Chan discovered her passion for sales as a young woman, supporting herself through college by taking a job at a local gift shop, where she quickly found she had a knack for customer service. Naturally outgoing and personable, Chan realized that she'd like to open up a shop of her own. So she found a space for rent in Chinatown and opened her first store after graduating from college: a gift shop she named Yum Yum.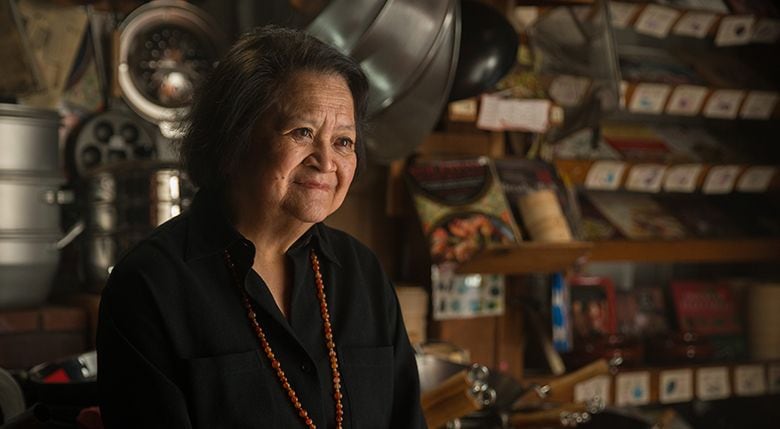 The shop was a hit with tourists, but as the months went by, Chan noticed a steadily growing interest from locals and out-of-towners alike in Chinese cookware. Chan recalls more and more walk-in customers inquiring specifically about woks.
"When President Nixon went to China in the '70s, they had a huge banquet for him and everybody got more interested in Chinese cooking [as a result]," Chan explains. "Locals and tourists were coming into my store and asking about woks. I didn't have anything like that, just small trinkets and gifts. So I decided to put a little section of woks in my gift shop—but the section just kept growing."
Chan could see that there was a bigger market for woks and Chinese cooking accessories than the section of her gift shop could provide. In 1972, The Wok Shop formally opened its doors, and the business did well for the next 25 years. By 1999, Chan discovered new opportunities to spread the word.   
Her son, who worked in the tech industry, suggested that she consider exploring online sales. At the time, only the biggest names in retail were willing to invest in going online, so to turn to e-commerce could be invaluable.
"My store was just a brick-and-mortar, and my son who is a techie said, 'Mom, you've got to put your store online. You have a lot of interesting products, and online business is the wave of the future.' This was in 1999," Chan recalls. "And then I thought about it and I said, 'Well, if that is the wave, then I'm going to have to try it.'"
Today, The Wok Shop is often a top result when searching for woks, and a large portion of sales come from the e-commerce side of the business. But how has this old school shop stayed strong throughout the years? As Chan would tell it, passion for customer service is the key to her success.
"I love my customers. My evenings are spent answering every online order. I thank the customer for the order, and then I'll tell them when we're shipping and provide their FedEx tracking number and I'll tell them what to expect. I just don't sell it and you're on your own. I follow up on them and that has been the success of my business: customer service," Chan explains.
With much of Chan's time spent fielding questions from customers both online and in store, she is always looking for tools that can help streamline her work. Using the autopay option on her Business Platinum Card from American Express OPEN helps to save Chan time and keep her payments on track. Plus, she gets a statement credit when she spends on shipping with FedEx, which gives back to the business's bottom line.
Whether a customer walks through the doors of The Wok Shop or finds their products online, it's only a matter of moments before they see what makes the store so special. Chan's dedication to the product and the people who purchase it shines through in everything, especially in her greetings to friends and customers alike.
Chan says, "The traditional Chinese greeting is, 'Have you eaten?' So, I like to say, 'Oh, have you eaten? Maybe you need a wok.'"
Hear more stories from the Next Big Step series. 
Photos: SmallWarner