What do you get when you stuff a turkey with a duck and a chicken? Over 500 orders for turducken in one day, at least if you're Danny Catullo of Catullo Prime Meats.
Catullo, owner of Catullo Prime Meats in Youngstown, Ohio, woke up to this reality one morning in 2011. As good timing combined with savvy search engine optimization (SEO) would have it, Catullo Prime Meats was the top internet search result for "turducken." A few months prior, Catullo had carefully infused his business's website with keywords related to holiday meals, and created unique and shareable content. (One noteworthy piece: a short video demonstrating how to make a turducken while his young son falls asleep from boredom.) He also invested money in search engine marketing (SEM), buying some of the more affordable keywords available, including the phrase "turducken," so that his business would appear as a top search result. As the holidays approached, Catullo Prime Meats was flooded with orders from around the country.
"We put this thing online thinking, 'Heck, if we sell 13 [turduckens], that's double what we did the year before.' And sure enough, we were at the right place at the right time—when the turducken craze happened, we were there. I couldn't believe it. My cell phone kept buzzing: order to Wisconsin, order to California, order to Florida. Turduckens were everywhere," Catullo recalls.
While Catullo thought his SEO, SEM and social media efforts would result in more online orders, he wasn't expecting such a high volume all at once. He knew this was a make-or-break moment—after all, the shop was still new to the e-commerce space and a successful Thanksgiving delivery could mean even more return orders for the winter holidays.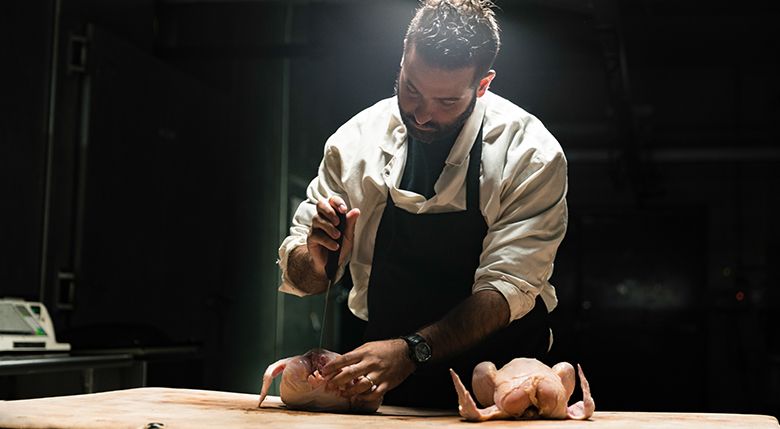 "This is something people from all over are banking on to be the highlight of their meal," Catullo explains. "Those orders came through, so we had to make sure that we could fulfill them. The turducken craze, well, it took us from being a small little butcher shop in the community to being a national brand."
As the drop date for deliveries approached, Catullo's space was filled with boxes stacked up throughout the entire warehouse. Catullo needed more supplies, like dry ice and boxes, than he'd allocated for the season, meaning he needed to make a bigger investment than his budget allowed. That's where the Plum Card from American Express OPEN came in.
Catullo explains, "Applying for that Plum Card, and then using the spend capacity to make large purchases, not only helped us run our business more effectively, but it also helped us capitalize on profit that we wouldn't have had. If we couldn't have bought those shipping containers in bulk, we would've just been constantly turning that wheel over, and just spending that little bit back onto the new coolers and new boxes."
Having enough materials on hand allowed Catullo and his team to focus on packing up the flock of turduckens.
"We had never had a pickup of more than 100 boxes, and we had 500 on just one item that was going to get picked up the next week," Catullo explains. "That's where we really worked with FedEx, to be able to coordinate the pickup—all the extra trucks that needed to come—to make sure that we got all these turduckens to the customers that were waiting, anticipating something from this old-fashioned butcher shop to their house."
According to Catullo, all the hard work paid off. He recalls, "Because I worked to make sure this happened, it made me realize how we could push the envelope at Catullo Prime Meats. It made me realize that we could be a bigger company."
Hear more stories from the Next Big Step series. 
Photos: SmallWarner