When shoe company Margaux's founders Sarah Pierson and Alexa Buckley first opened their online shop in 2015, the pair had no experience in running a business. The then-recent college graduates had moved to New York City after deciding to pursue their dream of starting a company that would manufacture and deliver custom ballet flats directly to consumers.
Pierson and Buckley found themselves doing more than their share of hands-on learning—a rite of passage for many entrepreneurs. But with no business experience to rely on, the women had no way to predict when would be the right time to start bringing on new members to the Margaux team.
"When we were first starting out, we spent many, many days at the factory. We didn't make the shoes, but we would clean them, we would pack them, we would assemble the boxes and ship them off to customers," Pierson recalls.
As Margaux gained brand recognition in the fashion industry, the number of orders increased as well. Yet the pair still tried to take on the same level of responsibility as they had when the company first started.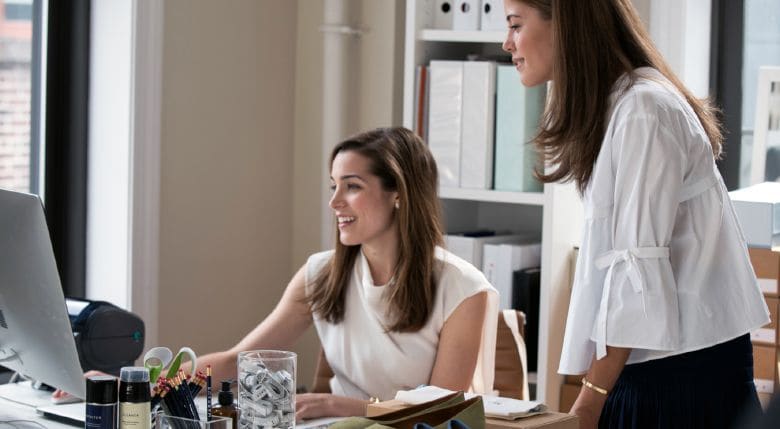 "We reached a point where we were so busy in the office every day and still trying to manage the factory line, that we would actually go to the factory, grab the shoes and try to bring them back to the office so that at the end of the day, around 9 p.m., we could start packing the shoes," Buckley explains. 
"While we're doing all of this with the factory, shipping shoes, production, all that, Alexa and I were also customer service people one and two. And so, we answered every email, every phone call," Pierson continues. "I remember answering a customer service email at 1 a.m. on a Thursday morning. And the customer wrote back, 'What are you doing answering emails at 1 a.m.?' And that's when we realized that we needed to set some boundaries."
It became apparent to Pierson and Buckley that Margaux was growing, but they needed to change the way they worked for the business to truly thrive.
"We had to step back and realize that this was bigger than just us," Pierson says. "Alexa and I are big believers in making it work as best we can. We just pushed until we realized we're exhausted and that something has to change—whether that's 'We can't pack these shoes anymore,' or 'We have to hire somebody else.'"
As Pierson and Buckley hit the tipping point, they carefully laid out next steps, first working with experienced employees at the factory to create a training manual for new hires on the production team. The women also reached out to their shipping provider, FedEx, in preparation of a shorter turnaround time for the growing number of shoes produced each week. And since less time in the factory translated to more time in the office, they would also need to invest in making their space more functional. 
"We realized that we could lean on people who could really help us scale, and that's where FedEx and American Express OPEN came in. FedEx helped set up daily pickups for us so that we could constantly have packages going out, and we knew that they were going to arrive on time and safely," Pierson says. "And with our American Express OPEN Card, we started to invest in different items for the office, furniture and trips back to Spain so we could continue product development."
With pickups scheduled and travel funding more at ease, the duo can spend more time focusing on running their business and less time on the factory line.
"When we finally realized that our time was best spent growing the business and continuing to move forward, we were able to gain more momentum and really focus on the brand," says Pierson.
Hear more stories from the Next Big Step series. 
Photos: SmallWarner