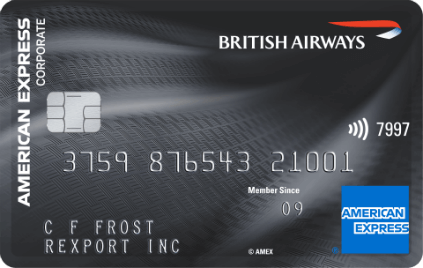 British Airways American Express® Corporate Card Plus
Accelerated travel savings for your business and Avios for frequent travellers
Key Benefits
EARN REWARDS ON EVERYDAY EXPENSES
CASHFLOW MANAGEMENT
Up to 55 days to pay and no pre-set spending limit
11
SAVE TIME WITH EXPENSE REPORT
A simple and effective way of completing expense reports online – helping to save time and reducing the opportunity for errors.

1.5 Avios for every £1 spent on purchases on your Card & 3 Avios for every £1 spent with British Airways10
Combined or full corporate liability

10 billing cycle options, individual/ central/ combined billing process

A suite of business travel protection for the Cardmember and/or traveller
Compare our Corporate Cards
Greater savings and rewards for frequent British Airways business travellers
Excellent services and exclusive benefits at home or during business travel
Convenience and security for frequent business travellers
Earn On Business Points for your company and collect Avios for your employees.
Membership Rewards®(optional) Corporate Membership Rewards® (Optional)
Membership Rewards®(optional) Corporate Membership Rewards® (Optional)
Swipe across to view more
Show More
View Full Comparison Chart
Earning Company Rewards
Every time an eligible British Airways flight is booked on any of our British Airways American Express® Corporate Cards, your Company will receive 50% more On Business Points
8
. Points can be put towards future flights as well as upgrades. What On Business means for your Company:
Redeem and book flights flexibly up to one day before travel, and if needed make date and time changes at least 24 hours before the first flight at no extra cost

All Points are pooled into one central account and can be spent on flights and cabin upgrades for anyone in your Company

Use your Points towards cabin upgrades

Book the flight that matches your business schedule across the British Airways, Iberia and American Airlines networks

You will be provided with a complementary On Business account during set-up if your Company is not yet an On Business member.
Earning Employee Rewards
Your employees will collect Avios to be redeemed for reward flights, hotel bookings, car hire and more
10
.
If they are not yet a British Airways Executive Club member, they will be automatically enrolled as part of the British Airways® American Express® Corporate Cardmembership on-boarding process.
Redeem On Business Points
(Economy return flights from London5)
2,200- Amsterdam, Zurich, Frankfurt, Geneva
3,200- Berlin, Madrid, Milan, Munich, Oslo
4,000- Athens, Istanbul
5,000- Cairo, Tel Aviv, Moscow
8,000- Dubai, Bahrain, Lagos
9,000- East Coast USA, Mumbai, Delhi
10,000- West Coast USA, Bangkok, Bangalore, Cape Town, Rio, Hong Kong, Jo'burg, Tokyo
11,000- Buenos Aires, Singapore
16,000- Sydney

Up to 55 calendar days to pay on purchases and no pre-set spending limit provides greater purchasing power. Just pay off your balance in full every month
11
.
Liability Options
You can select the level of liability for your Corporate Cardmembers and establish accountability for payment of charges.
Combined liability, in which the individual and your Company are liable individually as well as jointly for all charges incurred on the Card issued to them

Full Corporate Liability, in which your Company is liable for all charges incurred on the Card issued
Billing Options
Choose from a variety of billing options and ten billing cycles to accommodate your payroll periods and reimbursement arrangements.
Individual billing accounts for Cardmembers with individual payment

A company payment option that enables companies to make a single payment on all authorised charges, while Cardmembers pay American Express direct for unauthorised or personal charges

Central billing, which consolidates expenses charged to individual Card
Programme Account Management
Programme Account Management
The @ Work portal enables you to manage your company program all in one place and efficiently maintain oversight of your business expenses at a company level incl. pulling consolidated company spend reports, managing who has an employee Card, updating account details, etc.

Your employee's online Cardmember account allows them to manage their Card individually including paying their bills, checking individual transactions, updating their personal details

The Amex App allows your employees to manage their account on the go
Expense Reporting
Through the @Work portal, you have access to Company level expense reporting so you can manage how and where your Company is spending money. Our reporting functionality allows you to:
Access a pre-populated expense report

Add expenses and any out of pocket charges

Download the report for processing either electronically or on paper
Additional Travel Benefits
Travel Accident Protection up to £225,000 protects the traveller while traveling on public transport booked using the Card, including taxis3

Travel Inconvenience Protection protects the Cardmember in the case of flight and baggage delays while traveling on scheduled flights booked using the Card3

Baggage & Possessions Protection protects the traveller if their items are lost, stolen or damaged on travel booked using the Card3
You can choose to provide worldwide cash access to your employees traveling on business, as part of your company programme (subject to terms and conditions)
Emergency Card Replacement
Emergency Card Replacement
No matter where your business takes you, if you report your Card lost, damaged or stolen, we'll help you replace it
5
.
With Global Assist® Service Hotline you're not on your own during international business trips. In case of an emergency while travelling outside the UK, we provide 24/7 phone service that puts you in contact with English speaking medical or legal assistance experts
5
.