Business Cards
Cards
Business Cards
Payment Solutions
Payment Solutions
Payment Solutions
Resources
Resources
Other Resources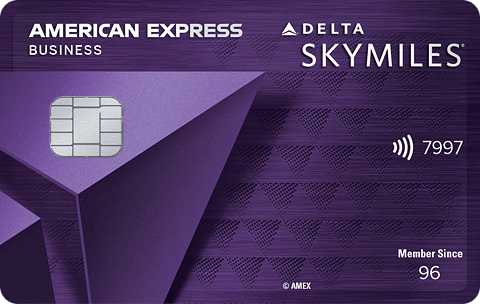 Delta SkyMiles® Reserve Business American Express Card
Delta SkyMiles® Reserve Business American Express Card
Unlock the Ultimate Travel Experience
Delta Sky Club® lounge access.‡
$550 Annual Fee¤
Get a Decision in as little as 30 seconds
♦︎‡†Offer & Benefit Terms
| 
¤Rates & Fees
Delta SkyMiles® Reserve Business American Express Card
Unlock the Ultimate Travel Experience
Featured Delta SkyMiles® Reserve Business Card Benefits
Earn Miles
As a member of the Delta SkyMiles® Program, you can use miles towards flights, seat upgrades, car rentals, merchandise, gift cards, and more. Miles do not expire, and there are no limits to how many you can earn.‡
3 Miles
On every dollar spent on eligible purchases made directly with Delta.‡
1.5 Miles
After you spend $150,000 in purchases on your Card in a calendar year, you earn 1.5 miles per dollar (that's an extra half mile per dollar) on eligible purchases the rest of the year. If your purchase qualifies for a category that has a higher mileage accelerator, only the higher accelerator will apply (ex. you would earn 3X miles on purchases made directly with Delta instead of 1.5X).‡
1 Mile
On every eligible dollar spent on other purchases.‡
---
Delta SkyMiles® Reserve Business Card Benefits & Details
Travel & Transportation

perks and added protection when you're doing business on the road

Status Boost™With Status Boost, earn 15,000 Medallion Qualification Miles (MQMs) after you spend $30,000 in purchases on your Card in a calendar year, up to four times per year getting you closer to Medallion Status. MQMs are used to determine Medallion Status and are different from the miles you earn towards flights.‡

Delta Sky Club®AccessEnjoy complimentary access to Delta Sky Clubs for you and an exclusive per-visit rate of $39 per person for up to two guests.‡

Complimentary Access to The Centurion LoungeEnjoy complimentary access to The Centurion® Lounge when you book your Delta flight with your Reserve Card.‡

Delta Sky Club One-Time Guest PassesWith complimentary access into Delta Sky Club®, you can relax before your Delta flight, or find downtime between connections. You'll also receive two Delta Sky Club One-Time Guest Passes each year so you can share the experience with others when you're traveling together.‡

Companion Certificate‡Enjoy a Domestic First Class, Delta Comfort+® or Main Cabin round-trip companion certificate each year upon renewal of your Delta SkyMiles Reserve Business Card.*‡*Payment of the government imposed taxes and fees of no more than $75 for roundtrip domestic flights (for itineraries with up to four flight segments) is required. Baggage charges and other restrictions apply. See terms and conditions for details.

Access to Complimentary UpgradesIf you don't have Medallion Status, your Card adds you to the Complimentary Upgrade list, after Medallion Members.‡

Main Cabin 1 Priority Boarding‡Enjoy early boarding on Delta flights as a benefit of Card Membership. You can board your flight when Main Cabin 1 priority boarding is called, so that you find room for your carry-on bag and settle into your seat sooner.

First Checked Bag FreeYou can check you first bag for free and save up to $60 on a round trip Delta flight.‡

No Foreign Transaction FeesThere are no foreign transaction fees with your Delta SkyMiles Reserve Business Card.‡¤

Concierge for ReserveOur Concierge staff is available to you day or night as a personal resource for many different aspects of your life. Whether you need to select a restaurant and arrange the details of an upcoming special event or if you want expert advice selecting just the right gift, you can rely on Concierge to coordinate and take care of your requests, big and small. Simply call the number on the back of your Card and say "Concierge" when prompted or send your Concierge request to PlatinumRequests@concierge.ame
ricanexpress.com from the e-mail associated with your American Express account.‡

Fee Credit for Global Entry or TSA Pre✓®Receive either a $100 statement credit for Global Entry or an $85 credit for TSA Pre✓®. TSA Pre✓® can expedite security screening and Global Entry can reduce wait time at U.S. Customs at select airports. If you are approved for Global Entry, you will also receive access to TSA Pre✓®. Only one credit will be given in a 4 year period for Global Entry or in a 4.5 year period for TSA Pre✓®, depending on whichever application fee is charged to your Card first.‡

Trip Delay InsuranceIf a round-trip is paid for entirely with your eligible Card on or after January 1, 2020, and a covered reason delays your trip more than 12 hours, Trip Delay Insurance‡ can help reimburse your unexpected expenses up to $300 per trip, maximum 2 claims per purchased on the eligible Card per 12 consecutive month period. Terms, conditions and limitations apply.‡

Trip Cancellation and Interruption InsuranceIf a round-trip is paid for entirely with your eligible Card on or after January 1, 2020 and a covered reason cancels or interrupts your trip, Trip Cancellation and Interruption Insurance‡ can help reimburse the non-refundable travel expenses purchased with your eligible Card, up to $10,000 per trip and up to $20,000 per eligible Card per 12 consecutive month period. Terms, conditions and limitations apply.‡

Baggage Insurance Plan♦Travel more comfortably knowing you can be covered by the Baggage Insurance Plan♦ for eligible lost, damaged, or stolen baggage when you purchase the entire fare for a Common Carrier ticket (e.g. plane, train, ship, or bus) on your eligible Card. Coverage can be provided for up to $1,250 for carry-on baggage and up to $500 for checked baggage. For New York State residents, there is a $10,000 aggregate maximum limit for all Covered Persons per Covered Trip. Please read important exclusions and restrictions.

Car Rental Loss and Damage Insurance♦As a Card Member, you can be covered if your eligible rental car is damaged or stolen when you use your eligible Card to reserve and pay for the entire eligible vehicle rental and decline the collision damage waiver at the rental car counter. Please read important exclusions and restrictions. Not all vehicle types or rentals are covered. Coverage is not available in Australia, Italy, and New Zealand. This product provides secondary coverage and does not include liability coverage.

Customer Service

and 24/7 support, whenever you need us

Relationship Care® ServiceIf you have a question about your Delta SkyMiles® Reserve Business Card, you can rely on us to give you an answer 24/7. Simply call the number on the back of your Card to speak to one of our Customer Card Professionals, specially trained to understand the needs of small business owners. That's one way we deliver our special brand of Relationship Care® service for business owners like you.

Expense Management Tools

to help you track and organize expenses

Employee CardsGet more out of your Business Card with Employee Cards. Earn miles‡ and stay on top of how much employees are spending.‡

Account ManagerAssign a trusted employee or business partner to be an Account Manager on your Business Card account. They can handle tasks like reviewing statements, making payments, and disputing charges on your Business Cards, so you're free to focus on other aspects of your business.‡

American Express® Business AppSimplify the way you and your employees manage Business Card receipts with the American Express® Business App.‡

Account AlertsSet Account Alerts to help you avoid late payments, spot irregular spending, and monitor Employee Card use.

Year-End SummaryAt the start of each year, we provide access to a Year-End Summary of charges so you can review your annual spending. Log into your American Express online account to view an interactive overview of your spending in pie or bar charts, organized by categories like travel and restaurants. You can also download your information to print or save for a later date in PDF or Excel to help prepare for your taxes and manage your spending.‡

Online StatementsView your purchase history, prepare reports, and budget your expenses.

Vendor Pay by Bill.com‡You can make the most out of paying your business bills. Improve your cash flow and take advantage of Card benefits when you use your Card to pay bills with Vendor Pay by Bill.com.
Take advantage of Vendor Pay by Bill.com by enrolling your Card. With the Basic plan, there is no monthly fee for the first user. Additional fees may apply based on plan type and number of users.

Even More Benefits

for Card Members

Extended Warranty♦When you use your American Express®Card for eligible purchases, you can get up to one extra year added to the original manufacturer's warranty. Applies to warranties of 5 years or less. Please read important exclusions and restrictions.

Purchase Protection♦Your eligible purchases can be covered when they're accidentally damaged, stolen, or lost for up to 90 days from the date of purchase with your Card.

Dispute ResolutionWe will work with you to resolve the issues if there is a fraudulent or incorrect charge on your statement.‡

Amex OffersAmex Offers is a simple and easy way to make your life more rewarding. With offers for shopping, dining, travel, and more, there's something for everyone. Adding offers to your Card is quick, easy, and best of all, incredibly rewarding.
♦︎‡†Offer & Benefit Terms
| 
¤Rates & Fees
♦︎‡†Offer & Benefit Terms
| 
¤Rates & Fees