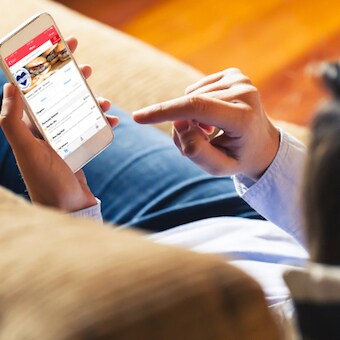 ---
---
Small Business Saturday® (the Saturday after Thanksgiving) is known for bringing shoppers out in support of local small businesses. But it's not just a great boost for retailers, customers can also show their appreciation for restaurants as well. With the right strategies in place, you can help promote your restaurant and motivate shoppers to #dinesmall on Nov 25.
Last year alone, more than 112 million consumers shopped or dined on Small Business Saturday1. This Nov 25th, consider these tips to make the most of the day, help drive both in-store and online sales, and keep customers coming back for more.
1. Invite your customers to #DineSmall online
From frigid temperatures to large crowds, there are plenty of reasons customers may decide to shop or dine small from the comfort of their own home. However, just because a customer doesn't stop by your brick-and-mortar restaurant or cafe on Nov 25 doesn't mean you can't take steps to do more business on Small Business Saturday.
Try enticing customers to order from home by designing your own online specials. Restaurants can offer their full or limited menu for online ordering and delivery to accommodate customers still recovering from Thanksgiving or those who spent the morning shopping at their favorite small retailers. Better yet, explore serving up online-only, Small Business Saturday themed menu specials or promo codes to help increase orders from new customers in addition to loyal patrons.
Make sure you let customers know that they can show love for local small businesses by ordering online from your restaurant! Use free digital marketing materials available from the Shop Small® Studio, including a digital Small Business Saturday badge you can display on your website.
2. Extend your hours
Foot traffic may skyrocket on Small Business Saturday, which means staying open an hour or two longer than usual can give shoppers more time to stop by your restaurant. Explore special prices that kick in after your normal closing hours, to help give customers even more reason to extend their shopping and dining trips. To show you're participating in Small Business Saturday, decorate your restaurant with free downloadable signage from the Shop Small Studio.
This same strategy can be used online as well. Try offering exclusive Small Business Saturday menu items or discounts to customers who enter a promo code on their online ordering page. Dishing out promo codes to hungry shoppers throughout the day can help you capture orders from customers even after they return home.
3. Team up
Already open late? Consider teaming up with another small business in your area on joint promotions. Whether it's a free dessert or refreshment for customers who shop with your partner or discounting their next purchase in-store, the extra incentive may be enough to make both you and your partner stand out from the competition.
If you're a restaurant owner trying to attract shoppers from nearby retailers, ask your partner if you can offer free sample bites either inside or outside their store. As you get ready to serve up some delicious samples, remember to hand out your online ordering promo codes.
4. Debut new items
While your store or restaurant may not be open every hour of Small Business Saturday, there is still plenty of opportunity to help drive business around the clock. Consider kicking off the festivities with an exclusive menu item at midnight on Nov 25. You can raise awareness on social media prior to the unveiling, and use the custom e-mail template offered through Shop Small Studio to feature your special. Be sure to focus on the channels your customers use the most. By giving customers 24 hours to head online and check out your new offering before its official debut, you may be able to generate excitement as well as sales long after Small Business Saturday ends.
Small Business Saturday can serve as a great kick off to reaching customers throughout the holiday season and beyond. Build off the momentum of Nov 25 by offering holiday-only deals or events that will be available at your restaurant through the end of the year. This can help encourage your customers to continue to dine small, even after the Small Business Saturday buzz has come to an end. Don't forget to collect customers' contact information when they make a purchase, that way they can keep up with your offerings year round.
The popularity of Small Business Saturday is on the rise. From 2015 to 2016, the number of consumers who reported shopping at small businesses on the day rose by 13%2. Use these four tips to work toward becoming your neighborhood's go-to business among in-home shoppers and diners as well as those who take to the streets on Nov 25.
---
1 The statistic cited is an estimate based on projections from a nationally representative sample of adult consumers as reported in the 2016 Small Business Saturday Consumer Insights Survey commissioned by Amex and NFIB. The Survey gathered self-reported data and does not reflect actual receipts or sales.
2 95 Million consumers shopped at Small Businesses on SBS 2015: Estimate is based on consumer self-reported data from a 2015 Amex and NFIB-commissioned survey. 112 Million Consumers Shopped and Dined Small on Small Business Saturday in 2016. Estimate is based on projections from a nationally representative sample of adult consumers' self-reported data from a 2016 Amex and NFIB-commissioned survey.
Related Resources