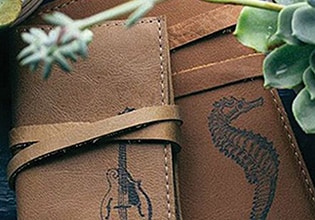 Putting a Spotlight on Your Small Business
FedEx in partnership with American Express
---
---
Small Business Saturday® brings a national spotlight to small-businesses such as these winners of the FedEx Small Business Grant: In Blue Handmade, Shark Wheel, and Catullo Prime Meats.
Read on to see what Small Business Saturday does for them and get ideas for your business.
In Blue Handmade
Primarily an e-commerce business, In Blue Handmade offers leather journals, wallets, guitar straps and bags handmade by Mary Lynn Schroeder, the owner and chief seamstress, and her team at her 4,000-square-foot studio in Asheville, NC. Schroeder uses Small Business Saturday as an opportunity to connect with fans online. In the past, she has showcased her studio and employees by engaging in a "social media blitz" that involves videos and live tweets.
"People that like us love handmade items and enjoy getting to know us," Schroeder continues. "A big part of us is our story, and we like to appeal to that and to really connect with our customers."
One of the perks of Small Business Saturday for Schroeder is the boom in sales and the boom in "really cool customers." People aren't just getting a leather bag because of the coupon code. "These are people that actually are really interested in supporting small business," she says. "It's an exciting time for them, too, to get to know new makers. And by participating in Small Business Saturday, you're developing a long-term relationship with a specific customer, and that's a pretty amazing opportunity."
Shark Wheel
Shark Wheel, an online retail company that's literally reinvented the skateboard wheel, made its first shipment in May 2014. "It's one of those products where you need to touch it and see it to understand it," says David Patrick, inventor and chief technology officer at Shark Wheel. Shaped like a cube, the wheel goes around versus over obstacles on the road — such as pebbles, dirt, sand and water — and doesn't encounter "rock stop" that can lead to accidents.
Shark Wheels are sold in some retail shops but mostly online to domestic and international customers, so opening their headquarters for Small Business Saturday gives them a unique opportunity to connect with customers in the local community.
In the past, they've also organized a block party with other small businesses to celebrate the day. By opening their doors on a Saturday they brought in added revenue, a sense of community and weekend buyers. "It's fun to develop relationships with other local businesses that share the same challenges and successes that we do as a growing company," Patrick says.
Catullo Prime Meats
Following in his grandfather's and father's footsteps, Danny Catullo started working in his family's butcher shop at the age of 14. Today he owns Catullo Prime Meats and recently started FoodECrave, an online company that connects foodies to local businesses across the nation that serve up high-quality gourmet meats and foods.
Catullo sees Small Business Saturday as an opportunity to connect with future customers. "Whether it's discounts, free shipping, or a small token to show your appreciation, you don't want to miss out on an opportunity to promote your business and what you're doing," he says. "You never know who's going to be a lifelong customer of your business. You've got to give yourself a chance to reach these people. This campaign is made for small businesses. It's a good time to stand up, be proud of what you do and participate."
Related Resources